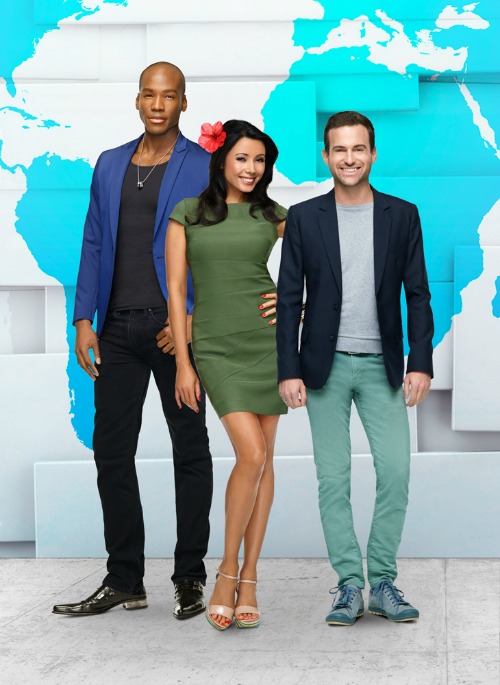 Bravo is venturing out, taking viewers to places that bucket list dreams are made of with their upcoming docu-series, "Tour Group."  Eleven strangers from all walks of life will be guided by three expert travel guides as they explore places like the Maldives, a lush nation in the Indian Ocean known for beaches, blue lagoons and coral reefs. Viewers can also experience the awe-inspiring adventures of the travelers attempting to ride elephants in Thailand, or watch them take part in nail-biting mountain gorilla expeditions in the "land of a thousand hills," the East African country of Rwanda. 
The three expert travel adventurers leading the group are Brandon Presser (pictured right), an avid globetrotter, who has penned over 50 travel books, as the result of his visiting over 100 countries.   Rachel Grant (pictured center), who has worked as a correspondent will also lead the pack and brings to the table a background in photography, travel blogging and a ravenous appetite for travel that has led to global thrill-seeking adventures extraordinaire.  The final member of the group's leaders, Sandhurst Miggins (pictured left), who has been deemed a "daycation specialist," earned the title after having catered to a wealthy, fastidious, clientele seeking worldly travel-related fantasies in his line of business, the luxury travel industry.
Viewers should prepare themselves for heart-pounding adventures, riveting sights and an introduction to cultural activities that just might leave them speechless.  Presser, Grant and Miggins are more than savvy travelers, who will help the group of diverse and in many cases, inexperienced travelers, push beyond their comfort zone and let their inner travel bugs run wild.
RELATED: Kim Fields Says DC Was Wonderful; Defends Traveling Without Nanny!
"Tour Group," premiers Tuesday, March 1 at 10pm ET/PT on Bravo.
TELL US:  WILL YOU BE WATCHING "TOUR GROUP?"
(Photo credit:  Bravo Media/NBCUniversal)