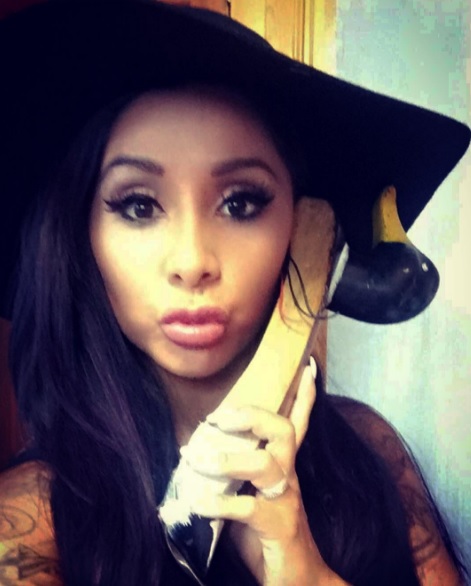 They say you can't go home again, and I would think that adage would certainly ring true for those crazy orange guidettes and gorilla juice heads who entertained us on the Jersey Shore. Gracious, I miss them (well, most of them). 
Of course, it won't shock anyone to learn that I was mistaken. You can go home again if you're Nicole "Snooki" Polizzi and Jenni "J-Woww" Farley, and your one-time home is a wood-paneled wonderland complete with a duck phone and astroturf patio that smells of Sunday dinners, regret, and Axe body spray.
CLICK THE CONTINUE READING BUTTON FOR MORE!  
The two real life besties who met when they became reality train wrecks on the MTV hit certainly changed in a way I would have never in a million years predicted. The reformed fist pumpers who fancied face planting on the beach and relieving themselves behind bars (think alcohol, not jail, although it could be both…) are now moms and moguls. Snooki and J-Woww are still as hilarious, but now they've also got adorable children (and extremely tolerant husbands!). 
Heading back to the Seaside, Nicole posted the above picture with the iconic duck phone to her Instagram urging fans to follow her on Snapchat. Jenni also posted, "Shore House lol #wereback." But the most epic part of the field trip? The girls brought their precious brood…much to the chagrin of Jenni's husband Roger Mathews. 
Questioning their wives' sanity, Roger tagged Snooki's husband Jionni LaValle in the below photograph, which is absolutely oozing with adorableness. He writes, "For reasons unknown, my wife and Nicole took our kids to the Jersey Shore house today and let them pose for a photo op in the 'Smoosh Room' or as I like to call it the DNA Daycare."
He jokes, "This room glows like plutonium under a black light yet they let our kids in there @jlavalle5 . I'm in a full Haz Mat suit now waiting in the driveway to power wash my kids off and scrub them down with bleach when they get home. Child protective services will be waiting for you as well @jwoww . Our daughter's face says it all."
Roger is a trip, right? He then posted a video of his daughter playing on the duck phone which he captions with his hope for her future. Here's a hint–it won't include the Shore Store or any GTL. Check it out below! Did I mention I really, really miss these folks?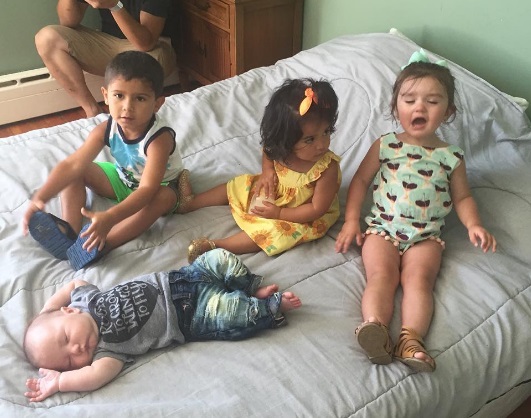 TELL US – HOW FLIPPING CUTE ARE THESE KIDS? WHAT DO YOU THINK OF THEIR TRIP TO THE SHORE HOUSE? 
[Photo Credit: Instagram]
Save