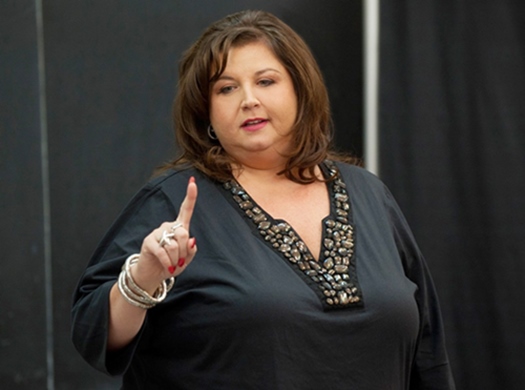 Last night's Dance Moms showcased the competition where Abby Lee Miller's former elite team would be facing off against the minis, and, per the usual, ugliness and petty shenanigans ensued. Do we think she's going to end up going to jail?
On the day of competition, the elite team squares off against the minis. Abby instructs the veteran moms to have their daughters write a list of why they hate her so much. Holly Frazier won't stand to be spoken to in such a manner in front of the girls, and she ushers everyone into the venue. Jill Vertes uses Abby's words against her, reminding her that everyone is replaceable. Abby is confident that her minis are better at their age and the elite team was back when they were six. The veteran moms question whether the mini moms are okay with Abby's behavior and they are met with hemming and hawing from the newbies. Ashlee suggests that the women present a united front so Abby cannot treat their daughters badly. Before the competition, the elite girls are in good spirits and glad to be away from Abby and her meanness.
CLICK THE CONTINUE READING BUTTON FOR MORE! 
Kalani Hiliker is stepping up as a leader for this team, and all of the moms are very proud.
In with the minis, Peyton's mom tries to convince Abby to allow her daughter to do the trash bag solo. The mothers are attempting to present a united front, but they lack the confidence they need to actually pull it off. Abby pretends to not know the mini mom's name and refuses to let her daughter dance. She complains that she has spent her entire life putting other people's children in front of her own needs. She refuses to do it any longer. Peyton's mom is disappointed that her other team moms are not sticking up for her, and she storms out of the room.
Kendall is near tears due to a pulled muscle in her neck. She's upset, given that this is the best solo she's ever been given, and she wants an opportunity to perform. Jill encourages her to stretch, and Holly hopes that she is able to dance and show Abby just how talented she is. As Kendall cries, Kira reminds her that she can save her solo for another day. Ashlee understands why Kendall is so stressed out with this performance, and Jill concedes to let her sit it out.
Speaking of tears, Peyton's mom joins the elite moms backstage. She is crying over the fact that her counterparts did not support her and stand up to Abby. Ashlee invites Peyton to compete with their team, and they fix her nasty costume. Peyton's mom confronts Abby and the other moms before defecting to the other team. Elliana's solo was touted as a Maddie dance, and her mom is hoping she will be the next golden child. She is quite a talented little girl. She totally nailed the dance, and Abby is beyond thrilled. Alexus performs next and she also does an amazing job. However her choreography is very different from that of her teammate. Before taking the stage, Peyton's older her teammates give her a much-needed pep talk.
Peyton nails the acrobatic aspect of her dance, but I don't love the cutesy kitschy choreography. Not to mention, her facial expression remains blank. Brynn is the first to perform her solo and she hopes to prove to Abby why she is such a great member of the team. Abby reluctantly claps, but rolls her eyes. Brynn does a phenomenal job. Likewise, Kalani has an exceptional performance and receives hugs from her teammates in the wings. The mini moms snicker that their dances were better, and when everyone meets in the parking lot, Abby has no comment on their performance. The girls take the highroad, congratulating the minis on a job well done and quietly walking past their former coach.
The elite team's new coach Erin calls to wish the girls well and remind them to dance for themselves and not worry about Abby. Kira notes that she has a better teacher from afar than Abby is in person. The minis group routine is fantastic. It's much easier to tell how great they are when they're not doing cheesy numbers. The elite team's group number is absolutely incredible. It was intense and the powder added a creepy aspect.
At the award ceremony, one of the minis places third for her solo, with Peyton getting second place. Elliana's "Maddie" solo takes the top spot. Brynn places first in her age group, and Kalani is second in the teen division. Abby cheers obnoxiously for the dancer who beat Kalani. In the immortal words of Stephanie Tanner, how rude! The minis group routine places first in their age group, and the elite team's routine places third. They were totally robbed. After the competition, Kira confronts Abby about her behavior towards Kalani, calling her disgusting. Abby and the mothers get into a screaming match where they are pointing and screeching. Aren't these supposed to be adults?
TELL US – WHAT DID YOU THINK OF THE DANCE MOMS SEASON FINALE? IS ABBY GETTING NASTIER WITH EACH EPISODE? 
Photo Credit: Lifetime