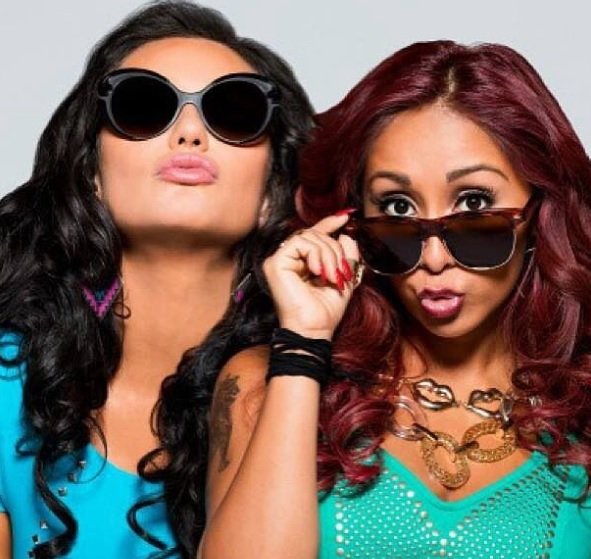 If you have suffered through just one episode of MTV's Floribama Shore then you realize what an insult it is to every true Jersey Shore fan. The network couldn't leave well enough alone. You don't mess with a classic!
Thankfully, the less than stellar predecessor of MTV's greatest accomplishment has stirred up a frenzy surrounding the original gorilla juiceheads and orange meatballs, and we are going to be treated to Jersey Shore Family Vacation. Very soon we won't have to merely rely on tiny blurbs about Mike "The Situation" Sorrentino's alleged tax evasion or Vinny Guadagnino's musings on global warming. We will have the whole gang back together again…with the exception of Sammi "Sweetheart" Giancola. However, Jenni "J-Woww" Farley is crossing her fingers for a change of sweetheart–and so am I!
The crew has grown up quite a bit, and spouses and children have been thrown in the mix. Here's hoping they still GTL! In a recent interview, Jenni dishes on the upcoming special and how times have changed since the shore of yore. Speaking to Us Weekly, Jenni laments, "I'm afraid for my hangovers to be honest. I'm really afraid. Oh my God, I just experienced a wine hangover the other day like no other. I'm hoping that we do not have that issue. I'm gonna go straight with the tequila and vodka on the rocks."
For me, the best part of this show was how close the cast became–they are truly great friends in real life. Like the rest of the free world, Jenni is thrilled about reuniting with her former housemates. She tells the site, "All jokes aside, we have been in group chats for a while now and we could not be more excited. I'm just so excited for this."
However one person is likely not included in those group chats, and I am going to miss her frosted eye shadow and Caboodles make-up case. So will J-Woww. She shares, "In my head, in my dreams of dreams, I really hope that [Sammi] pops in…it's gonna be different. I wish she would be on it but I understand why she's not going to be on it."
It's been quite a while since the Nicole "Snooki" Polizzi and her alligator slippers have graced our screens with her sloppy meatball sidekick Deena Nicole Cortese. It has been far too long since I've heard the singsong voice of DJ Pauly D Delvecchio announcing the arrival of cabs (what will happen in this new Uber driven world?). Likewise, the tortured love story of Sammi and Ronnie (RAAAWWWN!!) Ortiz-Magro still stings like a Shakespearean tragedy. Asked if Sammi was avoiding the spotlight or steering clear of her ex, Jenni responded, "Both, honestly, I'm thinking both," adding, "She might be ready to start a family and get married, have babies. I don't know. She's just on to the next chapter in her life. I'm still in shock thinking that the show is coming back too. We never expected this…I respect her decision. We all respect her decision. It is what it is. In my head, I still have hope."
We are all holding out hope, Jenni. Please make a cameo (at least!), Sammi!
ETA: It was just announced this morning that the the vacation will take place in Miami!
TELL US – DO YOU THINK SAMMI WILL MAKE AN APPEARANCE ON JERSEY SHORE FAMILY VACATION? WILL THE SHOW STILL BE AMAZING WITHOUT HER? 
[Photo Credit: Instagram]