The season premiere of Married At First Sight begins with all of the participants hearingthat they are engaged! Surprise, you are about to marry and live with a complete stranger. Cue the nerves and instant bubble guts. For the first time in Married At First Sight history, there will be five couples. I love this show, but I know I couldn't live with a stranger for eight weeks and appear sane. The experts claim they use science and insights from previous seasons to make decisions on matches. Given some of the train wrecks on previous seasons, let's hope they changed the formula. After viewing the trailer, this season looks like it's going to be GOOD!!!!! When I say "good," I mean filled with drama.  There are definitely some strong personalities and hard truths this season.
The couples have just found out they are engaged and now only have less than two weeks until their wedding day. Each person reveals the news to their family and most are shocked, to say the least. This is a short time to convince people close to you that you are not totally insane. The participants each have to find their wedding attire, have bachelor/bachelorette parties and convince their guests to show up to a shit show wedding. While shopping, everyone seems to be excited and in good spirits. It's always fun until the reality of what they signed up for, sets in.
Brandon & Taylor
Brandon Reid is a 34-year-old sales manager who was raised in Washington D.C.  He is the life of the party and tired of going to events alone. When Brandon reveals he will be married in 10 days, the women in his family look at him like he is crazy. His grandmother can't understand why a man like him would need to marry a stranger. Yes, Granny, we want to know that, as well!
Brandon was matched with Taylor Dunklin, a 27-year-old research scientist from Pittsburgh who was raised by her mother. She never knew her father and credits her mother for raising her to be a strong, independent woman.  When she meets with her family they aren't totally against it, but it depends on the man that has been chosen for her. I hope Taylor ditches that wig before the wedding.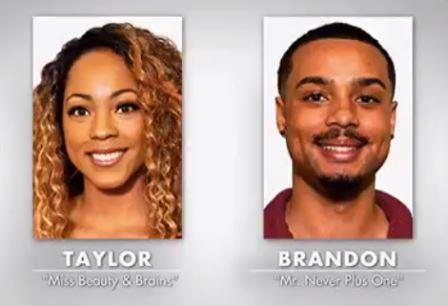 Mindy & Zach
Mindy Shiben is a 34-year-old figure skating coach from Maryland. She still believes in true love, despite her parents' divorce. After the shocking death of her younger sister, a miscarriage, and years spent dating the wrong men, she wants a family. When she shares her plans with her sister, she is shocked but all for her doing something new, to get different results. Mindy's parents have chosen not to support her choice.
Mindy is matched with Zach Justice, a 32-year-old fitness professional who was raised in Georgia. When Zach reveals his plans to his friends he is met with skepticism. Uh oh, if someone in his family doesn't show up to this wedding, it will be a huge red flag.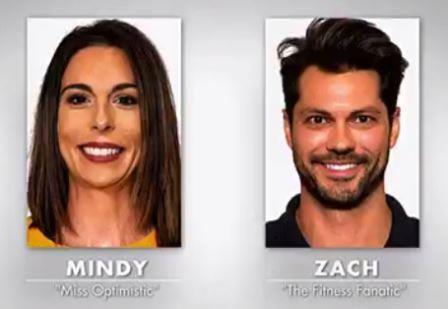 Derek & Katie
Derek Sherman is a 26-year-old cyber security engineer who was raised in a tight-knit family in Maryland. Although his parents divorced when he was young, he still believes in marriage. He has never been in love, but hopes to find it with his new wife. Ummm… yea, I'm not sure how someone with so little experience, will fare in a marriage. When he tells his family he is getting married, they are scared he is making a terrible decision. I think he sees this experiment as more as thrill-seeking experience than a chance at love. I could be wrong, but I am not putting my money on him.
Derek is matched with Katie Conrad, a 25-year-old child therapist.  She is a type one diabetic and wants to have children sooner rather than later. I'm not sure a man who has never been in love is that man to have kids with so soon. But, I could be wrong.  She wants to find a soul mate after years of struggling to do so, on her own. When she tells her family they literally have the most supportive reaction I have ever seen. Shockingly, she reveals despite plans to be married in 10 days, an ex has made her question her decision.  Wow, this has disaster written all over it on both ends.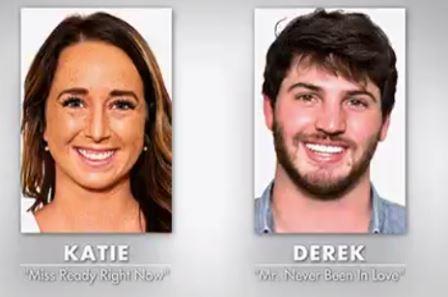 Austin & Jessica
Austin Hurd is a 31-year-old network technician that grew up in Maryland with his parents and siblings. He has been ready to be married for quite some time and hasn't found the right person. When he tells his family, he is met with some questions, but for the most part, they are supportive.
Austin will be married to Jessica Studer, a 31-year-old nurse manager from Ohio who was raised on a Christmas tree farm. She learned the value of marriage from her parents, who have been together for 35 years.  She is extremely close to her twin sister, but felt lonely when her sister got married and started a family. Jessica hopes to create her own love story through this process. When she tells her sister and brother-in-law, they immediately tell her it's a bad idea, but will do what makes her happy.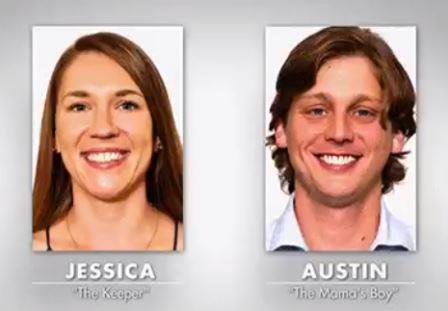 Meka & Michael
Meka Jones is a 25-year-old category analyst who grew up in Baltimore. She is the oldest of five children, whom her mother raised as a single parent. She is an independent woman who refuses to settle. When she reveals her plans to marry a stranger, her family is elated.
Meka will marry Michael Watson, an education coordinator and yoga teacher. He was raised in Washington D.C. by his aunt, who adopted him following the death of his mother. He will be the first in his small family to be married. When he tells his family his plans, they are shocked, to say the least. His sister gives him some sage advice for his journey in love. There is something that seems really endearing and genuine about this guy. I will be keeping my eye on this couple.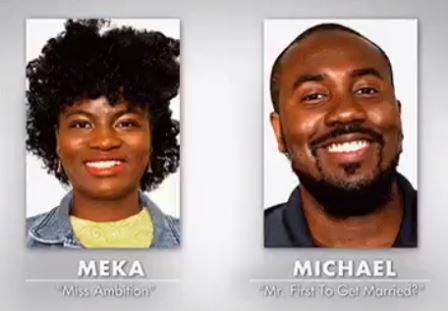 The experts get the brides and grooms together individually to meet one another the day before the wedding. Each group shares their fears and hopes for the wedding and the days moving forward. I have to say this is an interesting bunch of individuals. I can't wait until their representatives are put away and their real personalities start to come out.
At the bachelorette party, some of the ladies show their wild side. The girls each take turns giving awkward lap dances to their guests at an empty bar. Umm… weird. Katie continues to ramble on about her casual hook up ex. If she is that unsure, she should have let someone who is actually ready to get married, be on the show. I can already tell that I am not going to like this woman.  The guys have a mild night hanging out with friends at a bar.
It's finally the day everyone will meet their stranger spouse! The first couple to get Married At First Sight is Katie and Derek. This is actually hilarious considering the bride was thinking about another man all night. While getting ready, Katie is having a complete breakdown about actually marrying a man she doesn't know and may not like. If this woman, mentions her ex one more time, I am going to scream! I guess we will have to wait until next week to see the couples walk down the aisle. I can't wait to see each reaction. Early prediction…this marriage is doomed.
Tune in Wednesday nights at 8 p.m. EST/7 p.m. CST on Lifetime for new episodes of Married at First Sight.
TELL US –WHAT DO YOU THINK ABOUT THE MATCHES? WHO DO YOU THINK IS MOST LIKELY TO NOT STAY MARRIED? WHO IS YOUR FAVORITE COUPLE SO FAR? 
[Photo Credit: LIFETIME]