The Houston Married At First Sight  cast reunites with host, Kevin Frazier to discuss their eventful season and what has happened since Decision Day. If you thought the season was full of drama, the reunion is no different. I said throughout the season it was hard to predict who was going to stay together because every couple was so up and down. Well, the update proves that thought was 100% true. These couples were probably were the most unpredictable on the history of the show.
It's been four months since decision day and you won't believe what has happened. There have been break ups, make ups, cheating allegations and much more. My cup is running over from all of the tea that is being spilled. If this is part one, I can't wait to see what happens on part 2. Let's get straight into the recap!
Rachel & Jose
When we last saw Rachel and Jose they both agreed to stay married. Although, we saw issues within their relationship during the season, they ultimately were able to work things out. The host immediately asks Jose why he locked out his wife. For the first time, he actually admits that he knew what he was doing when he locked that door. Duh! Despite Rachel being furious when the incident happened, she is clearly over it now. She's even able to laugh when the clips are shown.
Rachel and Jose reveal that once the experiment ended, they broke up. She moved out of his home when she didn't feel welcome. Despite her moving back to her mom's house, Jose wasn't willing to give up on his marriage. Rachel feels the break may have been good for them. Now that they are in separate households they have been able to date and enjoy each other's company. I think these two are going to be just fine. They packed an entire relationship into a very short timeframe.  It was only a matter of time before things slowed down. As they learn and accept one another, compromise will come easier for them.
Brett & Ryan
No one was surprised when Brett and Ryan decided to get divorced. Throughout the season, they had little to no chemistry. In fact, they were more like roommates than anything else. It wasn't until Brett learned that Ryan had created a dating profile and matched with one of her friends that she stood up for herself. He now regrets his lack of communication in their marriage. In his mind, he was sparing her feelings. But to many viewers, he just came off as a disinterested jerk.
Ryan's sister joins the conversation to give her perspective on the situation. She actually really liked Brett and wished things would have worked out. She was so friendly with Brett, that she threw her own brother under the bus when she suggested he had to be distracted by another woman. Ryan bears no hard feelings and understands why she came to that assumption. Ryan's sister drops a bombshell when she accuses Brett of making her feel bad for her when she was the one seeing someone else. Brett looks completely thrown off guard and adamantly denies she was dating anyone while married. Then she seems to go back on her story and admits she gave someone her number and talked to him on and off, before decision day. SMH… Okay, at the end of the day, who cares? Although this can definitely be seen as hypocritical, this should have been brought up on the show. We all knew this relationship was going nowhere.
Myrla & Gil
Myrla and Gil both decided to stay together on decision day. Although they had numerous differences and a slow progression, they seemed to make things work. In fact, Gil arrives at the reunion dressed to the nines like his wife. He even has on a pair of Christian Louboutin shoes. It seems our frugal Gil, may have crossed over to the dark side. Shockingly, they reveal that they haven't been together since the show has ended. Sigh! I want to be surprised, but I always knew this probably wouldn't last long term. But stranger things have happened and opposites do attract. But I have to admit, I wasn't expecting the demise of their relationship so quickly.
Gil reveals fourteen days after decision day Myrla decided she no longer wanted to be with him. When questioned, she claims that she felt she was settling and there wasn't enough chemistry. Honestly, I think that someone or something got into her head after the show. It's obvious he is incredibly hurt. He even sold all of his belongings to create a new life with his wife. Wow! Myrla is even more cold and superficial than I originally thought. Throughout the show she said everything, but that she loved him. I find it crazy that she is acting like she never liked him. I wonder did them consummating their marriage have something to do with her change of heart. Gil, just move forward. It's only a matter of time before he finds a woman who will be happy to be with a man like him.
Michaela & Zack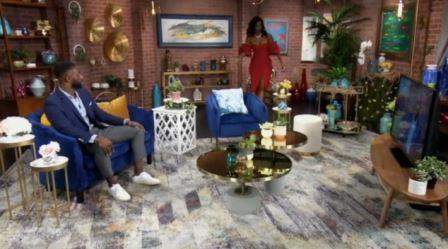 Michaela and Zack were one of the most dramatic couples on the show. Well, the reunion is no different. Unlike the other couples, they chose to appear separately to give their accounts. Michaela is the first to speak with the host about their tumultuous relationship. Although she does take accountability for her mistakes, she is still hurt and angry. She feels that her husband led her on during and after the experiment. After opting for a divorce, Michaela claims she spent eight days at his apartment acting as if they were in a relationship, only for him to break things off once again.
When Zack has his chance to speak to the host about his marriage, he has a completely different story. He also takes no accountability for the mixed signals that he gave Michaela. The host is flabbergasted that as a man he can't see how his words and actions could be confusing. That was my issue with Zack throughout the season; he just couldn't be honest and make a clean break. It almost seemed like he wanted the sexual relationship and nothing else. Michaela is so annoyed by the things that he was saying she decides to walk onto the stage during his interview. When Zack sees Michaela, he storms from the set refusing to speak with her. Honestly, I am just sick of both of them and this roller coaster of emotions. 
TELL US – WHAT REVELATION SURPRISED YOU MOST ON THE FIRST PART OF THE REUNION?
[Photo Credit: Lifetime]