Below Deck Down Under is back to the typical sort of petty drama we love from our Bravo shows. With the bad energy swiftly fired from the yacht, hopefully to never be seen again, we can get back to what makes this show so goddamn entertaining. Last week, we left off as Culver enjoyed a round of tonsil tennis with new second stew, Jaimee. Here's what happened in the aftermath, as well as everything else from Below Deck Down Under Season 2, Episode 10.
Tzarina feels the burn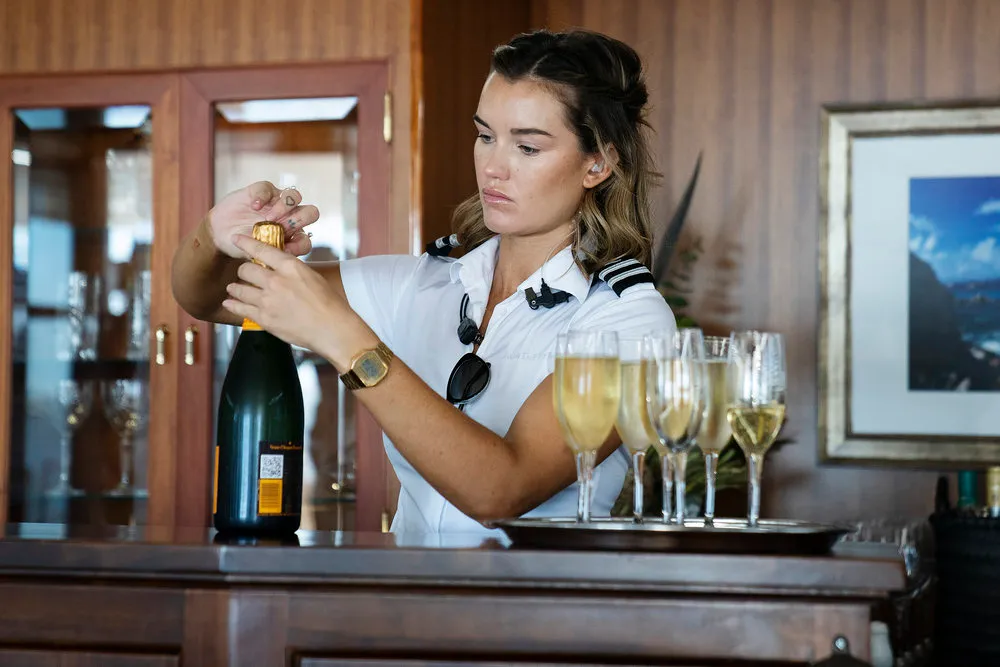 After watching Culver and Jaimee kiss, Tzarina is feeling sh*tty. It's no surprise. Culver has been leading her on with cheeky kisses and flirtation. Turns out, he just enjoyed the food Tzarina was serving up. He's more interested in a fling with the hot new stew.
Sitting outside of the club with João, she says, "I know I'm not beautiful like she is." Though he's trying to be helpful, João tells her that this is "the point." Rather than hyping her up for the beauty and catch that she undoubtedly is, he leans into Tzarina's dressing down of herself. Still, it seemed to be the talk she needed to cool off, if just for a moment.
Inside the club, Harry asks Margot for a kiss. She just wants to dance. Harry, bless his little cotton socks, isn't getting the hint.
As everyone hits the vans to go home, Culver and Jaimee are left alone in their own ride. They spend much of the trip exchanging more saliva. Upon arrival, Tzarina gives Culver a light shove when she walks past him, before boarding the yacht.
"I just don't like to cause any drama," Culver sulks. You should've thought about that before kissing face with Jaimee right in front of the woman who's clearly been crushing on you since you arrived, Chief Entertainment Officer!
The shower gets more airtime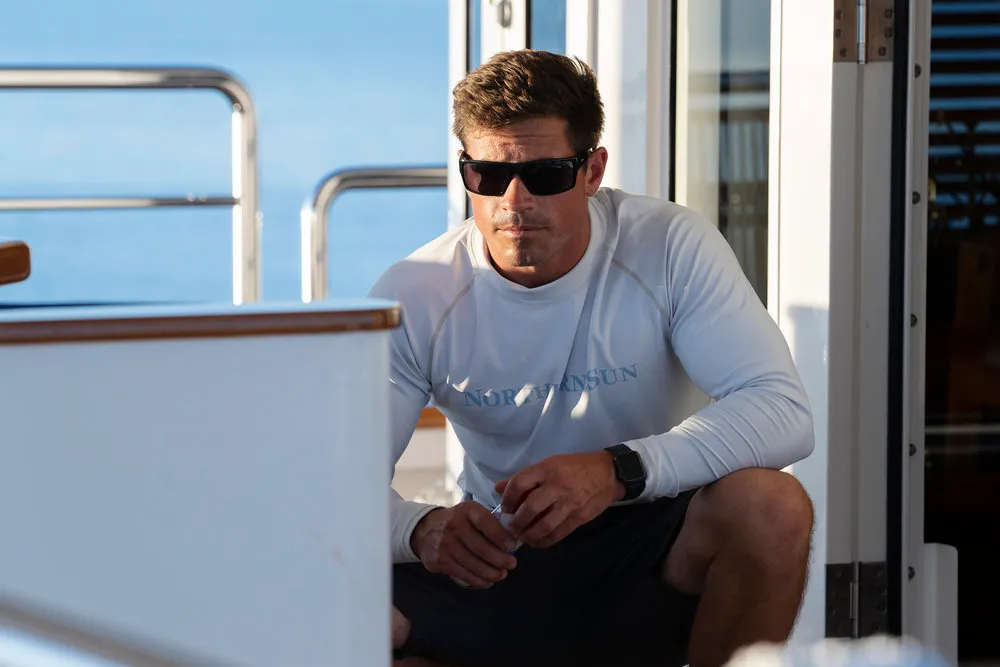 There's something about shower sex this season on Below Deck Down Under. This time, it's Culver and Jaimee bumping uglies. João jokes in confessional that he wishes he'd seen Culver put so much effort into his work on deck, as he and Jaimee enjoy over 30 minutes together. I'm sure they were just lathering up each other's backs, guys…
Adam gives Margot some brotherly advice. He thinks she needs to tell Harry that there's nothing serious between them. She's not feeling the spark. This results in Margot going to Harry's room. While she does tell him she's not looking for anything serious, it somehow results in Harry agreeing they can just have fun, before convincing her to snuggle and kiss him on his bunk. That didn't go as it should have, but can you blame either of them? Dating and friendship is awkward at the best of times. Let alone on board a superyacht.
As for Culver and Jaimee? Once they're done rinsing off, they attempt to sneak off into Jaimee's bunk. They spend the night together, but it seems to just be for spooning, rather than repeating their shower activities.
The nicest charter guests in Below Deck history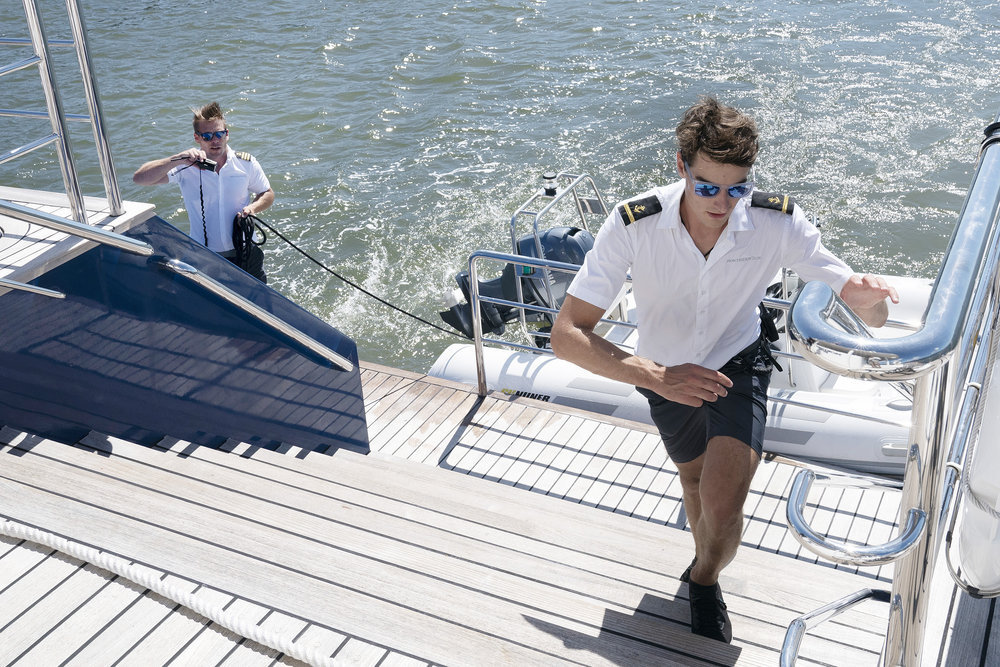 Alright, so I might be jumping the gun with this claim. But the family charter group that we meet in this episode are SO lovely. The primary guests are fiancées Becky Mattson and Michelle Harrington. Becky's a stay-at-home mom, while Michelle owns a chain of grocery stores. They'll be boarding the yacht with their four children – two daughters, and two sons – of varying ages. It'll only be a one-day charter, and their demands are pretty simple. They just want their main meal during their time on the boat to be holiday-themed. The crew get to pick which holidays they'll be celebrating! From porn stars to a gorgeous family unit. This show is so diverse.
After the preference sheet meeting, João calls one of his own with the deck crew. He calls out the "bitching" that's been going on behind his back. Funnily enough, when he gives the space for Harry, Adam, and Culver to air any grievances, they're stunned into silence. João lets it go, and I laughed seeing Culver with his tail between his legs. Instant karma.
In the galley, Jaimee tries to clear the air with Tzarina. Her hands-on approach doesn't go down very well. "Don't touch me please," Tzarina asks. She tells Jaimee that it's not her fault she's feeling so crappy, but that she just needs space. In confessional, Tzarina admits she's having childhood flashbacks. She's the weird kid, Culver's the jock, and Jaimee's the cheerleader. She's gotta put her "brace back on and eat crayons in the corner." I love Tzarina. She's reality TV gold.
Aesha and Jason are missing their family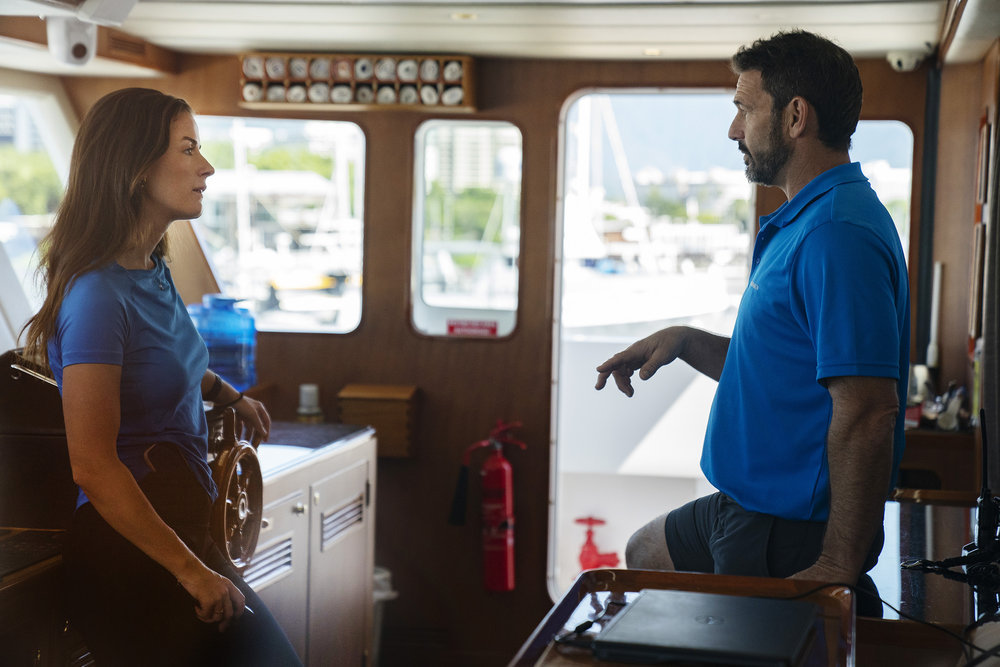 When the guests arrive, it gives Captain Jason and Aesha pause for thought. Jason's missing his daughter, and Aesha recalls memories of time with her three nieces. She plays games with them, but will "never let them win. Life is harsh and they need to know that." Aesha never stops being hilarious.
As the yacht leaves the dock for Green Island, João is teaching Adam some tricks of the trade. It appears Adam is actually warming up to his new bosun. It also feels like João really has changed. We're a few episodes in now, and he hasn't done anything remotely terrible. There's still time, but if this is the new João, I'm all for it.
Culver? Not so much. After a frosty reception from Tzarina in the galley, he takes some scissors to his uniform. He wants short sleeves, and does a raggedy job of cutting some in. Debuting his new look, João immediately tells him to go and get changed. In confessional, he quips that Culver looks like Fred Flintstone. Personally, I think Culver is more Barney Rubble.
Harry continues to play the long game with Margot. He thinks that he can win her over, if he keeps on the right track. It's a sad song, we've heard many times before. These two just need to call off their flirting completely, and bathe in the warmth of their undeniable friendship.
The disappearing island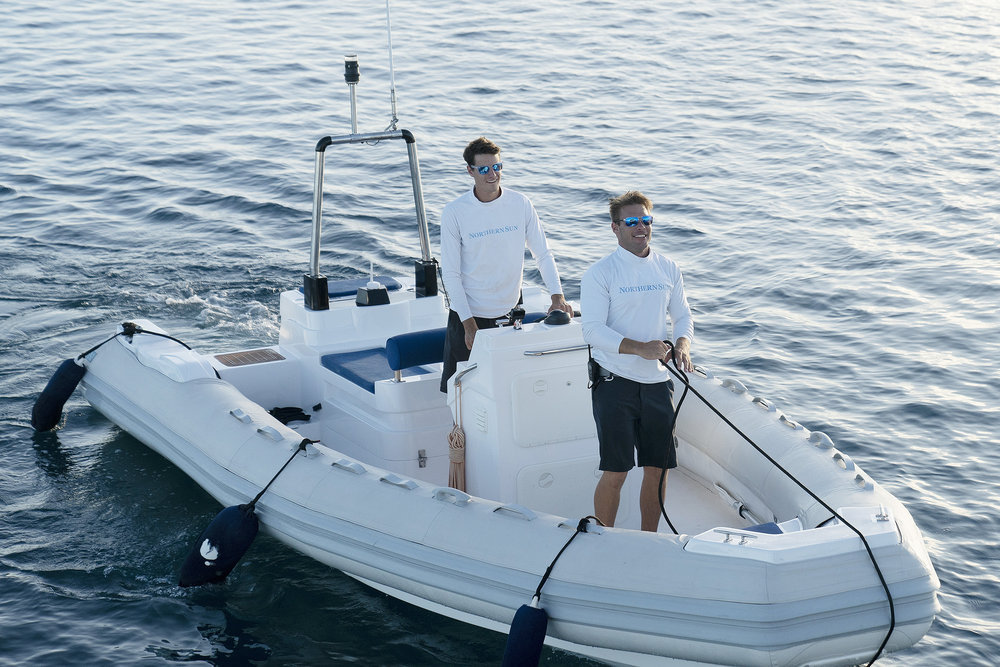 Captain Jason has found the perfect place for a beach setup. The catch? It's a disappearing slip – basically, an island you can only visit for a few hours a day before the ocean takes over and hides it entirely. Once everything is set, and the guests arrive, there's just three hours before the island will disappear for the day.
"Nobody gets to do this, ever," says one of the guests. They love every minute of their strange little beach getaway. The food is cooked to perfection, and they can't say enough good about the crew. They're taken back to the yacht after a couple of hours, leaving the deckies and Margot just 45 minutes before they'll be stranded.
It's a bit of a scary situation for everyone involved, but only João really seems to recognize that. Everyone is cool, calm, and collected, putting their muscles to good use. While the tender that will take them and all of the supplies back to the yacht could capsize, everybody's efforts ensure that all goes to plan. "I feel like a superhero," says Adam. He'd certainly pull off the suit.
Who is Cupid, anyway?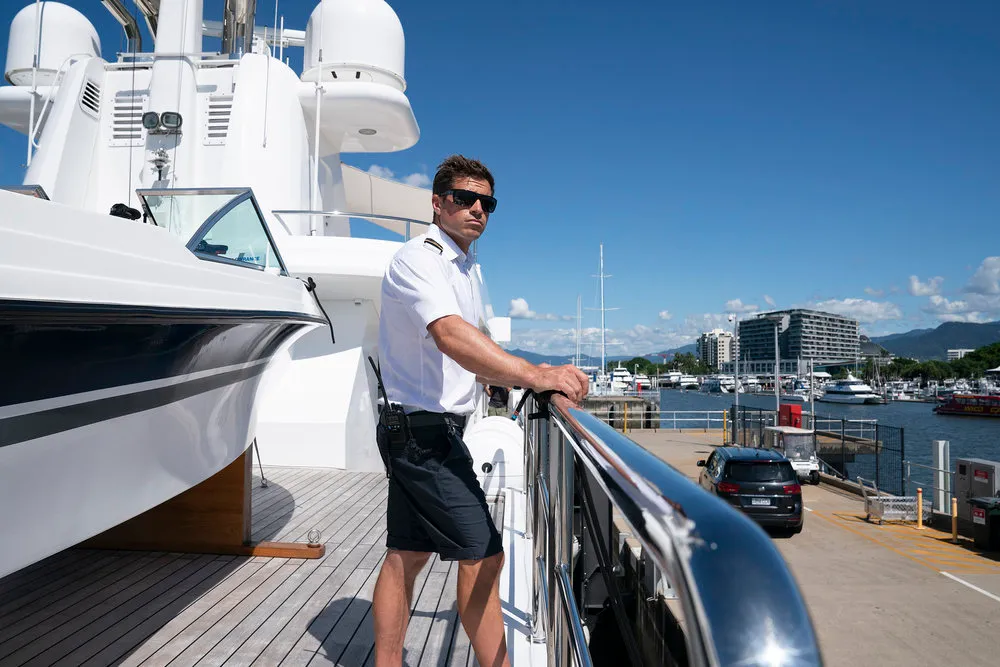 Tzarina has opted to go for a Halloween starter as part of the holiday dinner. The main will of course be Christmas-themed, with some delicious stuffed turkey. As she preps the food below deck, Aesha is teaching Margot some table-laying skills. Their bond is a thing of beauty. While Aesha's not ready to let Margot take a night shift just yet, she says it will be coming "very soon." I'm excited for her!
In the galley, João and Tzarina seem flirty. He's taken Culver's place, and I'm kinda living for it. "We're very comfortable with each other," João interviews. He wants to get to know her more. Go for it – just make sure you prove to Aesha you're not the man you once were!
For dinner, the crew all get dressed up. Culver looks great as Cupid, despite not knowing who he was. He's a "physically beautiful whore," according to Tzarina. It's João who steals the show as Santa, however. And Jaimee has absolutely nailed the decor. This crew is killing it when it comes to guest interactions and prep!
"Now that we're all family, thank you for celebrating with us tonight," says one-half of the co-primaries. I love this group, and wish they were sticking around for longer.
Adam gets an unwelcome message from home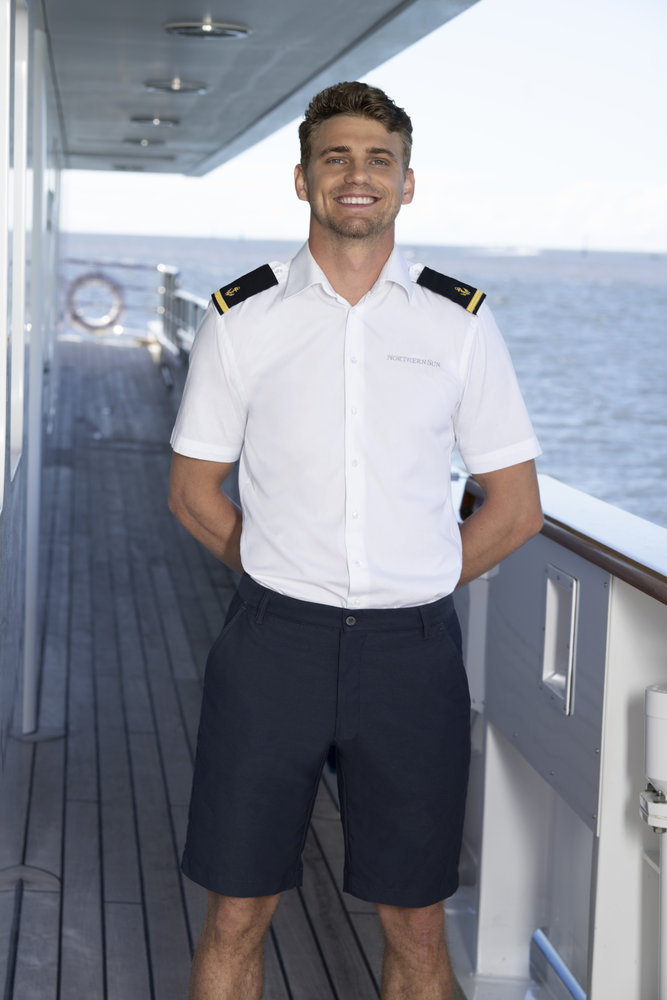 As everybody heads to bed for an early night, Adam is unable to rest. His mom rings and tells him his younger brother has been attacked by four other kids. He recalls the story his mom gave him, that his brother was scared and the punches were hurting him. It's heartbreaking. As an older brother myself, it made me feel sick. Kids can be cruel, and what makes it worse is that it's learned behavior. Adam wants to wring the necks of those responsible. I can't blame him. I'd feel the same way. Adam is a fantastic older brother – I hope he realizes that.
With the final day of the charter arriving, João starts the day chatting to Adam. He reminds him that doing something silly in retaliation could lead to him not being able to be there for his family at all. It's a great moment that the two share, with a mutual respect growing between bosun and deckhand.
Up on deck, as the crew prepare to dock, João warns Culver that his lines need to be tighter. He's attempting to teach those working under him, and jokes they'd all be fired if he didn't. Adam seems to have his head screwed on since João came aboard, and doesn't want to disappoint him. So, when the docking ends up with a huge scratch to the side of the boat, it's going to be interesting to see who is to blame. Please don't let it be Adam!
Below Deck Down Under continues Mondays at 8/7c on Bravo.
TELL US – DID ADAM'S STORY ABOUT HIS LITTLE BROTHER MOVE YOU? DO YOU THINK JOÃO HAS REALLY CHANGED? DOES TZARINA HAVE A RIGHT TO BE MAD AT CULVER?