Tracy Tutor began dating Erik Anderson back in 2020. This was just after Tracy finalized her divorce from Jason Maltas. By all accounts, the Million Dollar Listing Los Angeles star seemed all too happy with her new man.
But as it turned out, things perhaps weren't quite as peachy as they always looked. Maybe it was the growing controversy over the 19-year age gap between them. But for whatever reason, perhaps it just wasn't meant to be.
Tracy recently spoke with Jeff Lewis about what was going on in her life. She appeared on SiriusXM's Jeff Lewis Live to comment on her relationship status.
What happened to Tracy and Erik?
Jeff began, "So, we should probably just let everybody know. I mean, do you mind?" After Tracy questioned what he meant, he said, "That you're single again?" She gave him the go-ahead and he said, "So, Tracy is unfortunately single."
Tracy chastised him a bit for his wording. "Unfortunately? Jesus, Jeff." She then said, "I mean, let's just say we're taking a break," referring to Erik Anderson.
Jeff said, "I met him. Very nice guy. I met him at your house … Unfortunately, you guys have separated, so after three and a half years?" Tracy confirmed just as much, also confirming that they'd been living together throughout that time.
Why Tracy feels she needs a boyfriend
Jeff asked if Erik had his own apartment, and Tracy said, "Well, no. I actually just sold him a condo. We're about to close escrow." The group joked that Tracy profited from the situation. She said she was "thinking about" kicking back her commission, but they hadn't closed yet. She also confirmed that Erik moved out "A month ago."
When Jeff asked her how she was doing, she plainly said, "I need a boyfriend … I should not be single. It's dangerous for myself, for the city of Los Angeles and wherever else I travel to." Jeff agreed that he felt destabilized when he was single.
Tracy concluded her thoughts by saying, "Yeah. I make poor decisions left and right, I go out on a Monday night. I stole a car accidentally in the Hamptons like things just go wrong."
TELL US – WHAT DO YOU THINK OF TRACY'S RELATIONSHIP HAPPENINGS? WHAT DID YOU THINK OF TRACY AND ERIK?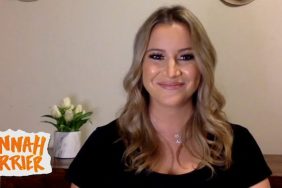 She's here! Below Deck Mediterranean alum Hannah Ferrier has confirmed the birth of her first child, a baby girl. Hannah's…