Below Deck Down Under picked up in the midst of a medical emergency this week. Captain Jason Chambers and Aesha Scott were quick to respond to a guest, who appeared to have a seizure. After calming down the situation, supplying oxygen, and getting the affected on a water taxi to the hospital, things calmed down a little. But this wasn't an episode without more drama. Here's everything that happened on Below Deck Down Under Season 2, Episode 14.
Aesha's upset, and Jaimee's jealousy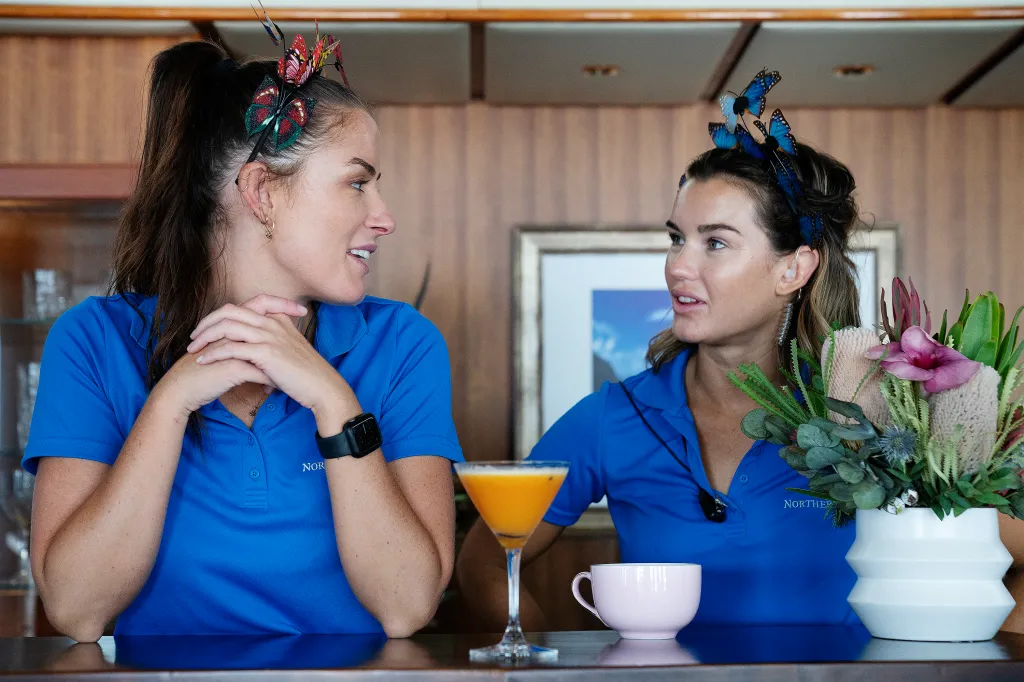 The incident onboard has left Aesha feeling a little triggered. She is reminded of the times her late brother would endure a seizure, as he had two "golf ball-sized brain tumors" in his head. He passed away at 24. Captain Jason reminds her that it's fine to have emotions, and it's trying to understand them that's the important part. The guests were also incredible in comforting her when her tears returned up on deck.
Meanwhile, Jaimee is feeling a certain kind of way when Culver runs to the galley, to try Tzarina's food, rather than rushing to her to see how she's feeling about the medical emergency. Methinks Jaimee is going to look back on this and feel like a bit of an idiot for making this moment all about her. But as Captain said, we are all allowed our emotions! They are valid, no matter how inconsequential they may be when we look back on them. Plus, it works. Culver apologizes, and thinks it's time to try and make things official…
As the guests do their best to enjoy themselves, one gets an update. Now he's at the hospital, Josh who suffered the seizure is feeling "40%" better. After a few more cocktails from the "wheel of death," the guests retire to their rooms at 12:35 a.m. Margot does a great job of cleaning up, and the first day of the charter comes to a close.
An unwelcome blast from the past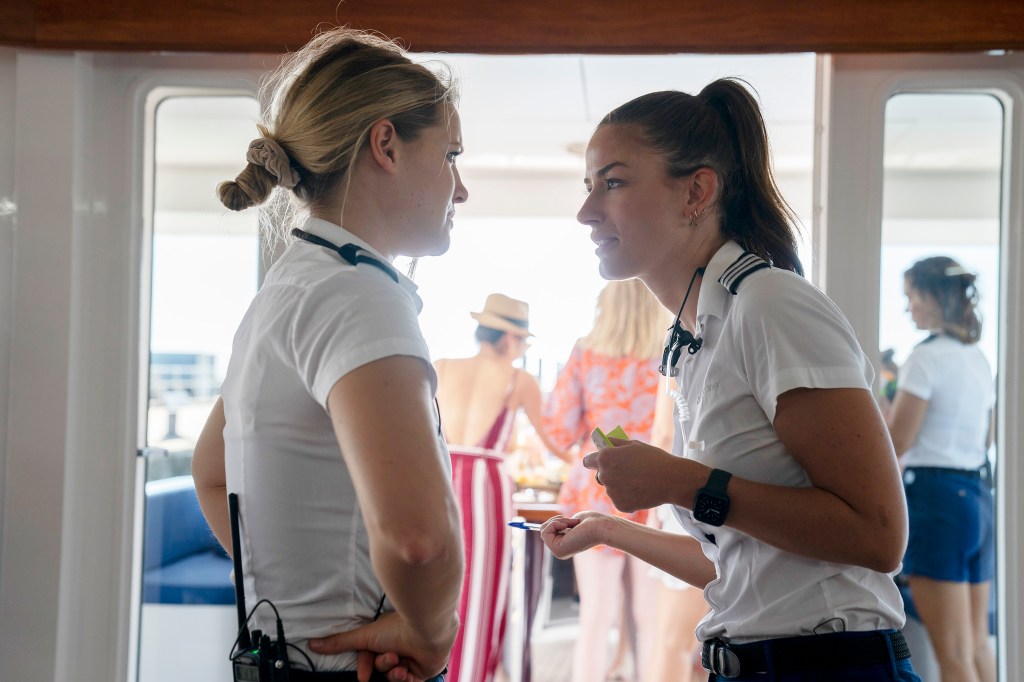 As Tzarina and João continue to flirt, and Luka is keen to prove himself, Margot gets an unexpected text. It's from shamed former bosun Luke Jones. He wants a chance to explain himself so that Margot can "hear my words please." While he asks if he can give her a call, she doesn't respond to the message. Good for her.
Margot is a little shaken by the text. She wasn't expecting to hear from Puke so soon, and needs to keep her focus elsewhere. This is the first charter she's been allowed to work nights and service, so she wants to keep her head in the game. Unfortunately, that doesn't really go to plan. She keeps the text to herself, as it's sending her back to two weeks prior, and she doesn't want the same for the rest of the crew.
Sparks continue to fly between Tzarina and João. She's really enjoying the bond they share, loves the flirting and the attention, but admits she is "playing with fire." Luka also has the hots for somebody on board. Sadly for him, it's Jaimee, who's already been snapped up by Culver. Play the long game, Luka. She may not be as into him as you think…
Drinking the pain away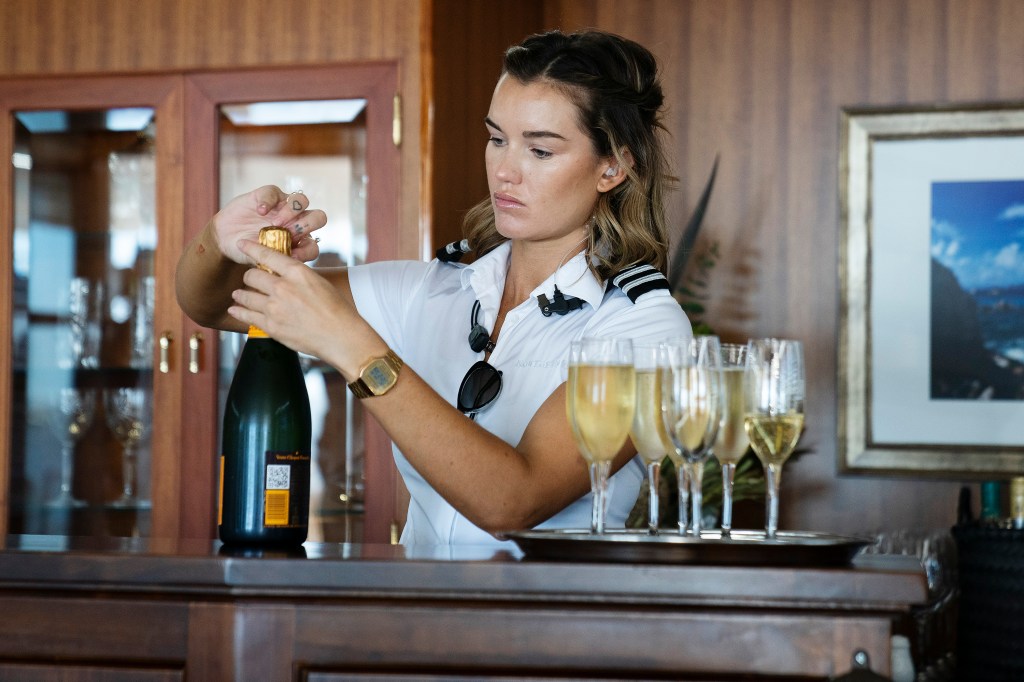 As the charter continues, Margot's relationship with alcohol proves to be troubling. She is sampling many of the drinks being made for the guests, which is against the rules of crew drinking while on charter. It gets to the point where Aesha, while helping prepare for Hawaiian night, smells alcohol on Margot's breath. Margot is immediately honest about what she's been drinking, and Aesha hates the situation she's been put in. She doesn't want to tell tales, but she has a duty to inform Captain Jason of what's going on.
She tells Jason that she is concerned Margot is going through something. He suggests she be taken off service if Aesha believes she's not up for the job. Captain doesn't want anybody who isn't completely stable after the medical incident the night before.
Jason quickly pulls Margot for a chat, scolding her, but allowing her to explain herself. She says she is ashamed of her actions, and promises that this isn't who she is. She's extremely apologetic, and it's something the Captain recognizes. He also offers her help with what she's been going through.
Margot says in confessional that this was a big wake-up call. Her relationship with alcohol is a dangerous one, and she's not mad at Aesha for calling it out. She may even be thankful.
Tzarina and João try to find clarity
With the intentions of having an open and honest chat, both Tzarina and João get even deeper into their maybe-romance. They admit they get on well, but Tzarina doesn't want to ruin that. She knows that as soon as she gets home, her friend is going to want to know EVERYTHING that happened with João. As she's someone who has hooked up with João in the past – and allegedly had her heart broken by him – should Tzarina be going down this path? It certainly goes against what she was saying in regards to Jaimee and Culver! But still … there's something there. And I want the pair to explore it. They're a great fit.
Elsewhere, Culver tells Aesha of his intentions to ask Jaimee to be his girlfriend. The only problem is, she's in the next room and can hear the conversation. She plays it off like she only knows they'll be going on a date together, but something tells me she heard every word. She's getting cold feet, calling it "early days" in confessional. But will she be able to turn him down when he's gone to the effort of using João to make him a card, complete with checkboxes? Harry has me rolling when he points out that if one of the lads in Australia did this, they'd be thrown out on their arse in the streets. More of this Harry please, editors. He's hilarious.
The guests leave, but not before handing Jason a fat envelope. Their total tip comes to $17,980, which splits down to $1,498 per person. Not bad at all! The helmet is given to Margot, who Jason gives another chance. "Case closed," he says, as she promises she won't trip up again.
What will Jaimee say?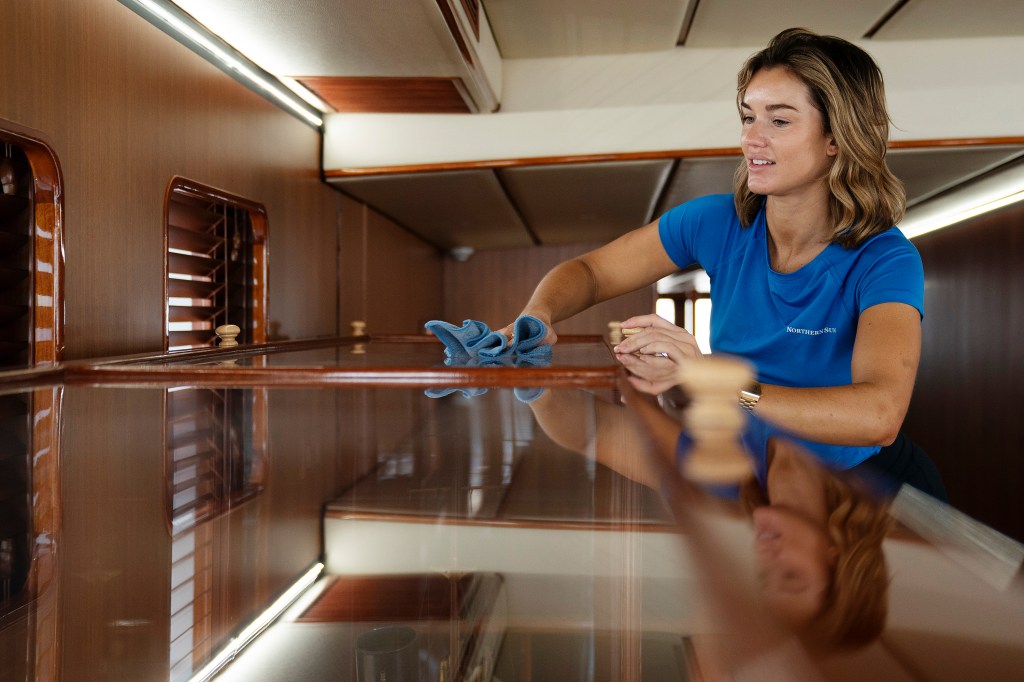 Culver sets up his date with Jaimee before the crew night out. I've gotta say, he's done a great job! It looks pretty fantastic. Luka and Harry are impressed, and watching from afar.
When Jaimee arrives, she feigns surprise. Then comes the card. "It's cute, but you're 30 years old," she says in confessional. This might not go the way Culver had hoped. Gulp.
Below Deck Down Under continues Mondays at 8/7c on Bravo.
TELL US – DID YOU LIKE CULVER'S CARD FOR JAIMEE? WERE YOU SHOCKED BY MARGOT'S TEXT? ARE YOU GLAD SHE GOT ANOTHER CHANCE FROM JASON?