Previously on Bachelor in Paradise, Olivia Lewis has had a hard time hanging onto her men. But now Michael Barbour has arrived in Paradise. Will he ask Olivia on a date? "John Henry who?" Olivia jokes. Here are some highlights from Bachelor in Paradise Season 9, Episode 8.
Who will Michael take on his date?
All the guys are hoping Michael will pick Olivia since she's been dumped so many times in Paradise. She deserves to be "chosen" by someone, especially after Kat Izzo stole John Henry from her.
Happily, he does choose her, and Olivia's thrilled. In a confessional, she imagines getting engaged in Mexico, but it turns out she doesn't even know Michael's name! I hope somebody told her before they left for their date.
Sitting by a firepit (seriously, isn't it like 100° in Mexico?), Olivia decides she really likes Michael, and the whole John Henry/Kat situation was a blessing in disguise. She doesn't want to screw this up. When she gets him back to the beach, she doesn't want anybody else to touch him, look at him or talk to him.
The return of the Paradise Truth Box
Wells Adams announces that it's time again for the Paradise Truth Box. So he pulls out a few of the notes and reads them aloud just to stir up some drama.
"Peter totally shaves his legs." Who cares?
"John Henry and Kat are going the distance." Yeah, as far as they can get away from each other. Who put that one in there? It had to be either Kat or her partner in crime Kylee Russell 'cause nobody else really likes Kat.
"Tyler [Norris], everyone knows you're not that into Mercedes [Northrup]. You'd better come clean 'cause she deserves the truth." Yikes! That one hit a nerve. Now Mercedes is insecure. She likes Tyler and thought they were okay.
When she pulls Tyler aside for a talk, he tells her he feels happy and thinks she's beautiful. But now she's questioning his motives and doesn't know if they're on the same page.
Mission accomplished, Truth Box.
Something wicked this way comes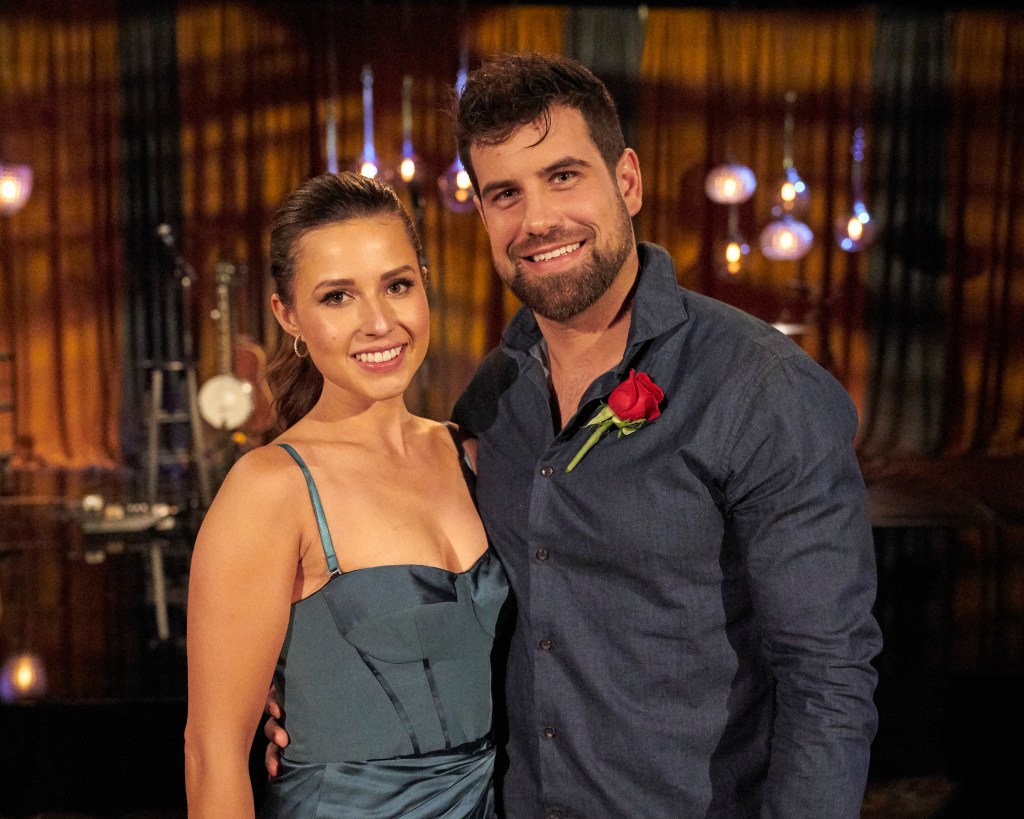 As the end of Paradise gets closer, couples are starting to think about what life in the real world could look like. Jess Girod thinks she's finally found her "person" and is looking forward to life outside of Paradise.
But here comes someone down the stairs. Who could it be? It's Blake Moynes' ex-fiancée and the most annoying Bachelorette ever, Katie Thurston.
Host Jesse Palmer greets her with a hug. "Katie!" he says. "I wasn't expecting to see you here in Paradise."
"I wasn't expecting myself either, but here we are," she responds.
Katie explains that things just "didn't work out" with Blake. She hasn't seen or spoken to him in a couple of years. Even though they ended on good terms, Katie moved on faster than he expected, so he was angry with her.
"I don't think Blake's gonna be happy that I'm here," she says. "I really don't."
And on that note, Jesse sends her on down the stairs to Paradise.
Just as everyone's talking about the day being full of "good vibes," here comes Blake's ex into Paradise.
"Hello," she calls somewhat timidly, as she comes around the corner. Blake looks a little bit sick and like he just wants to disappear.
"Oh, my f*cking God," he mutters. "I was in love with this girl. I have not seen her in two years. It's just weird seeing her."
Blake's "worst nightmare"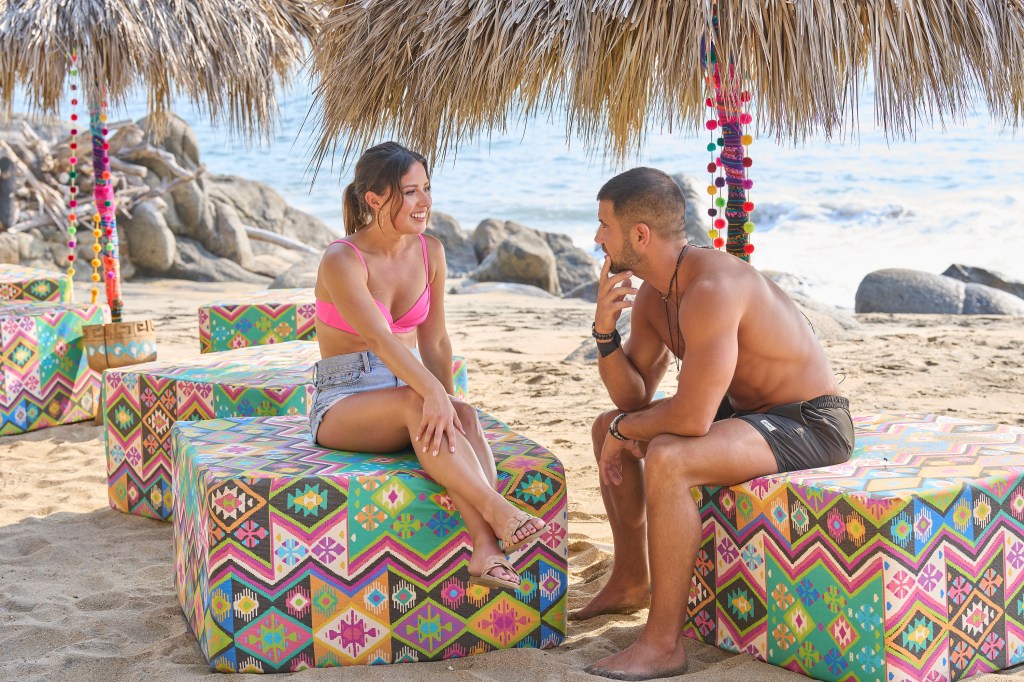 "Addressing the elephant in the room," Katie continues, "I'm gonna pull Blake aside and we'll go chat a little bit." Reluctantly, Blake follows her.
"Why is she even here?" Blake wonders to himself. "There's not a worse scenario."
Blake does remember getting voice messages from Katie after their breakup, but he was bitter at the time and didn't feel obliged to respond. "You were in a relationship," he continues. "I wasn't overly excited about that. It was a bit of a dagger. I was like, 'I don't owe her that.'"
"I agree," Katie replies. "That's why I've never reached out since … I really don't even remember what I said in those voicemails, but if I didn't say it then, I'm saying it now. I'm sorry that things went the way they did. If I could go back and redo it all, I would."
Katie's not here to date
As the other residents of Playa Escondida speculate about whether Katie is here to date or for some other nefarious reason, Katie herself explains why she's here. After admitting that her experience as the Bachelorette didn't turn out the way she'd hoped, she adds, "Let's be honest. Who needs dating apps when you can just be a reoccurring contestant on reality TV?" Oh, that's right. Katie's pursuing her new career as a standup comedienne these days.
"I did want to be here first," she adds, "but unfortunately, Blake came first – which as his ex-fiancé, I'm used to." Ouch. That was unnecessary. Also, nobody laughed. Don't quit your day job, Katie.
"Tonight I'm not actually here to date," she continues. "We're actually turning the Rose Palapa into the Roast Palapa for the first ever Bachelor in Paradise Comedy Roast. Tonight you get to live, laugh, love your way, and extend your 15 minutes of fame."
They break into pairs and start writing. Olivia says "Everyone is a target. Nobody's safe." This could get messy. Olivia's coming for everyone, especially Kat and Katie.
The BIP Comedy Roast
Jesse welcomes us to the BIP Comedy Roast. First up is Katie.
Katie's best jokes: "This show is so stupid, it makes John Henry look smart … No surprise Jess' nickname is Baby Jess since Blake used to make me call him Daddy."
John Henry: "Olivia – wait – you're still here?" Oh, that was mean.
Aaron Bryant: "John Henry, his underwater diving has him color-blind 'cause he can't tell a red flag from a Homie Hopper."
Blake: "It's unfortunate the doctor sent Sam home for constipation. Kat, you'd better watch out. You've been full of sh*t this whole time."
Tanner: "Kat, I know I ruined your birthday, and I'm really sad about how that conversation went. But I really couldn't tell where your head was at 'cause your face couldn't move due to all the Botox."
And they came just as hard for Jess.
Kat: "Baby Jess, I know it's been a while since you've had a date, but maybe if you took that pacifier out of your mouth, you could start kissing with some tongue."
Tanner: "Blake, I just actually heard that the same year you got engaged to Katie was actually the same year Jess was born … We were all really, really excited when we found out there was gonna be an ex-Bachelorette on the beach, and obviously we were really hoping for Gabby, but we got Rachel." Ouch. Rachel didn't like that one, though she tried to keep smiling.
The beach is on fire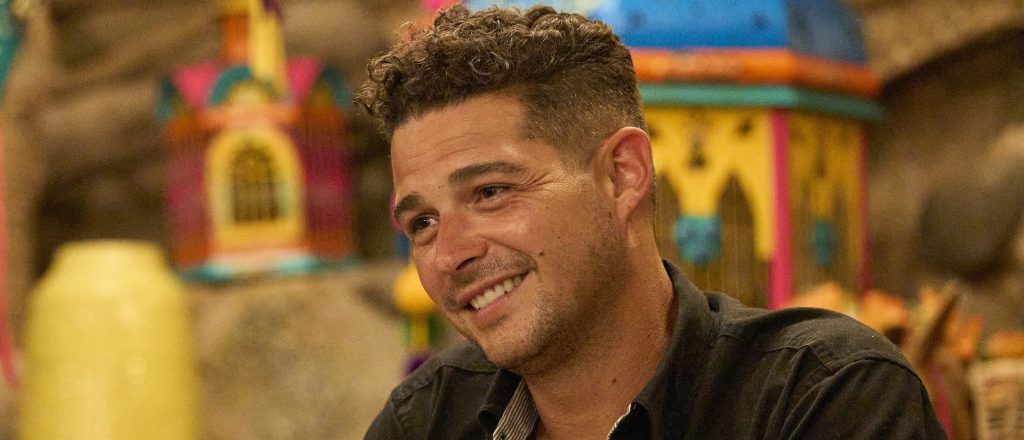 The next morning, even Olivia admits that she thought the roast would be funny, but feelings were hurt. She didn't enjoy that.
Katie came down to Sayulita and set the beach on fire. Rachel's crying, Mercedes is angry and Jess' feelings are hurt. This wasn't as much wasn't fun as everyone thought it might be.
The women have the roses, but there's no joy in Paradise. And there's a Rose Ceremony tonight. There are currently eleven guys and eight girls, so three of the men will be going home. They should have thought of that before they pissed off all the women.
Before he can even think about accepting another rose from Jess, Blake needs to have a conversation with her. Uh oh. He leads her to one of the daybeds, away from everyone.
"I'm very confused," Blake says in an interview. "I spent way less time with Katie but still understood the love that I had for her in that time. I've spent so much more time with Jess, and I just should have felt it by now."
I feel a breakup coming on. Brace yourself for the tears. I always felt he was too old for Jess anyway – or she's just too young for him.
"I feel like I had a real taste of what love is here," he tells her. "And I feel like we're not getting there at all."
Next Thursday is Thanksgiving, so we'll see you in two weeks for all the drama in Paradise. Enjoy your turkey!
Bachelor in Paradise airs Thursdays at 9/8c on ABC.
TELL US – WHAT DID YOU THINK OF BACHELOR IN PARADISE SEASON 9, EPISODE 8? HOW DO YOU THINK JESS WILL REACT WHEN BLAKE BREAKS UP WITH HER? WHO ELSE DO YOU THINK WILL CALL IT QUITS? DO YOU THINK ANYONE WILL GET ENGAGED?