Gerry Turner's final two ladies on The Golden Bachelor have finally been revealed. Leslie Fhima and Theresa Nist are the lucky pair, who both traveled to Costa Rica with Gerry following their hometowns. This week, each woman had the opportunity to spend an overnight date with Gerry, aka the famous Fantasy Suite week. From surprising revelations to shocking twists, here is everything that went down during The Golden Bachelor Episode 8!
A talk with Jesse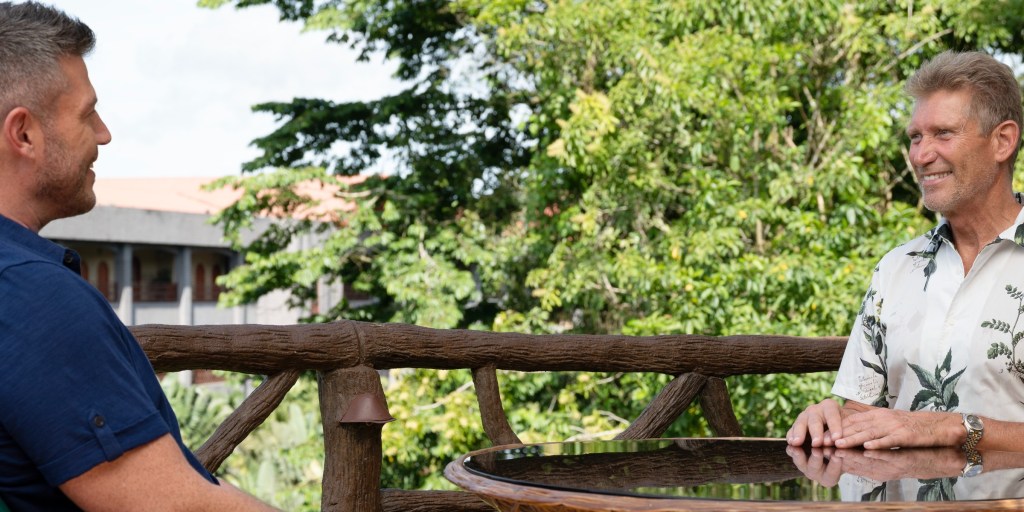 Before getting to his dates for the week, Gerry takes a check-in with host Jesse Palmer. Gerry expresses that he is excited to finally have unfiltered time with both women behind closed doors. Jesse asks Gerry how he feels about Leslie and Theresa, to which Gerry replies that he is in love with both. Gerry can see Leslie being a life partner, however, he has a safe and secure feeling with Theresa at the same time.
Leslie gets the first date

Leslie gets the first date, which to her surprise is a rope rappel down a 170 foot cliff! At least there's a waterfall at the end! Despite being nervous, Leslie admits that Gerry makes her feel safe and confident. Gerry feels like there are no obstacles he and Leslie can't overcome. Could this date have started off any better?
At their dinner later on in the evening, Gerry turns to some more serious conversation. He asks Leslie where she wants to live in the future, to which she responds that she never wants to leave Minneapolis permanently. However, she would be open to living somewhere else and "figuring it out" with Gerry. Gerry agrees that the two could figure it out.
Later on in the conversation, Leslie expresses doubt since she never had a long term partner like Gerry. Leslie gets emotional, but is of course comforted by an understanding Gerry. After reading the fantasy card, both Leslie and Gerry are open to spending the night together. Gerry tells Leslie that he thinks she's the one he can't live without. Whoa!
After waking up, Gerry reveals that he and Leslie barely slept and talked till about 3 a.m. The couple struggle to say goodbye, but are forced to since it is now time for Gerry's date with Theresa.
Time for Theresa's date

Theresa is excited for her date with Gerry, and admits that she never thought she would make it to the final two. Gerry is pumped to spend the day with her as well, and the two have a romantic horseback riding excursion planned! Despite being happy to see Theresa, Gerry says that it feels very strange going right from an overnight date with Leslie to a date with Theresa. Welcome to Bachelor Nation, Gerry!
Theresa picks up on Gerry's quietness, and asks him what's wrong. Gerry explains that he has had a tough day, since he is unsure of how to handle the situation he is in. In a confessional, Gerry admits that he found himself wondering what Leslie was doing, while he was with Theresa. Yikes!
Going into dinner, Gerry wonders if his relationship with Theresa has run its course. He is eager to know more about her, and starts by asking about her career. Theresa was originally a homemaker, but later started buying stocks and became a day trader. Gerry is impressed by Theresa's accomplishments, and it seems like things are once again moving in the right direction for them.
When Theresa opens up the Fantasy Suite date card, both she and Gerry happily agree to it. Gerry is happy that he learned a lot more about Theresa at dinner, and is ready to learn even more about her during their overnight date. Theresa admits that she has not slept with another man since her husband passed, so this is a big moment for her.
After waking up, Gerry jokes that it's funny how 24 hours can make a difference. Theresa remarks that they finally really got to know each other, and Gerry says it feels like the first day of the rest of his life. The camera then pans to Leslie, who is stressing over how Gerry and Theresa's date could have gone. After saying goodbye to Theresa, Gerry admits that he is in love with both women, but believes he has made his decision. Who could it be?
The Golden Bachelor returns to ABC on November 30, taking a hiatus for Thanksgiving.
TELL US- DID YOU LIKE THE GOLDEN BACHELOR EPISODE 8? WHO DO YOU THINK GERRY WILL CHOOSE?