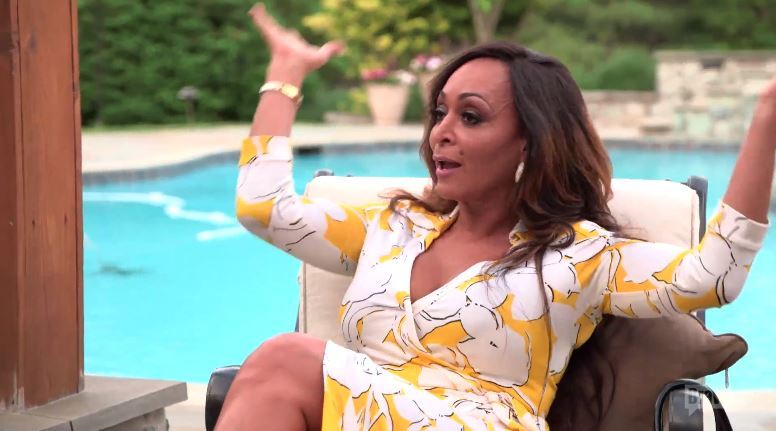 The ladies of Potomac, MD are here, and they're taking no prisoners! Straight out of the gate, the cast of the Real Housewives of Potomac are showing us why they're a force to be reckoned with. So, let's meet the latest group of women to catch Bravo's roving eye. After we're taken on a whirlwind tour of golf greens and tennis courts, stately houses and thick woods, the first place we finally land in is Gizelle Bryant's kitchen, where she's baking with her three adorable girls.
Gizelle says Potomac is an exclusive community where "only legacy or a large cash flow can get you in." Gizelle's father was one of the first African Americans to be in the Texas House of Legislature, working alongside Dr. Martin Luther King Jr. and Andrew Young. Originally from Potomac, Gizelle moved to Baltimore (Potomac mourned…allegedly), then came back after her divorce (Potomac cheered…allegedly). Gizelle was married to Jamal Bryant, a well-known pastor-slash-cheater-cheater-pumpkin-eater. He liked to play the occasional game of "hide the salami" when not pontificating from the pulpit, according to Gizelle. Despite her etiquette-centered upbringing, Gizelle is not interested in living by the rules according to Potomac Society anymore. She's strictly into The Rules By Gizelle these days.      
CLICK THE CONTINUE READING BUTTON FOR MORE!
Next we're introduced to Katie Rost who, with her boyfriend, Andrew Martin, are having lunch. Hopeful-husband-Andrew is white and Jewish, which Katie says is just her type. Also, Andrew waxes his eyebrows. So. With three kids under the age of three (OMG! Girl, you need a nap, not a lunch date), Katie was 4 months pregnant when she left her former husband. A year to the day after leaving him, she met Andrew. Katie's full time job is lunching and party hosting, ie: being a socialite and philanthropist. Andrew doesn't understand that these – er – "jobs" are NOT vapid. They are a LOT of work. Hrrrmmmph. Having grown up in Potomac, Katie has been groomed to attend balls and galas on the regular. She's also not interested in being single. So, Andrew: you're on the clock.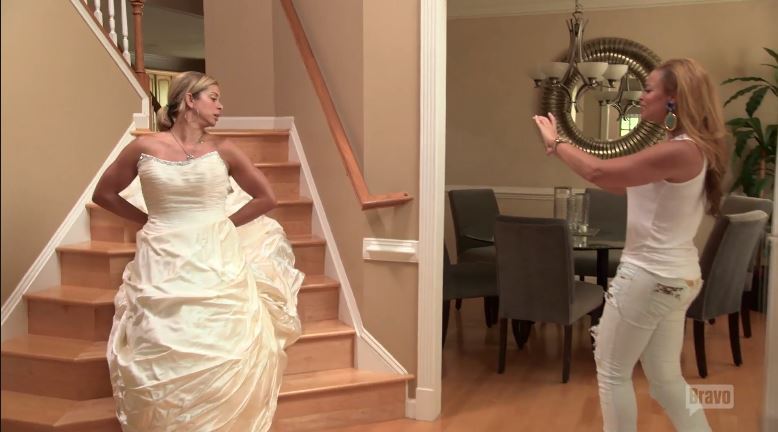 Robyn Dixon, ex-wife of NBA player Juan Dixon, is working from home. She's in PR, which is a departure from her family of lawyers and educators. She's not stuffy, nor does she want her workplace or social circle to be. Enter good friend, Gizelle, who notes that she and Robyn have been mistaken for sisters for years, being "two light skinned, green eyed black girls." Robyn has enlisted Gizelle to help her get rid of her wedding dress, which she's been hanging on to ever since her divorce three years prior. Juan's infidelity led to their divorce which is what you get, says Robyn, "when you marry someone in the NBA instead of someone with an MBA." (Snort!) 
Robyn and Gizelle have bonded over their shared hatred of sticks-in-asses and over their divorces. But hold up: Robyn may be divorced, but she and Juan are still living in the same house, raising their children together, and…sleeping in the same bed. (Hello, Dina Manzo?) Gizelle grills Robyn about this strange arrangement, but Robyn makes no apologies. If Juan wants to see other people, then what? wonders Gizelle. She notes they tried to get rid of Juan, but "Where'd he go? He went outside to the mailbox, then he came back." On cue, Juan enters the room, and wonders why his ex-wife is sitting in her spooky wedding dress talking about him? The ladies crack up as Juan exits to the left. Because he's got some mail to check on.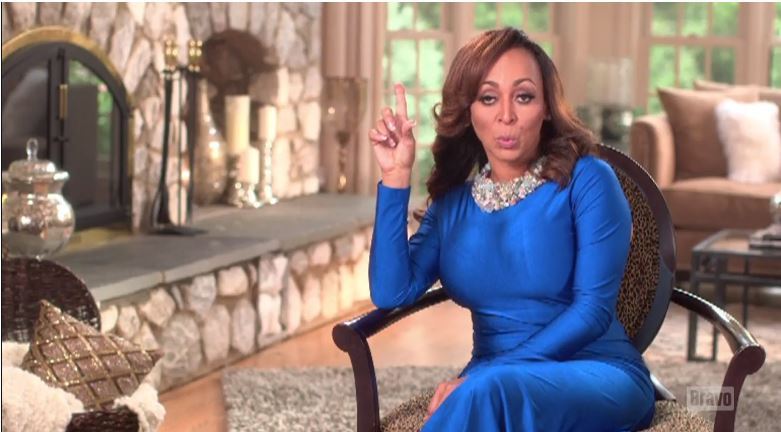 Next, we're transported to the home of self-proclaimed HBIC of this group, Karen Huger, whose husband, Raymond, is the president and CEO of an IT company. Or, as Karen puts it, is "the black Bill Gates." Claiming that it's a choice to marry rich, Karen notes she's never met a happy poor man – ever. #JesusHeardThat! Karen says people aspire to live in Potomac, a place she moved after marrying up and getting out of her farmer's-daughter past in Germantown. After 19 years of marriage, she knows she's got to keep her man happy. And on a tight leash. Cause bitches be crazy.
Karen heads over to Gizelle's for tea and TEA. Gizelle says Karen is a diva, in the vein of brokedown Patti LaBelle or poor man's Diana Ross. Since there are so few African Americans in Potomac, Gizelle tolerated befriended Karen when she moved back to town. Gizelle has laid out a spread of cookies for her esteemed guest, who feels responsible for leading the black women in her community toward a brighter future. Karen says she may hand the reins over to Gizelle one day…when she's dead. For now, Gizelle's just pissed that Karen didn't give her first prize at some cookie bake-off months ago.
Karen's daughter, Raven, is going to prom soon, while her eldest son, Brandon, is already out of the house. Karen's children are better than everyone else's, Karen's life is more fabulous than yours, and Karen is the boss of your boss. Or so says Gizelle. Karen's motto seems to be: You is not kind, you is not smart, and you is not important. Gizelle may not be coming for the queen, but she is not planning on bowing down to her in this lifetime. Gizelle does plan on dating while she's single though, which Karen isn't so sure about. Gizelle's ex, Jamal, is cool with it, but Karen is not. Something tells me Karen is probably not Kool with anyone doing anything. Like being poor. Gizelle has zero f*cks to give about this matter, however. So, she'll go ahead and have her poundcake and eat it to, thankyouverymuch.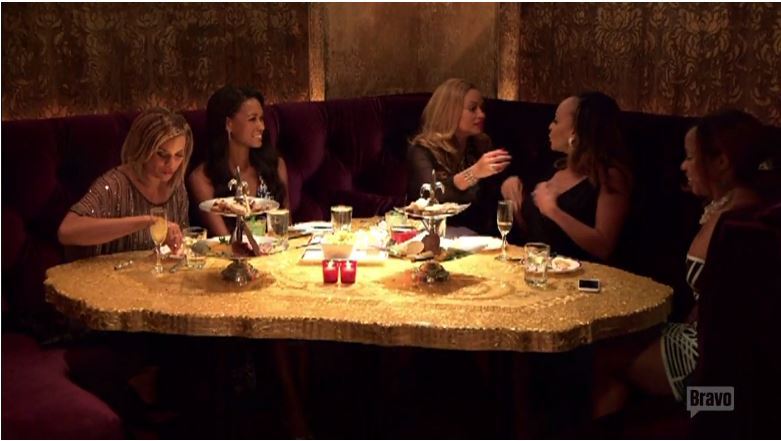 In honor of Karen's birthday, we're treated to the first Potomac Housewives Group Dinner! Gizelle and Katie arrive first and dish about Robyn selling her wedding dress on e-Bay. (I love this. I think I'm going to love Robyn, period, but will reserve gushing until we know more!) Robyn and Charrisse Jackson Jordan join the ladies next. Charrisse is married to Eddie Jordan, who once coached the Washington Wizards (who Robyn's ex, Juan, played for). Robyn described Charrisse as one of the most gracious coach's wives in the NBA, hosting dinners for the players' families and working toward philanthropic efforts. Charrisse prides herself on her charitable efforts, and on the finer things in life. She's also tuned into proper etiquette, like waiting until the guest of honor comes to dinner before ordering the short ribs and crab balls – which Gizelle and Robyn have no problem doing. 
Speaking of the guest of honor, Karen arrives next and is ushered in to the booth between Charrisse and Gizelle. Sound the alarms! Call the manners police! Katie notes that Gizelle not giving up her CENTER SEAT for the almighty Karen has breached all proper decorum of birthday dinners thrown by Bravo in burlesque halls. Pearls shall be clutched and bosoms shall heave. Karen notes this move and quietly seethes while kissing Gizelle hello, playing her cards close to her chest. For now.
Charrisse tells the ladies she's throwing a crab boil soon, and updates them on hubby Eddie's new position as head coach at Rutgers University – which means he lives in Jersey part time. Gizelle wonders if Charrisse has an "end game" in mind, but Charrisse is fine with their long distance arrangement. Gizelle thinks Charrisse is just fronting though, as last time she saw Eddie was…never. Karen tries to defend her friend, then Charrisse changes the subject by toasting Karen's birthday. The entire table follows suit by offering mini-speeches about the Great and Powerful Wizard of Karen. 
Back at Charrisse's home, she's getting ready for her crab boil. She says Potomac didn't exactly greet her with open arms when her family moved to town because she laughs, "people thought I was Section 8." Bottom line: Not many black people live in Potomac. Gizelle and some random friend come to Charrisse's house early to help cook the crabs, which are crawling out of the bucket like prehistoric vermin. For the record, I love lobster, and I love crab. But taking these suckers from crawling and snapping to boiled and buttery is a gruesome task. Which I have failed more than once doing. But if anyone can handle this bucket of creep, it's Gizelle. So good call on enlisting her help, Charrisse!      
Back at Katie's house, she and Andrew are attempting to wrangle her children into clothes for the day. Katie says Andrew is a great parent, but what she loves the most about Andrew is how great he is with money. So, just dress the tots in dollar bills, then?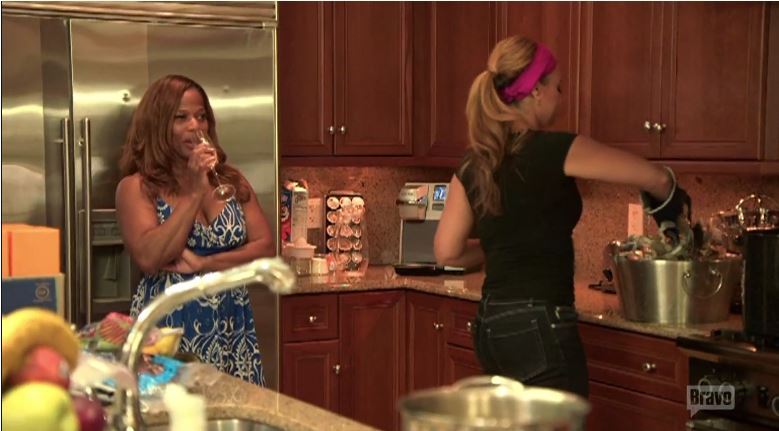 Back in Charrisse's Kitchen Nightmare, Gizelle is adopting a catcher's pose trying to toss live crabs into a boiling pot while Charrisse sucks down white wine and harasses her efforts. Enough harassing for now though! For Lady Charrisse needs to run upstairs to get her makeup professionally done and her toes professionally did. Meanwhile Gizelle is left downstairs like the hired help (sans a paycheck), rifling through drawers and schlepping crabs hither and yon.
Instead of being grateful that Gizelle is single-handedly doing all of HER work, Charrisse instead snarks to her makeup artist that Gizelle sounds ghetto down there and obviously doesn't understand proper etiquette. She sighs, glad that her children are not home to witness it all, not to mention how flipping lazy and entitled she's acting. Gizelle then runs upstairs, tosses a live crab down Charrisse's makeup smock, and peaces out. (Kidding! But, why can't that just happen, please?)
As guests begin to arrive, Gizelle – who has gotten herself cleaned up and presentable in a fraction of the time – is downstairs greeting guests. Where's Charrisse? Still being coiffed and plucked upstairs, presumably. The guests take themselves outside to mingle since the host is nowhere to be found. Karen shows up, and Gizelle makes the mistake of complaining to her about Charrisse's behavior. "Who walks around with the HELP?" wonders Karen, who also notes that it's insulting to bring one's stylist (the sous chef? also a stylist, apparently?) along, not to mention – My God! – offer his help to Mrs. Charrisse Jordan.
Karen is not here to merely complain about stylists and sous chefs, though. She's here to school Gizelle on the proper arrangement of dining guests at a birthday party. Karen launches into her beef that Gizelle did not give her the center seat in the booth at her dinner, thereby crumbling civilization as they know it. To reinforce her point, Karen offers Gizelle a gift: a mirror-framed list of 5 Rules of Etiquette.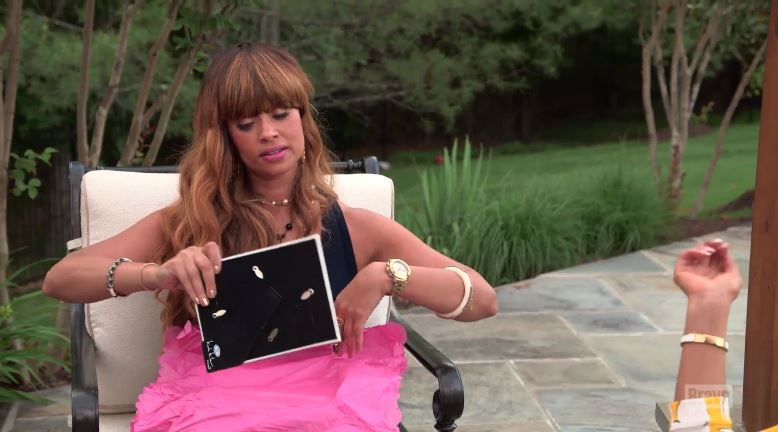 Gizelle reads the list, then reads Karen. Gizelle is not about to get schooled by Karen of the Farm. If Karen is so upset about an issue of seating at a birthday dinner, then maybe next time she should speak up. She needn't pop a forehead vein about it after the fact. After wearing herself out with finger wagging, Karen finally walks off in a huff.
For Gizelle, this etiquette list is good for one purpose only: to provide a mirror to fix her bangs and wonder when Karen plans to un-clench her sphincter about sitting in a damn booth. "See you in the rear," laughs Gizelle as she watches Karen's behind fade into the sunset. 
Well, the gauntlet has been thrown. It looks like Gizelle v. Karen and/or Gizelle v. Charrisse is officially the case to be tried. Although we didn't meet Ashley Darby this episode, previews suggest she's another spitfire that will ignite this bunch of etiquette-obsessed socialites whose act of "proper decorum" is already wearing a bit thin. Will you be watching?  
TELL US: WHAT DID YOU THINK OF THE FIRST EPISODE OF RHOP? IS THIS GROUP GOING TO BRING THE FUN DRAMA? OR THE CRAZY TRAIN? 
Photo Credit: Bravo