Shame, shame, shame. Instead of honoring the memory of their amazing friend Big Ang, the women of Mob Wives are getting into Twitter wars over planted stories… and could they be any more passive aggressive (said in my best Chandler Bing voice)? It's pathetic.
Not only do their posts and retweets take away from those grieving for their beautiful, larger than life co-star, but they aren't even tweeting at each other. Their silly behavior needs to get in check, and stat. On one side, we've got Karen Gravano going on and on (and on) about "someone" making up a rumor that Ang's family didn't want her or newbie Brittany Fogarty at the funeral due to their fathers' reputations as informants. On the other side, Drita D'avanzo is staying relatively silent but obsessively retweeting Brittany's statuses which defend Drita's honor. Give me a break. Please.
CLICK THE CONTINUE READING BUTTON FOR MORE!   
The pettiness began yesterday when Karen announced, "never angs family it was my cast mate and I wonder who please sad Drita would leak that story when we lost a friend," adding, "You R all right I am not gonna entertain her didn't when she 1st put out this fake story. Sad she can try 2 use this time 2 benefit herself." Something is sad, that's for sure. 
When a follower reminds Karen, "By arguing with each other and calling people out, @KarenGravanoVH1 you're forgetting about the mourning of your family member," Karen responds, "True she got me tight cause she is being so disrespectful trying to keep this going but your right." 
Karen works in a few more digs, writing, "Sad that we just lost a friend and she's making up fake stories to the media and is still trying to keep it going."
Of course, then there was this exchange which included Carla Facciolo supporting Karen who was then called out by Brittany: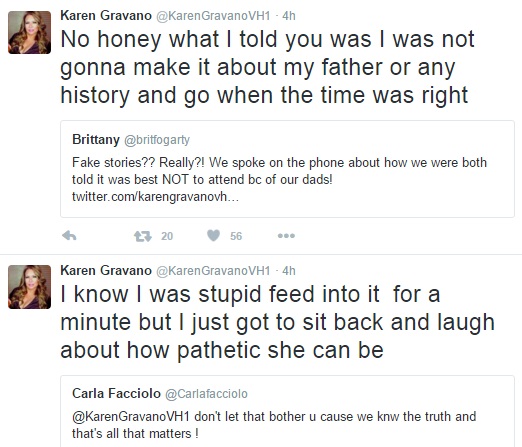 I'd like to say that Drita's silence was taking the high road, but I don't really consider her sharing Brittany's rants left and right to be actual silence. Maybe she's trying to defend herself against these accusations, but two wrongs don't make a right. Here's a peek at Drita's Twitter feed as of yesterday: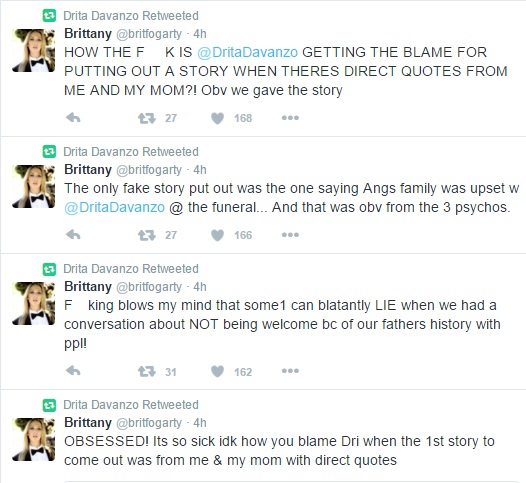 Is it too much to ask that these women respect Ang's wishes that everyone just get along??
TELL US – WHAT DO YOU THINK OF THIS TWITTER FEUD? WHO IS BEING MORE RIDICULOUS? 
[Photo Credit: VH1]