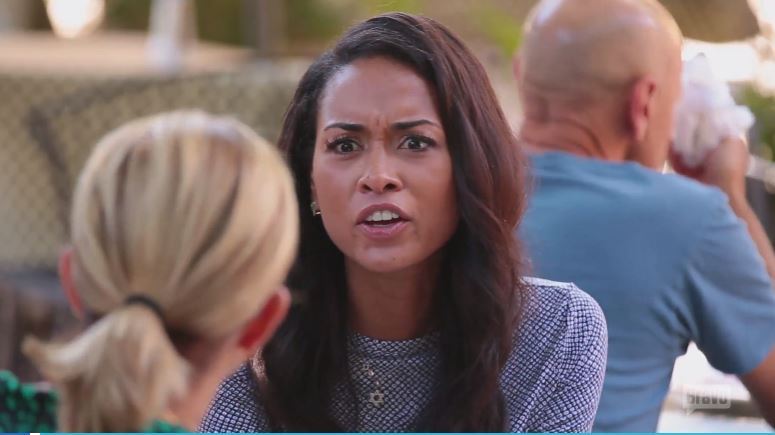 We made it! The final episode of The Real Housewives of Potomac's debut season is in the can (in more ways than one). Now that the etiquette curtain has fallen – or rather, has been ripped to shreds – the ladies decide to end their shared story by hurling mean-spirited accusations at each other about race, babies, and other sordid nonsense. Fun times!
Oh – and Katie Rost is not only throwing down with Robyn Dixon and Gizelle Bryant at a "Come to Jesus" luncheon; she's also still pining away for an engagement ring from Andrew. So, not everyone's story has changed much since episode one, after all. But will the forced engagement actually happen? 
Charrisse Jackson-Jordan is sleeping off her hangover the morning after her 50th birthday bash. The party was everything she thought it should be, with the exception of not having her husband Eddie there. She did have Eddie's $80 grand there, though, soooooo…it's not all broken dreams over here. 
CLICK THE CONTINUE READING BUTTON FOR MORE!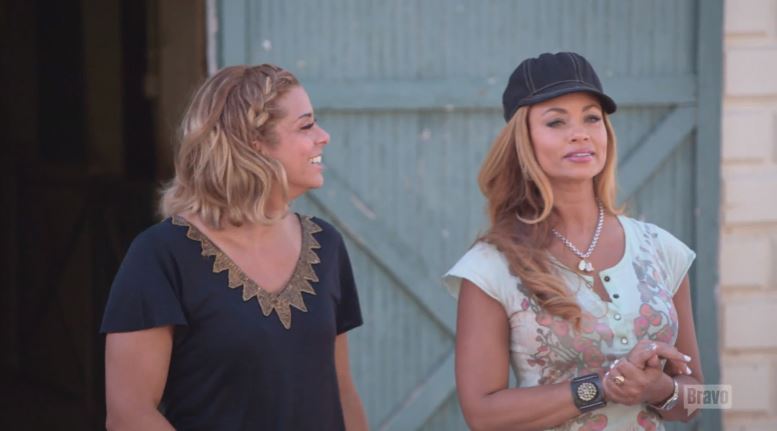 Gizelle and Robyn are taking their kiddos for horseback riding lessons. Gizelle jokes that while Robyn is a horse riding virgin, Gizelle is not a virgin in any sense of the word. While the kids ride, the gals discuss needing to get their kids together more often, especially because of the super-small African American community in Potomac. Robyn has seen black kids grow up with wealth and privilege who don't seem "to know who they are." Alluding to Katie's comments at Charrisse's party, Robyn wonders aloud if some people in her community need an education about Black History. Gizelle's bright idea? A "Come to Jesus" lunch to get the ladies back on the same page. Hmmm. Even if Jesus Himself were invited, I don't think this lunch would accomplish what Gizelle is proposing.
Over at Karen Huger's house of 1997 La-Z-Boy Showroom Stylings, her daughter Rayvin is packing for college. Karen can't believe her baby is all grown up. But she is excited to roll around in empty garage boxes with the Black Bill Gates! In an attempt to set boundaries early, Rayvin tells Karen there's no need to be visiting her on her birthday. But boundaries mean nothing to Karen, who is ready to slap a chastity belt on Rayvin as she advises her not to kiss or practically stand adjacent to boys after dark because "the devil comes out at midnight!" Someone else Karen forbids Rayvin to stand near: Ashley Darby, of the butt-grabbing Darbys.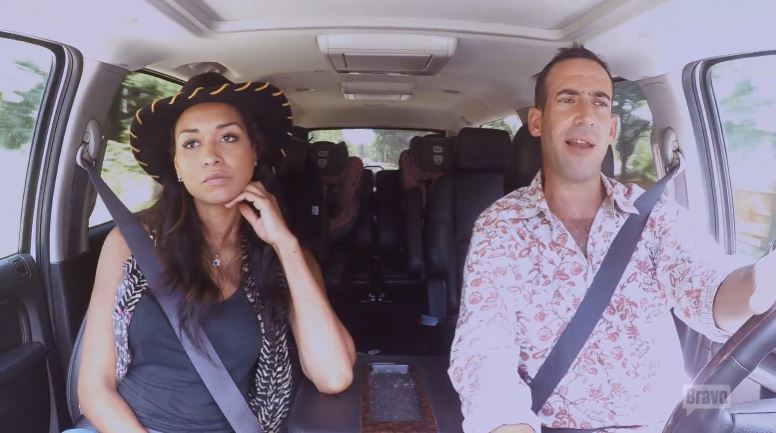 Katie and Andrew are heading to her country home, which she bought back in her modeling days. They discuss the butt grope at Charrisse's party, which Andrew plays off as Michael having a "thing" for him since the beginning. He's not sweating it nearly as hard as Robyn or Gizelle, who Katie thinks need to lighten up. Speaking of Gizelle, she calls Katie on the way to invite her to the luncheon. Katie says she'll try to make it. "Why would a nice Jewish girl like me want to go to a Come to Jesus lunch?" snarks Katie. 
On the drive, Andrew informs Katie that he'll be traveling to Scotland for a golf trip – alone. No, she's not invited, so quit asking! After Katie pouts in her ironic/unironic cowgirl hat, they finally make it to the farm. If this man isn't proposing to her soon, she'll need to keep it movin.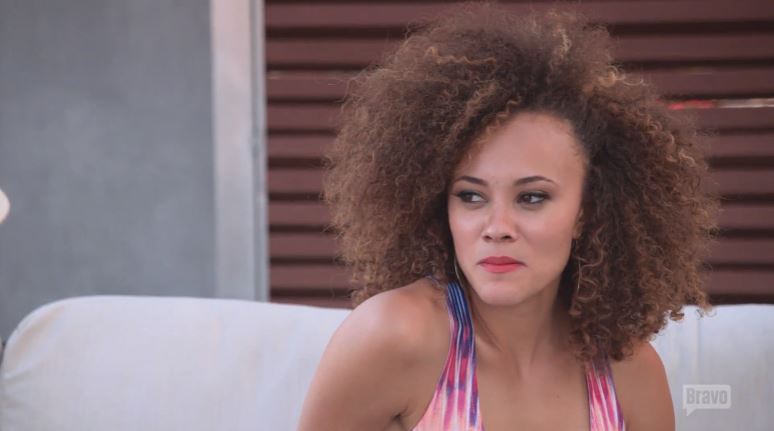 Over at Ashley's, Michael is bringing tequila, sushi, and flowers up to the patio to show Ashley his luuuvvvv. They discuss their restaurant opening, which will be their first baby. But not a real baby, Ashley notes. So, when are they gonna get on that? She tells Michael straight up that she's feeling the baby urge, but he's not rushing it. He does amicably agree to start trying once their restaurant breaks even. Ashley seems happy with this answer, but may be a bit naive about how shrewdly Michael just set their timeline. New restaurants breaking even are not an overnight prospect, after all.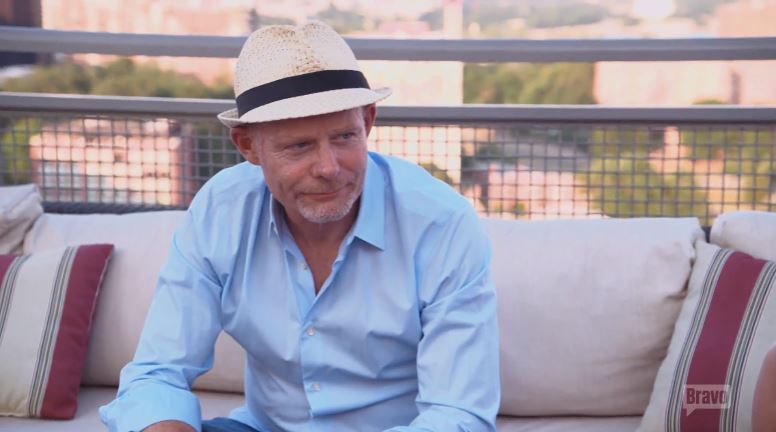 Ashley wonders when she and Karen will be able to squash their beef, given the cold shoulder she received at Charrisse's party. Now they've got other issues to deal with after Michael's arse-touching antics though, so where do they start? Nowhere, as far as Michael's concerned. He seems utterly bored by Gizelle and Robyn's manufactured drama at the party, and I must say, I agree with him! #GetOverIt
Back at the farm (where's Karen!?), Katie leads Andrew to "The Vortex," which sounds like the place Andrew will be changed into a pod-person who obediently serves at Katie's every whim in the dystopian future that will be their lives. But Katie says it's more of a one-with-nature-thing. So, let's see!
The Vortex is decorated with…um, tasteful funeral arrangements? WTH!? They wander out to stand in the its center, and I'm awaiting the announcement: Let the 79th Hunger Games begin! Oh, Andrew. We smell a proposal. (May the odds be ever in your favor…)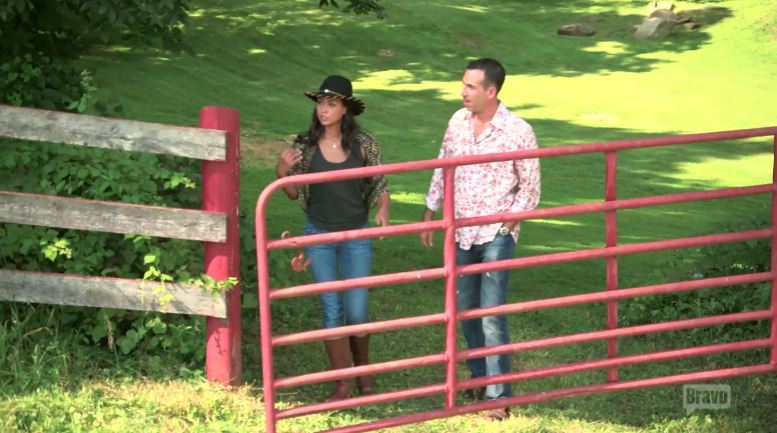 As they reach The Vortex's center, Andrew drops to both knees and PROPOSES!!!!!! He made the 10-episode timeline! Katie's response – of yes, of course!- is strangely underwhelming, considering the extreme thirst she's been displaying all season long about this very moment. They kiss, then walk off. Andrew jokes about a 5-7 year engagement as they wander out of The Vortex. Then Katie reboots his settings so he calms down and acts right.
Cooking with her daughters, Gizelle is cherishing the simple moments with her kids – and reminding them of etiquette lessons. Ugh! We almost got out of this episode alive without hearing that word! Her father, Curtis, is coming for lunch. He's Gizelle's role model, and was an influential man in the Texas Civil Rights movement. Gizelle's one time dating prospect, Herman, pulled some strings to get Curtis honored in the Congressional Record to be recognized for his achievements, so he's in DC for the event.
At lunch, Curtis tells a story of working with Dr. Martin Luther King Jr, who he remembers praying before a fundraiser about unsold tickets. Moments after praying, a limo pulled up with a man who wrote a check for $25,000 to Dr. King for the remaining tickets. Then he instructed Dr. King to give them away. What an incredible story! Curtis tears up while telling it, believing he witnessed a miracle that day. Wow. 
Gizelle says her family has been part of the fight for African Americans' human rights all of her life, so Katie calling her bi-racial (in error) cuts deep. She thinks Katie needs a little history lesson before she makes assumptions in the future. I may be off the mark here, but it seems Gizelle is more concerned that Katie (in Gizelle's opinion) thinks it's preferable to be bi-racial, or identify more with her white/Jewish heritage, than to be black.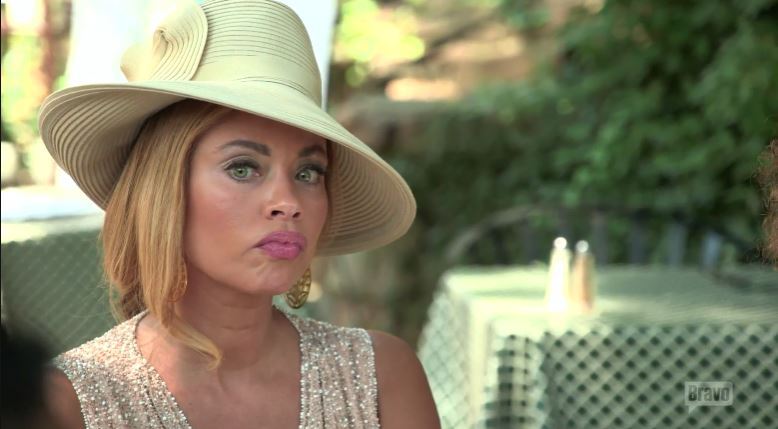 It's the day of Gizelle's luncheon. As the ladies come to Jesus, Gizelle waits in her tilted hat, wondering whether this fractured group can glue their sh*t back together. Karen arrives, stating that she'll be doing NO mending of fences with Miss Ashley today after she showed her ass at Charrisse's party. Charrisse and Ashley show up next, and everyone plays nice for a few minutes. So where's Katie? No one knows, but Robyn wouldn't be surprised if Katie took a pass on this crazy lunch.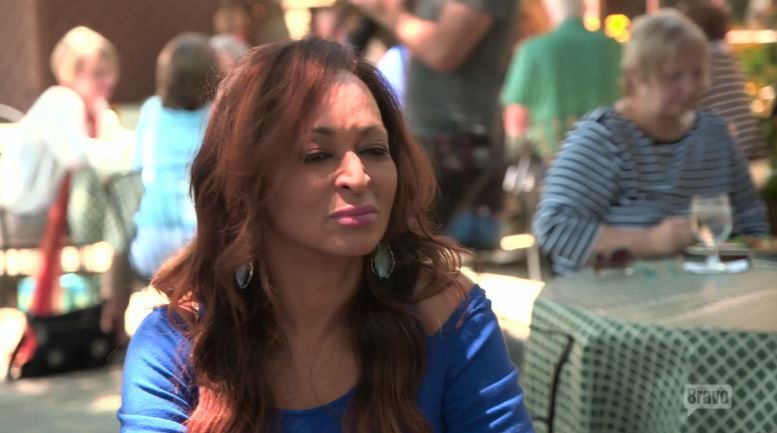 Gizelle lays down the rules: No one can speak unless they are holding the "Reserved" sign she literally just swiped off the table. #NicePlanning Robyn sighs, while Karen seethes in her chair, looking as if she's just smelled a dead rodent. Grabbing the sign first, Karen confronts Ashley on bringing up Rayvin at her janky gala launch party.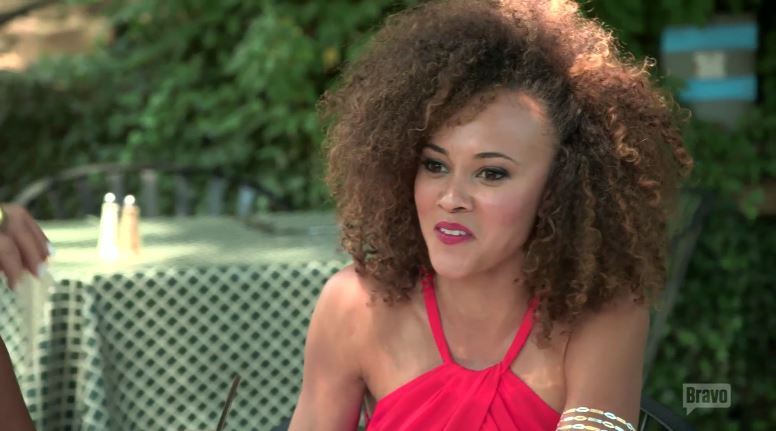 Ashley tries to defend herself, but alas! She is not holding the Reserved sign! (Could this be any more low rent? C'mon, Potomac!! This is your FINAL episode. At least bring along a bedazzled spirit stick or some sh*t!) Karen busts on Ashley for Michael using the "pull out" method, then offers up this gem: "I suggest you let him stay in. Ejaculate, procreate, and get a baby of your own. Move up off of mine!" Karen directs Ashley to never, ever put her child's name in her mouth again. The entire table's reaction can be summed by Robyn thusly: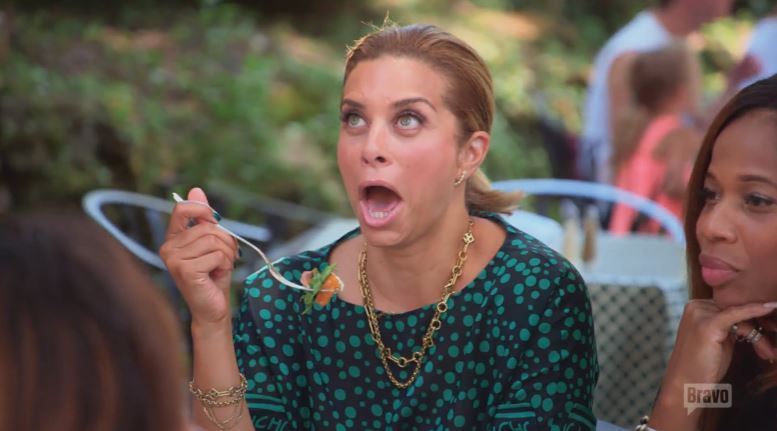 So, who shall the Reserved sign be bestowed upon next? Gizelle, with a mouthful of chewed up food, snatches it back. But Ashley comes to her own defense anyway, calling out Karen on her ludicrous judgment of Michael and her the entire season. Hey, wait! How did that damn sign get back in Karen's claws already? 
Suddenly cutting them all off, Katie enters this den of vipers to join the venom fest. Before they can get her up to speed on the drama, she shows them her ring and announces, "I'm ENGAGED!!!" They all offer congratulations, but move on quickly to more drama. Although Katie is in her "bubble of love," Robyn still wants to confront her about the racial comments made at Charrisse's party. (Charrisse, by the way, is sort of a non-entity at this table right now. She's played her cards right on the second half of this season, despite coming out of the gate as one of the most snarly characters!)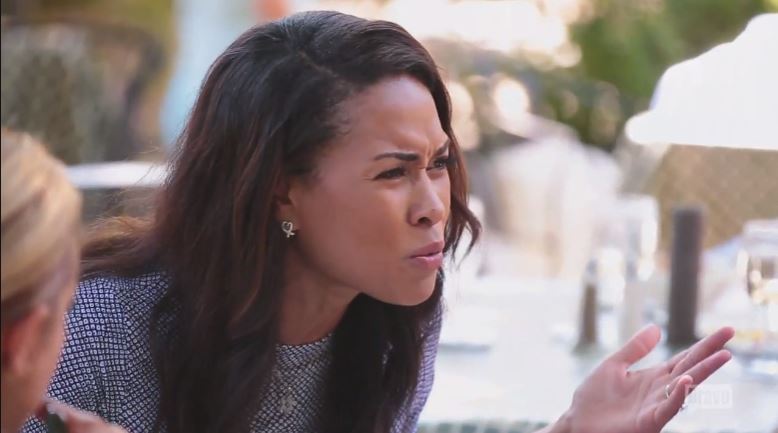 Robyn tells Katie it's time for a black history lesson. This is, er, not well received. Katie calls Robyn out as judgmental about Michael groping Andrew, then calling it a "white thing." There's a difference between white and black experiences, says Robyn. But Katie doesn't understand what that has to do with grabbing asses? If Robyn wants to know if butt-grabbing is a "white thing," Katie argues that she should go find a white guy and ask him. But leave her out of it. 
Robyn defends that she didn't say anything behind anyone's back; she was being up front about it. But before she can get any further, Gizelle interjects that the entire Michael debacle was just about disrespect. And Katie calling them bi-racial was disrespectful too. Katie argues that she was just showing them their own hypocrisy by calling them out. She's a black woman, yes, but also bi-racial. She identifies with both of her parents.
"What the hell is wrong with that?" asks Katie. That's not what Gizelle heard her saying earlier in the season, though. Getting up in fury to grab her sign back, Gizelle hisses, "You act like it's a problem to be black!"  
Katie is over this idiotic "Come to Jesus" lunch. And she's over Gizelle, who she says is "A stupid woman who says stupid things!" Gizelle doesn't seem to have a comeback for this accusation. 
Charrisse finally breaks her silence, admitting that this group (ahem: Robyn and Gizelle) do bring up race a little too much. They need to cool their jets. Adding to this new spirit of compromise, Karen backtracks on her Shaka-gangsta attack of Ashley, explaining that she thinks Ashley and Michael are a "dynamic couple," but need to understand other people's boundaries. Ashley can respect that.
The energy at the table completely shifts (did Jesus just show up!?) as Katie apologizes next for calling Gizelle stupid. #SorryNotSorry Then Robyn follows up by apologizing to Katie, explaining again that she didn't mean to be racist. Was it an ignorant question she asked? Yes, admits Robyn. But it wasn't intended to be a racist question.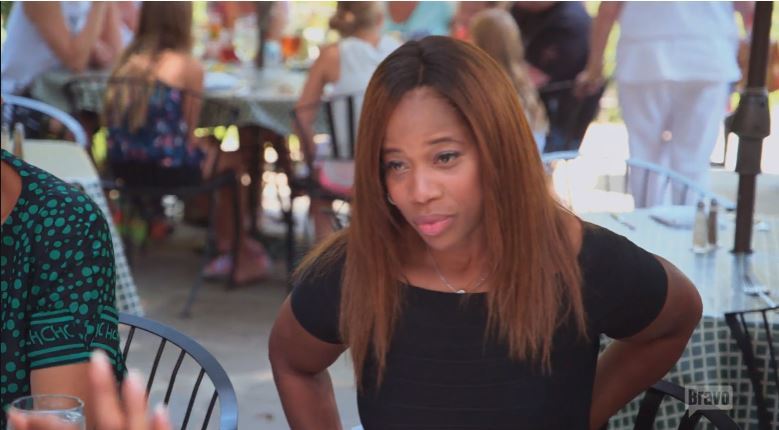 What Charrisse would like to see from this group moving forward is a little more respect, love, and understanding. As Katie gazes mindlessly at her ring, Gizelle reflects on the intelligent sophistication and style of this group of ladies. Mmmmmkay. 
Credits tell us that since filming, Charrisse's hubby Eddie is still living in NJ, but that she can doggie paddle unassisted in her pool now! #LifeGoals Katie and Andrew broke up since the finale aired, but are now back together. They're still engaged and hoping for a June wedding…2022. Karen's daughter is doing well at college, even though her mother is calling her four times a day. While the Black Bill Gates hides in the garage. 
Gizelle's makeup line, EveryHue Beauty, is her focus. But dating Herman again is not. Ashley and Michael's restaurant, Oz, opened in October. It hasn't broken even yet, so I assume Michael's still pulling out? (Gag!) Lastly, Robyn and Juan's house went into foreclosure, so they've recently moved into a smaller home. But it has something Karen must envy: An updated kitchen.      
TELL US: WHAT DID YOU THINK OF RHOP THIS SEASON? WERE YOU SURPRISED BY ANDREW'S PROPOSAL? WILL YOU BE TUNING IN FOR THE REUNION?  
Photo Credit: Bravo