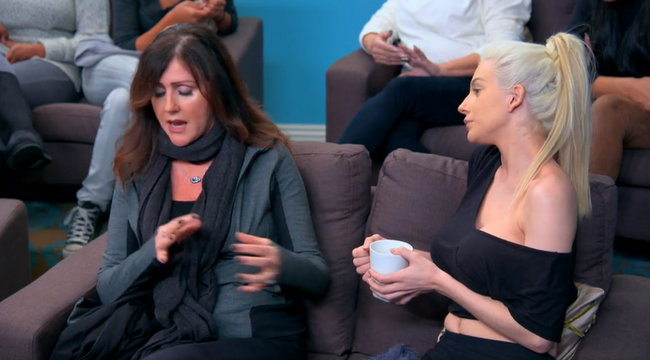 Things are clearly not better for Courtney Stodden and her estranged mom, Krista Keller. The two appeared together on The Mother/Daughter Experiment, attempting to fix their relationship, but as news of Courtney's pregnancy broke over the weekend (exclusively by Reality Tea), it's crystal clear that therapy didn't help these two.
Krista reacted to the pregnancy news (which she learned via the media) with an interview. She shared, "If it wasn't for media I would not get to know the news about my daughter's pregnancy This will make grandchild number five. If she is happy, I am happy for her. It would be nice to experience this with her but as it still stands her and I are still not speaking. I did not even hear from her on Mother's Day. I was blessed to be able to celebrate it with my other two girls. Courtney is still missing from our family. I pray for her everyday."
Courtney fired back to Fox News:  "My mother continues to play her 'victim' games to manipulate the media and ride on the coat tails of my celebrity in a pathetic attempt to remain in the limelight. Now she's using my pregnancy in the same manner."
Courtney says that she was warned by her therapist to steer clear of Krista. "It deeply saddens me that I can't share with my mother the news of my pregnancy, but our fractured relationship eclipses any hope that she'll ever change and start being the mother I truly deserve."
RELATED: IS COURTNEY STODDEN READY FOR BABIES WITH DOUG?
Did you watch these two on Mother/Daughter Experiment? To say their relationship is toxic is the understatement of the year – Courtney wound up in the hospital over the stress of dealing with her mom. I feel for Courtney. Being this young and pregnant and not having your mom with you for support has to be weird.
Photo Credit: Lifetime.com