Well, this is just too strange, dark, and totally shocking to snark about. Apparently, fan favorite Chief Stew Kate Chastain has been busted on a domestic dispute with her girlfriend, whose name has yet to be revealed.
The Below Deck star is out on a $5,000 bond after being arrested for biting and choking her girlfriend, who she was allegedly trying to kick out of the house. She bit her on her arm and leg, then choked her. Her official arrest reads as a "felony domestic violence charge of battery by strangulation."
CLICK THE CONTINUE READING BUTTON FOR MORE!
According to the police report, after Kate attempted to kick her drunk girlfriend out of the house and she refused, the situation escalated. "Kate bit her in the forearm, bicep and leg. Cops say Kate also put a knee on her head, choked her, and tried to stop her breathing," reports TMZ.
Kate was arrested Monday night in Melbourne Beach, FL, after her girlfriend went to work with bruising on her arm. She posted bond Tuesday. The new season of Below Deck was not shooting at the time.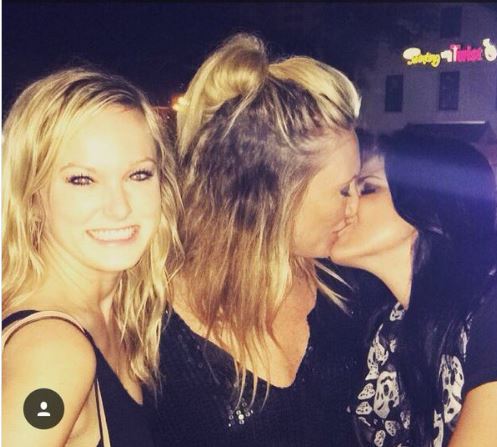 Kate broadcast her relationship with her girlfriend online, even posting photos of the two smooching on Instagram with captions like, "I'm not gay…but my girlfriend might be."
Recently Kate told Bravo she never thought she'd date a woman, but it just felt right.
Of her new relationship Kate said, "I think every single human that knows me is going to be surprised by the news because this is out of character for me. If I break up with this girl, I don't think I would really be interested in dating girls after this. I don't really think about labeling it too much. I just feel like I met somebody whose company I enjoy, and that's just all I'm calling it."
In the wake of Kate's domestic violence arrest, it seems there might be trouble in paradise though. To those who were shocked by Kate switching teams in the dating arena, her arrest comes as an even bigger shock. 
TELL US: ARE YOU SHOCKED BY KATE'S ARREST? WILL THIS HURT HER CHANCES OF APPEARING ON NEXT SEASON'S BELOW DECK? SHOULD IT?
Photo Credit: Bravo, Instagram
Save
Save