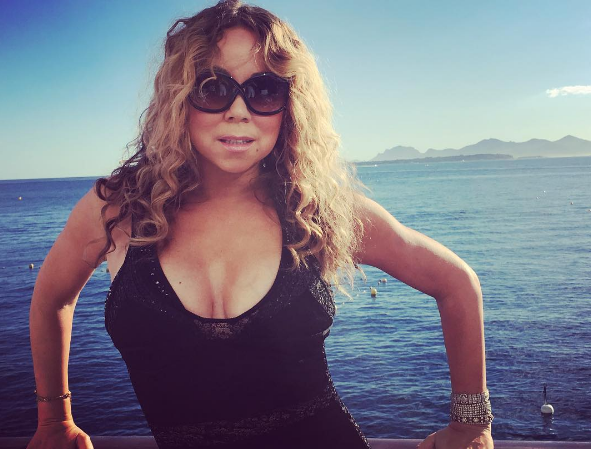 I have no idea what to expect from Mariah Carey's upcoming reality TV show, but I am so here for it. I am just hoping that it's not some super polished show about her preparing to perform in Vegas and record in the studio. That sounds like a yawn fest.
I am really hoping for some raw and crazy behind-the-scenes footage of Mariah complaining about lighting options and seamlessly throwing shade. The show Mariah's World is set to premiere at some point this Fall, so obviously Mariah has been promoting it and talking about what makes her show different than other celebrity reality endeavors.
CLICK "CONTINUE READING" FOR MORE!
As a Mariah fan, I have to admit that I have been keeping up with Mariah's interviews about this show, but I still don't know what to expect. Can I get an extended trailer, please!? Hint hint- E! 
In typical Mariah fashion, she has not said too much about it. Even in these interviews to promote the show, she still doesn't get right to the point. I am both annoyed and intrigued by the vagueness. Mariah did a major interview with Complex and although I was living for every second of it, I still don't know what to make of it and I still have zero clue about what the show will be like.
RELATED: How Does Mariah Carey Really Feel About American Idol?
The interviewer asked what her show would be like since she will be on the same network as another famous celebrity reality show (cough cough Keeping Up With the Kardashians), Mariah did not bring any clarity about her own show. Instead she shadily replied, "Some of us talk about other people and what they do and la la la. But I'm not that person." Yeah, well none of us really expected you to be talking about anyone but yourself.
Mariah explained that she just wanted the show to focus on her singing (yawn): "I've become more comfortable with it. In the beginning I was like, Fine, we can document the tour, we can show what's happening behind the scenes, with the singers, the dancers, the this, the that. You can see me when I'm on stage, I'll talk—blah blah blah."
Thankfully, she came to her senses and realized why her fans love her because she admitted, "But what I started to realize is that my best moments are off the cuff." So let's hope that it didn't take too long during the filming process for Mariah to realize that the only way this show is going to take off is if we see the real, unfiltered Mariah.
TELL US – DO YOU THINK MARIAH'S REALITY SHOW IS GOING TO BE ENTERTAINING? OR A SNOOZE FEST? WILL YOU EVEN WATCH?
Photo Credit: Instagram