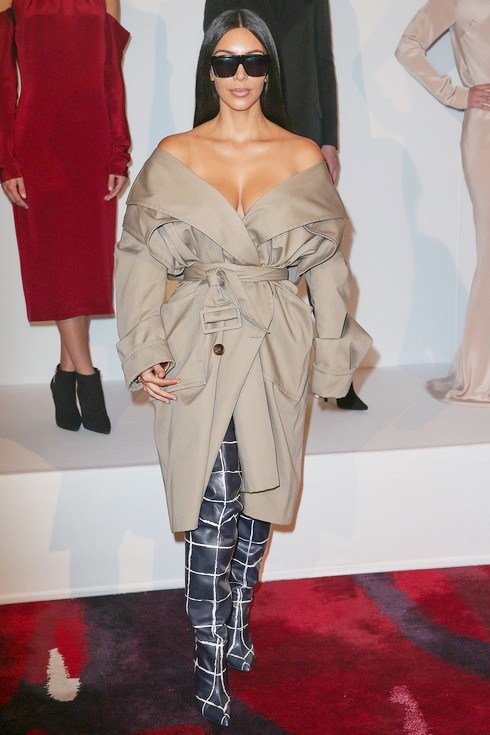 Who's more important in her own mind than the President of the United States? Kim Kardashian, that's who! The reality and social media star is taking major steps to beef up her security after a robbery in Paris left her bound, gagged, and minus some serious jewelry – but ultimately unharmed (at least physically).
The Keeping Up With The Kardashians star, along with her entire Kardashian family, is taking the Paris incident seriously, which is to be expected. But her latest move to hire former Secret Service agents is leading some to wonder: Is this, perhaps, going a bit too far?
CLICK THE CONTINUE READING BUTTON FOR MORE!
TMZ reports that Kim's new security team "includes former members of the Secret Service, who will be armed to the teeth."
Kim's agents will be comprised of "at least one team of two hired muscles (minimum) everywhere she goes." So, thieves everywhere: You've officially been put on notice!
The Paris robbery included five masked, armed men breaking into Kim's apartment, holding her at gunpoint, then tying her up and locking her in a bathroom while they stole a $4.5 million dollar ring and a jewelry box worth over $5 million dollars, along with two personal cell phones.
RELATED: Kim Kardashian And Family Hit Paris Fashion Week
Since the robbery, husband Kanye West and momager Kris Jenner have naturally been deeply focused on setting up new, improved security measures around their empire. Kim, herself, even met with "some ex-special force members from the Israeli army, ex-CIA agents as well as former Secret Service members" to discuss heightened personal security.
Kim, whose infamy is largely based on her overwhelming (and sometimes downright exhausting) presence on social media, may want to take a look at how exposure of her private life in deference to the almighty dollar has played a role in making her vulnerable. But until this deeper thought commences, one assumes she'll just have to depend upon the armed guards glued to her side!
TELL US: DO YOU THINK HIRING SECRET SERVICE AGENTS IS SMART OR OVER THE TOP?
Photo Credit: Pierre Suu/Getty Images for Siran