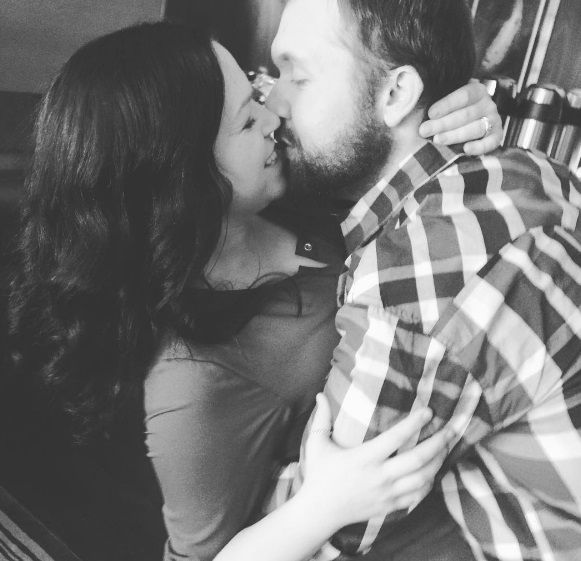 Congratulations are in order for Maddie Brush and the rest of her Sister Wives family! Maddie, who wed Caleb Brush in June after showcasing their engagement on the show, is pregnant with the couple's first child and due in May of next year. It will be the first grandchild for Kody Brown and his second wife Janelle, with Robyn, Meri, and Christine as bonus grandmothers…not to mention a gaggle of aunts and uncles of all ages–seventeen and counting so far!
The timing couldn't be more perfect with the latest season of Sister Wives premiering this Sunday. If Kody can't keep procreating, his older children can carry the torch (and perhaps the story lines) for the show. Now if only he can find a predecessor for those aging follicles…and a guarantee TLC will foot the bill for a multitude of future weddings!
CLICK THE CONTINUE READING BUTTON FOR MORE!   

The newlywed recently announced her pregnancy with husband Caleb with a precious Instagram picture with the caption, "So happy to announce our little addition," (and the requisite exclusive with People). Maddie tells the site, "We are both really excited and anxious. I think every soon-to-be parent is anxious, but we have so much support from both sides of our family."
Speaking of her side of the family, that baby is sure to be spoiled rotten with four grandmothers, and Maddie reveals, "We think it would be super cute to have different names for all the grandmas, like oma, grams, or babicka. Grandma said differently or in different languages," adding, "Ultimately they get to choose what they are called but my dad will probably be grandpa." Any takers for Glam-ma? Wetbarnana?
RELATED: Family Drama, Maddie's Wedding, And Kody's Mane, Oh My!
As for who will be more strict, Maddie is convinced that will be her role by default. She explains, "I think I'll be the disciplinarian parent just because Caleb already has such a soft spot for the baby. He already has has so much love for the baby." Caleb agrees, responding, "I'm going to be the pushover. Our child is going to have me wrapped around its finger."
This is exciting news for the happy couple, and we wish them the best! No word on whether the baby news will be front and center on the upcoming season of Sister Wives…wait, who am I kidding?
TELL US – ARE YOU SURPRISED THE PAIR GOT PREGNANT SO SOON AFTER TYING THE KNOT? WHAT ARE YOUR SUGGESTIONS FOR GRANDPARENT NAMES? WILL YOU BE TUNING IN SUNDAY FOR THE NEW SEASON OF SISTER WIVES? 
[Photo Credit: Instagram]
Save
Save
Save