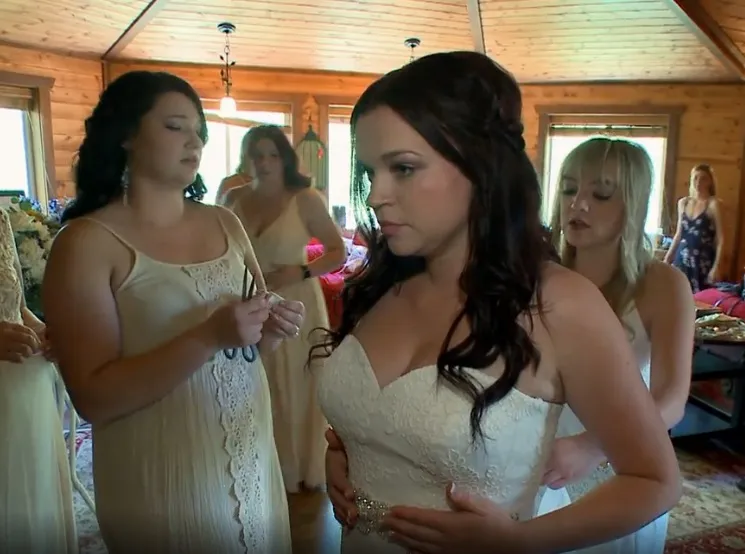 Last night was the first Brown wedding on Sister Wives…well, the first Brown wedding without Kody Brown as the groom, if you want to get technical. Clearly, it was a two-hour episode, and it begins with the family prepping the venue in Bozeman, Montana. Maddie is stressing over the decorations and timeline while trying not to go batty on her siblings who don't know the meaning behind a bohemian, sporadic, rustic, free-spirited theme. Kody and Janelle wax poetic about how they saw the spark between Caleb and Maddie when they interacted a few years back at Kody's brother's funeral. As you recall, Caleb's sister is Maddie's aunt. The wives and Kody think the world of Caleb for how well he took care of his sister after her husband's passing. Sweetly, Caleb has chosen his nephews as his groomsmen.
The family reminisces over the engagement period, and, not surprisingly, Kody hasn't even started planning how he will officiate the ceremony. He's been suffering from insomnia due to the pressure. Maddie isn't shocked to hear that her dad is so unorganized, and she's trying her best not to panic. Kody assumed that Caleb's father, a pastor, would take the reigns, but after recently losing his wife, he wasn't up to the task. Gracious, could Caleb's dad be any more precious? Mykelti's fiancée and his family are going to have some big shoes to fill.
CLICK THE CONTINUE READING BUTTON FOR MORE! 
Kody is working on the vows, and he's drafting and revising and trashing, lather, rinse, repeat. He meets with Caleb's father Mike, who officiated the ceremony between Kody's brother and Mike's daughter. Kody hits up Mike for advice on what he needs to include in the sermon, recalling some health scares in Maddie's past and hoping to share a good bit of background for each of the participants. Mike offers a thirty minute timeframe, but Christine and Meri are convinced Kody will definitely ramble on far longer. Kody has grand plans to have Mike knight Caleb as a prince before he makes Caleb a king by uniting him with Kody's princess Madison. Sheesh. Caleb and Maddie join their fathers to discuss how Kody can both officiate and give Maddie away. Mike will ask the special question before trading off the officiant's role. Caleb is thrilled that his father will be standing up with Kody. As Kody grandstands about "winging it," Maddie and Caleb start to get a bit freaked about what their vows will actually entail.
The rehearsal is a new concept for Kody and his wives. In their weddings, there was no practice, no aisle, no wedding party, but Robyn finds it to be a pretty nifty concept. Maddie is losing patience as she has too many cooks in the kitchen, and she's trying to wrangle a large bridal party. She's enlisted Meri to make sure everything is perfect with the processional, and I zone out after the fifth walkthrough. Good luck, Truely and Solomon. Good luck. Keeping in the boho vein of the occasion, Truely channels an evil laugh and twirls down the aisle. Mariah and Janelle are extremely emotional throughout the rehearsal, but the family is able to relax over a rehearsal dinner cookout. Meri follows Madison around with a notepad, presiding over a long list of last minute details. Meri is certainly in her element, and she looks happier than she has in seasons. Kody jokes that Meri is taking over as the "Zilla" so Madison can just be the bride. Meri wants to add the moniker to her license plate. It's taking a lot of stress off of Maddie.
On the morning of the wedding, Madison is trying to stay calm and take in everything while the girls get their hair and make-up done. Caleb is a bundle of nerves, and he reveals to a stressed out Maddie that he's forgotten his pants. Of course, he's totally kidding, and her sisters chastise him for teasing. Meri is ordering around the older boys, and I really think she should consider starting her own business. Janelle is impressed with how well everyone is working together. Maddie is writing thoughtful notes to her father, mothers, and groom while Caleb is taking shots and getting his beard trimmed with this older brothers. I'm thinking the trimming should have come before the shots, but what do I know? Caleb's beard turns out just fine.
Kody's sister wives wonder if he will get emotional seeing Madison for the first time in her wedding gown. Hell to the no! That's not how Kody rolls. No dress is going to cause him any waterworks. As the sisters beautify, they each give Madison some words of wisdom while Caleb gets the same from his brother. This couple really is so sweet. Maddie's sisters are helping her get dressed as she doles out gifts to her family. Janelle is in tears over the mother-daughter angel figurine she receives. The duo coordinates pictures so that Caleb won't see the bride before the wedding. The moms are in awe as they remember Madison's childhood.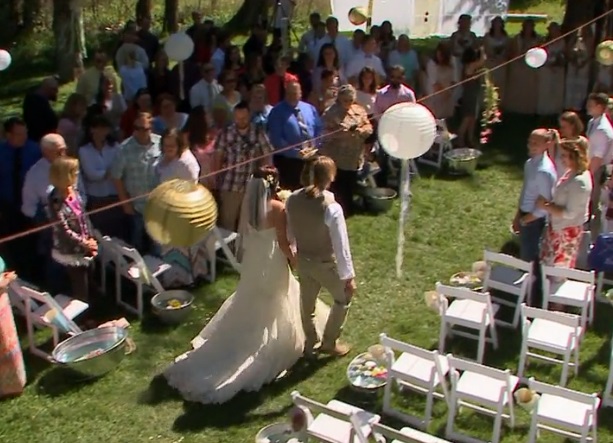 The family recalls the fun memories leading up to the day and fondly remembers the departed members of the family. Kody is still out in left field with the vows, so he is consulting with his best friend, another polygamist who is married to Meri's sister. Keeping it all in the family! Madison is worried that her father is over-analyzing the entire situation. No way! Kody recognizes the great responsibility of leaving absolutely nothing left unsaid. NOTHING. NADA. Kody surprises himself by totally losing it when he sees his daughter as a bride. She does look absolutely stunning. Damn you, TLC. I vowed never to get teary at this show! At least, I'm in good company. As Truely twirls down the aisle, Caleb is a blubbering mess. Only Maddie manages to keep it together, and she is beaming. Also, may I note that her theme is executed beautifully? The venue looks amazing. Now, we just need to gear up for an hour of Kody's ramblings in which he's sure to make himself the focus of his daughter's big day!
After the grand knighting ceremony, Kody goes on and on (and on and on), reading original poetry, sharing the love of his daughters, and bawling crying. Truely sweetly interrupts, telling her father not to be sad. Kody proffers the guidance he's learned through his four marriages, referencing the word "poopstorm" at least once. It's not as bad as I anticipated, and Kody quickly spews out the vows. Caleb and Maddie give enthusiastic "yeses!" before Kody charges them out into the world as husband and wife. Um, aren't you forgetting something, Kodster? Rings, perhaps? Caleb is secretly relieved, he's been spared the embarrassment of potentially dropping the ring. Maddie whispers that they can exchange rings later, and the couple triumphantly parade back down the aisle as husband and wife. As the family and guests gather for a fun-filled reception, I fear Mykelti and Tony have some serious planning to do!
TELL US – WHAT DID YOU THINK OF LAST NIGHT'S EPISODE? WAS MADDIE'S WEDDING EVERYTHING YOU IMAGINED?
[Photo Credit: TLC]
Save