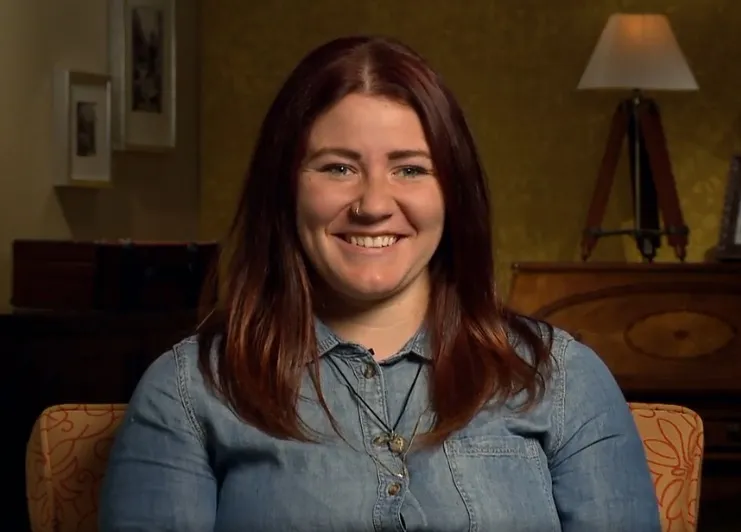 Wonderful readers, please accept my sincerest apology for missing last week's recap…I was discombobulated with the holidays. You missed what would have been a post rehashing eighty minutes of a certain someone whining more about what she swears was an innocent online relationship turned farce, topped off with four minutes of a not so shocking revelation from one of the Brown children. Last night's Sister Wives episodes dealt with Mariah's recent announcement, which unlike her sisters Madison and Mykelti before her, had nothing to do with an engagement. After coming out as a lesbian to Kody Brown and her moms, a huge weight seems to have lifted off of Mariah's shoulders. Good for her! I would guess that some of Mariah's behavior and attitude of late has been due to keeping such a big secret. Immediately, Janelle starts laughing–she was so worried Mariah was going to say she was ill. Robyn jumps up in tears of joy.
Both Robyn and Janelle embrace Mariah saying that she seems so happy to have found herself. Kody and Meri stay seated, with Meri sulking that Mariah didn't tell her first. Christine asks how Mariah has come to this revelation. Mariah cries, revealing that she was homophobic because she was so terrified of her own feeling after hearing such negativity about the gay community from others in her religion (but not from her immediate family). As she explains her thought process to her parents, it's refreshing to see Janelle, Christine, and Robyn with such huge grins on their faces. Janelle and Robyn are bursting with pride for Mariah. Meri is the only one yet to speak, and Mariah praises Robyn for making her feel like being gay is okay. The other wives leave, and Meri offers a hug. Kody envelopes his daughter in an embrace and tells her that he loves her unconditionally and he's so glad she felt safe enough to come out to her family.
CLICK THE CONTINUE READING BUTTON FOR MORE! 
The following day, Kody and Robyn are meeting with Meri who is her typical sullen self. She admits that she doesn't know how to deal with Mariah's latest announcement, and she was surprised to see how quickly everyone accepted the news. Meri has always expected to meet the man her daughter will marry and have babies with, but Robyn counters that she can do all of those things…with another woman. Am I shocked that Meri has made this all about her? Mariah and Robyn had a deeper conversation after coming out, and Meri is sobbing because Mariah doesn't feel comfortable talking to her about it. Welp, who leapt up with joy while someone else sat like a scrooge? Kody reminds his wife that things are already tense between her and Mariah due to the catfishing episode, so perhaps Meri just needs to be light and breezy instead of trying to get so deep with their daughter.
After all of the excitement, the family is taking a trip to Summit Mountain Lodge, because, of course the family needs another vacation! Vacations and weddings for the Browns (although I'm not complaining if I don't have to hear about My Sister Wives' Closet!). Janelle jokes that the lodge looks like a plig house due to the many rooms while the rest of the family ribs Maddie and Caleb about using their private quarters to work on some baby-making. Mariah sneaks off for some quiet time, so it's no surprise that Meri decides to hijack the moment to give an awkward apology for not reacting in the most positive way to Mariah's news.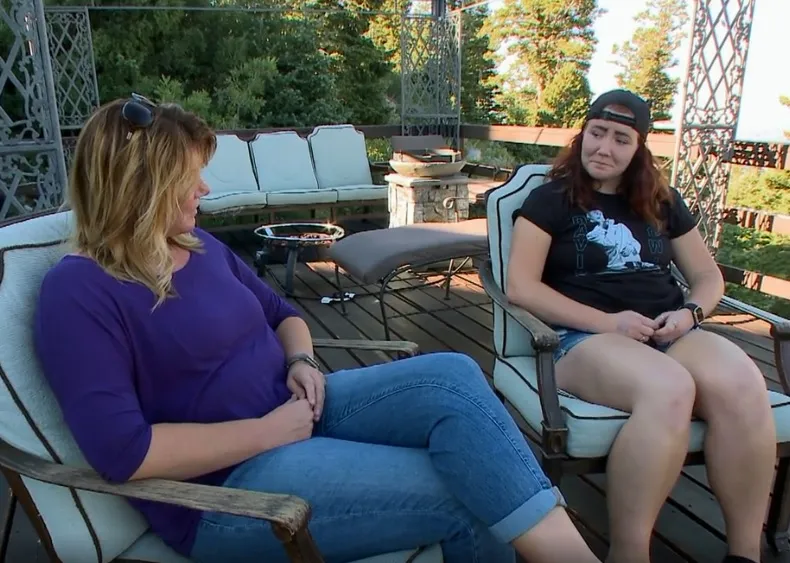 As Meri plays with her hair and avoids eye contact, she claims to be supportive but doesn't know how to say what she feels without sounding offensive. She wonders how Mariah came to this conclusion–"is saying conclusion offensive?" Meri giggles and I cringe. I never thought I'd say this, but poor Mariah! Meri tells Mariah she wants to know her daughter and be part of her life, and she is hurt that Mariah is shutting her out. Mariah tells her mother that she wasn't scared to tell her family. Meri laughs uncomfortably because she really wanted to plan Mariah's wedding after helping with Madison's nuptials. She feels cheated and confused. Um, Mariah reminds Meri that she can still get married and have children. Meri then questions whether Mariah is still religious, and Mariah counters that she's more spiritual than religious. Meri wants Mariah to feel like she can talk to her about anything, but she's making it hard. Mariah asserts that her mother's reaction to her news was what Mariah expected which puts Meri a bit on the defensive. Finally, after an awkward hug, the conversation is over.
Solomon shares in an impromptu wedding ceremony with his mom, and the family is shown interacting together…all in one place. Mykelti and Tony are cooking a Mexican feast, and Christine looks at this trip as a good way to better get to know the mysterious Tony and see how he interacts with the family. Already, Tony is very comfortable in front of the cameras, am I right? He brags about how delicious his family recipe will be, but he almost burns down the lodge attempting to turn on the stove. Christine then intervenes when Tony tries to fry his tortillas on a baking sheet on the stove top. As Mykelti and Tony put their younger siblings to work, Briana tries to hide her disdain for being elbow deep in guacamole. The siblings have welcomed Tony with open arms, and Christine agrees that he completely adores her daughter. Christine gives the couple her blessing after noshing on Tony's delicious dinner.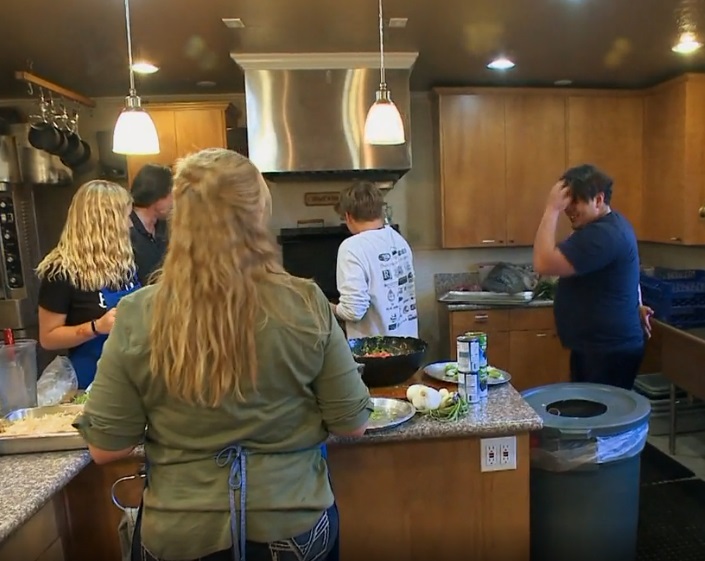 Meri recaps her conversation with Mariah with Robyn, and Robyn soothingly recommends Meri not use her daughter to process her feelings. She can do that with another adult who isn't in a contentious place with her…like Robyn. Robyn wonders if Meri is listening to her daughter. Mariah has said she wants space. Perhaps if Meri granted her that request, Mariah would be more open to forging a relationship in the future. Meri begrudgingly recognizes that she typically builds a wall to avoid getting hurt, and she's trying not to do that in this situation. Robyn advises Meri to do the same in her relationship with Kody.
In a cute request, Mykelti tasks her four mothers to be responsible for her something old (Robyn), something new (Janelle), something borrowed (Christine), and something blue (Meri) to wear when she walks down the aisle. Mykelti reveals that she will be wearing her hair down on her wedding day. Her mothers are in shock–Mykelti really wanted an updo, but Tony argued for her to wear it down. Mykelti reminds her family that it is Tony's wedding too. Christine believes that both Tony and Caleb are a lot like Kody in different ways. She sees a lot of Janelle and Kody in Caleb and Maddie's marriage, and she sees a lot of herself and Kody's relationship in Tony and Mykelti's bond.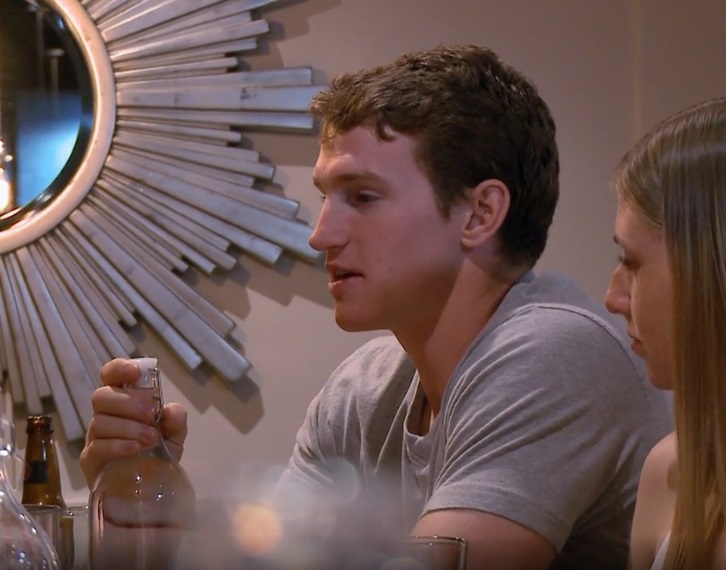 That night, the elder Brown kids and their significant others head to dinner. Mariah had already come out to her older siblings before talking to her parents, and she was met with a great deal of support. It's interesting to see some of the Brown "kids" drinking. The siblings tease Logan and Michelle about being the next Brown wedding, but they are in no rush to head down the aisle. The conversation turns to Mykelti's conversation with the parents. Neither Aspyn nor Madison were surprised by their sister's news, and they both recognize she's a much happier person. Caleb is grateful to see her in such better place. Logan teared up learning the news via text because he felt so special for being the first one she trusted enough to tell. While he was floored by the news, he was over the moon with happiness for his sister. Can the Brown kids just have their own show sans Kody and Meri? I'd even settle for cameos from Janelle and Christine.
The following day, the Brown family goes fishing, and Christine is tickled pink when Truely catches a bigger fish than Kody's. Over dinner, she is gifted with a blanket to commemorate the trip. Sweet Caleb withdrew his ginormous fish from the competition to ensure a Truely victory. The wives reflect on the bittersweet nature of family vacations now that so many of the Brown kids have fled the nest. Meri is desperately trying to give Mariah her space, but she is struggling not to press the issue. With the kids getting older, the parents find it so fascinating and lovely to see the decisions they are making. Meri breaks down with pride that Mariah had the courage to be herself. Go Mariah, that's for sure!
TELL US – WHAT DID YOU THINK OF LAST NIGHT'S EPISODE? WERE YOU SURPRISED AT THE BROWNS' DIFFERENT REACTIONS TO MARIAH'S NEWS?
[Photo Credit: TLC]
Save