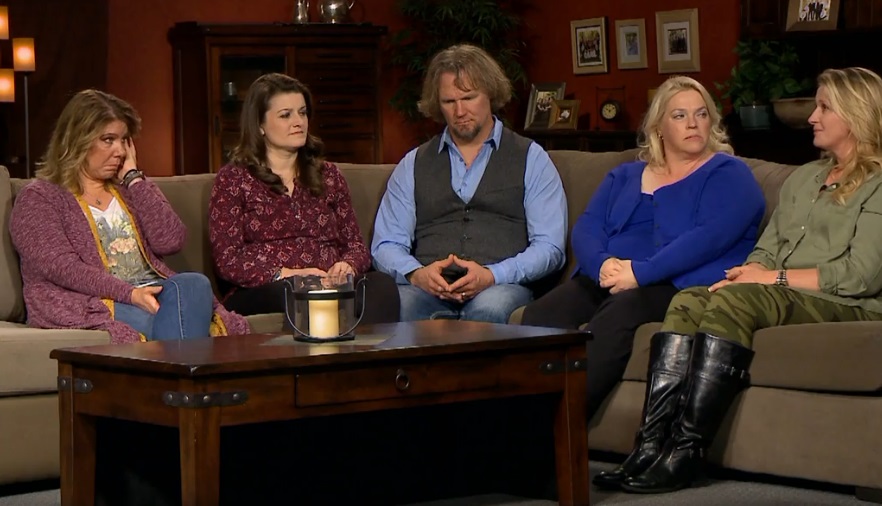 Where is Tamron Hall?? Last night's Sister Wives Tell All was mediated by Andrea Canning, and it was, as it always is….lame. Don't get me wrong, I enjoyed reliving the highlights from the season given that this season focused mainly on the older children.
With nary an introduction, the crew jumps immediately into Madison and Caleb's wedding. A Caleb fan club is formed. The parents are beyond proud and the young couple is revered. Kody Brown's officiating the ceremony but forgetting the rings is recalled. Robyn and Christine tout their newfound sister wife friendship after an issue with Kody that is never fully explained. When pressed about the argument that solidified the bond, Christine throws out phrases like "super mad" while Robyn nods (a lot). Kody jokes that his wives get upset with him for the most minor of infractions. Do I still have a pulse? I hope so, because I have nearly an hour of watching ahead of me!
CLICK THE CONTINUE READING BUTTON FOR MORE!   
Asked if she ever get upset with Kody, Janelle reconciles that they all get peeved with their husband from time to time. Kody interrupts to remind his wives that they mainly get angry with each other but take it out on him. Sure, Kody. That's it. Christine shares that there are different levels of polygamist relationships. Sometimes the wives can't be in the same room, sometimes everyone in the family shares every meal together. Christine believes, in the grand scheme of things, her family is progressive when it comes to the wives' friendships.
The conversation quickly turns to Mkyelti and Tony's whirlwind courtship. We flashback to the awkward conversation between Tony and Kody where Tony asks for Mykelti's hand in marriage. We're reminded that Mykelti wanted to get married a month after her sister walked down the aisle, and Tony thought it wouldn't be hard for Kody to take out a second mortgage on his home to pay for their wedding. It is hilarious when Kody and his wives react to Tony's idiotic statement. Christine is crying laughing about the absurdity of his idea, and Kody believes it only made it very evident about how naïve the couple was about their nuptials. The crew discusses the pitfalls that could have occurred if Mykelti had been able to wed a month after her sister. They talk about the children comparing their experiences to those of their siblings, and Kody utters the only truthful words that I've ever heard come out of his mouth: "We aren't good at budgeting." You don't say!
Earlier than normal in the normal tell-all formula, the older Brown children are brought to the sofas. Mykelti and Tony share their love story, and Mykelti admits that in hindsight she wasn't upset at her parents' reaction. It just proved they cared. The siblings agree that before Tony, Mykelti's "type" of boyfriend was just a real jerk. Thank goodness she found Tony, right? Tony is happy to be welcomed by the Browns, and Mykelti jokes that they married so quickly for a tax break…and so all of her siblings could be in attendance given that she has two brothers in the military. Despite Tony's salivating, the desire to have sex didn't play into their decision to rush down the aisle.
When the conversation turns to the rest of the Brown siblings, Maddie's husband Caleb is slightly emotional when he talks about how much he enjoys being part of this family. Logan is very practical when discussing his relationship with Michelle. They are solid, but don't expect an engagement announcement any time soon. Garrison is happy in the military, but it could hinder his ability to one day raise a family in the same spot. Quick recap of the Brown kids? A Q & A with Mykelti and Tony peppered with how much everyone adores Caleb with a dash of quick questions for the kids with no real story line. Sheesh. I feel like I'm now in for forty minutes of straight-up Meri catfishing denials. Thanks a lot, TLC.
Ding! Ding! Ding! It's the Meri Show! Do you want me to recap Meri's trip to Atlanta to commiserate with another woman who fell victim to the same catfisher? No? I appreciate it more than you know. Meri recalls to Andrea how she feared for her safety when she visited the female catfisher. Meri describes riding in the car with the woman as she became more and more volatile. Interviewing Meri, Andrea feigns terror for Meri's situation alone with the catfisher. How scary! Who are these people? Can we please sub in Tamron for the next installment? Meri confidently speaks about the moment she realized she was being catfished by a women. Meri admits that she considered leaving the family, but she never considered leaving with her catfisher. Now, Meri is in for the long haul…another season at least!
Kody and the wives join Meri to discuss how strong the family is. Her sister wives are happy Meri has decided to stick around with them. Kody swears up and down that there are "no shackles" and his wives can leave if they feel that is what is best for them. Meri half-heartedly promises she isn't going anywhere. Even Therapist Nancy believes that Kody can do no right when it comes to Meri. Meri even takes offense to Kody saying his wives can leave if they'd like because she views it as a personal invitation for her to hit the road. And with that statement, the first part of the tell-all comes to an end. I'm not going to lie…I am so used to two hour episodes, I'm not sure what to do with the rest of my evening!
TELL US – DO YOU BELIEVE THE BROWN FAMILY IS AS STRONG AS THEY WANT US TO BELIEVE?
[Photo Credit: TLC]