Boom! And we're back! As the world seems to be crumbling down around us, with uncertainty and disparity filling the hearts of many, there's one steady, reliable rock you can always count on:  Survivor! On Wednesday, March 8, Survivor is back for its 34th season with an extra-long, 120-minute Premiere Episode, beginning at 8 pm (EST) on CBS. Yes, the one thing that I hear people ask me all the time from people who don't watch the show is: Survivor?!? That show is still on?!? Well not only is it on, but it's going strong. Wednesday's premiere marks the 500th episode of the show, the longest-running Reality Competition Show on TV, with no signs of stopping anytime soon.
For those counting, CBS released some unbelievable stats to celebrate the occasion:  Survivor has now been on for 17 (!!!) years, with 498 contestants competing over 18 countries, 110 tribes and 1290 days, and the show has earned 56 Emmy nominations. There have been 46 states represented (can you guess which four have not?) and they've recorded over 99,000 hours of footage. There have been 14 medical evacuations, 511 torches snuffed and 48 hidden Immunity Idols used. The oldest player (Rudy Boesch) was 76 and the youngest (Will Wahl) was 18. Counting Sandra's double-win, there have been 19 male and 14 female winners crowned as Sole Survivor.
CLICK THE CONTINUE READING BUTTON FOR MORE!
Not that anyone's counting of course.
All of this culminates in Season 34, "Survivor: Game Changers," a so-called "all-star" season that will see 20 returning players come back to compete for the ultimate prize of one million dollars and that elusive title. I'm here to get you set and ready for this season, so buckle in and let's talk some Survivor!
So first off, I welcome back those that followed me last season, my first covering the show at RealityTea, and offer you up a bit of an introduction. Heck, if you like Survivor, we'll be spending a good deal of time together the next few months, so you might as well get to know who's voice your reading/listening to (more on the "listening" angle later). For my long-time fans, you know that I've covered Survivor professionally for the now defunct Examiner.com as the "Survivor Examiner" since Season 20, "Heroes vs. Villains." I've interviewed all of the big names in the Survivor Universe, and I'm the only web-based member of the Survivor Press Corp to be a part of the Executive Voting Committee for the Survivor Hall of Fame (even though my continuous support to induct Survivor: Thailand" winner, Brian Heidik, still seems to be falling on deaf ears).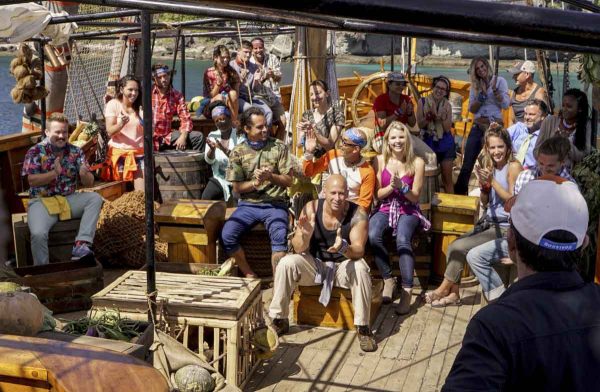 I sure do appreciate your support, and I may be biased but I do think that the Survivor community is one of the absolute best, most loyal and fervent, TV-show communities out there…it's been an honor and a dream to be a part of it in this capacity for so long. With my coverage here at RealityTea, you can expect the following all season long:
Weekly Episode Preview Article – Every Wednesday morning, get caught up and back up-t0-speed as I preview the night's new episode, often with exclusive clips or content.
Weekly Episode Recap/Analysis – Join back late every Wednesday night following the episode for my full reaction and recap…I'm on the East Coast so sometimes my Recap does post before the West Coast airing, but I try to keep all spoilers out of my headlines and before the article break.
NEW This Season:  Exclusive weekly Exit Interviews –  Last season I did not do Exit Interviews, but this season, you can expect Exit Interviews each and every Thursday – usually by late afternoon/evening – with each contestant voted-out of the show. I get 15-minutes, one-on-one, with every cast-away, so if you do have questions you would like me to ask, please leave them in the comment section on the Recap article.
NEW – FilmSurvivor Podcast – Best of all, this season I will be podcasting the FULL Exit Interviews each and every week! That means you can hear the actual interviews that I do, and they'll be posted right here on RealityTea. I'll be podcasting more than just the Exit Interviews, with occasional "Bonus" podcasts mixed in as well, like next week's "Premiere Episode Recap" podcast with special guest, Gordon Holmes from XfinityTV.com.
Movie Reviews:  And lastly, for those that like or want to support my writing or voice, you may be happy to know that I'm also the National Film Critic for AXS.com, where I write weekly movie reviews on all of the latest movies hitting theaters, and I also appear on two TV shows in the Mid-West:  The syndicated "Movie Show Plus" (check local listings) and also on "Critic LEE Speaking" on FOX-2 in Detroit.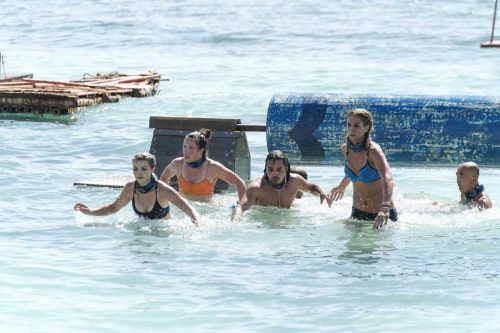 Now didn't I promise we'd chat about the upcoming season? Let's get at it:  Survivor: Game Changers. The title itself can be taken with a grain of salt, as some of the returning players not only didn't "change the game," but you'll be hard-pressed to remember them. Others though, well, it was only a matter of time until they'd be back.
Here's the run-down of who is on the show, separated by their starting tribes this season: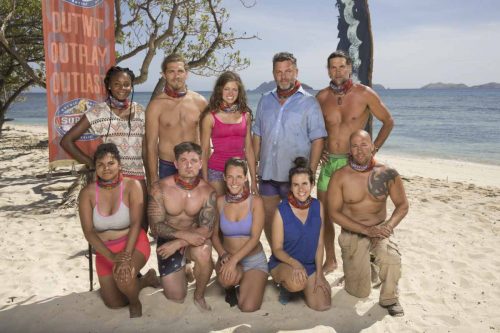 The "Mana" Tribe:
Michaela Bradshaw – Previously Played On: Season 33: Millennials vs Gen X – Finished 14th. You may remember, she was an absolute beast at challenges but sort of played the game a bit too hard, revealing her hand strategically and leading to her demise…you may also remember that death glance she shot Jay once blindsided.
Aubry Bracco – Season 32: Brains vs Brawn vs Beauty – Runner Up. Everybody seemed to love Aubry and many thought she should have been crowned winner over Michele Fitzgerald.
Sandra Diaz-Twine – Season 7: Pearl Islands – Winner, Season 20: Heroes vs. Villains – Winner. It's hard to argue that the game's ONLY two-time winner isn't the game's best player…but it's a debate that has raged on for years. Sandra puts her reputation on the line playing the game for a third time.
Ciera Eastin – Season 31: 2nd Chances – Finished 10th, Season 27: Blood vs. Water – Finished 5th & Jury Member. Ciera is probably most remembered for having voted out her own mother, and forcing a rock draw. She's a tough and memorable player, getting her third chance at the game in the past four years.
Malcolm Freberg – Season 25: Philippines – Finished 4th & Jury Member, Season 26: Caramoan – Finished 9th & Jury Member. Everybody loves Malcolm and remembers him, so what can I add?
Hali Ford – Season 30: White, Blue, No Collar – Finished 11th & Jury Member. Of all of this year's cast, the inclusion of Hali seemed to be the real head-scratcher. A "game-changer"?  Many don't even remember who she was. Hali was a no-collar player who did make the jury, and recently Jeff Probst called her the hottest girl ever to play the game…will her relative anonymity be a virtue for her this season?
Caleb Reynolds – Season 32: Brain vs. Brawn vs. Beauty – Medically Evacuated.  Another head-scratcher, as Caleb – as likable and loyal as they come – never even attended a single Tribal Council during his medical-evacuated season. But those that remember him as "Beast-Mode Cowboy" from Big Brother know that there is a lot more to Caleb than meets the eye.
Troyzan Robertson – Season 24: One World – Finished 8th & Jury Member. Good ole Troyzan was passed over during the "Second Chance" fan pick-em season, but this guy was a beast during his original run, in a season that was dominated by strong women.
Jeff Varner – Season 2: Australia – Finished 10th out of 16 & Non-Jury, Season 31: 2nd Chances – Finished 17th. Everybody was happy to see "old-schooler" Varner return for "Second Chance," and he instantly made us all feel proud of the decision. Varner was pure joy to watch on TV, and a real character…he's sure to be a fan-favorite once again this year.
Tony Vlachos – Season 28: Brawn vs. Brains vs. Beauty – Winner. A recent "Survivor Hall of Fame" inductee, Tony is known as one of the best winners in the "new-school" era of the game. Sure, he created the spy-shack and sure, he does a mean llama impression, but Tony's aggressive game-play and style will likely make him a humongous target this time around. We'll see how good this guy really is now that the word is out that he's a cop who isn't afraid to outwit or outplay.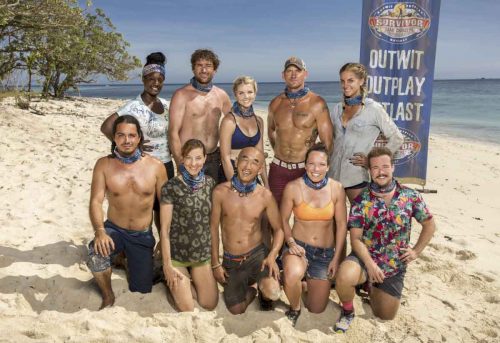 The "Nuku" Tribe:
Andrea Boehlke – Season 22: Redemption Island – Finished 5th & Jury Member, Season 26: Caramoan – Finished 7th & Jury Member. Andrea's a great player who was once the only serious threat to Boston Rob's game…it's now been four years since her last time out though, so we'll see how that changes her approach.
Brad Culpepper – Season 27: Blood vs. Water – Finished 15th out of 20. In exit press, Brad was always very frustrated that he was a part of a "loved one" season…not because he didn't like playing with his lovely wife, Monica, but because he felt like that distracted him from playing his own game…and rightly so. Now is the former NFL player's chance.
Sierra Dawn-Thomas – Season 30: White, Blue, No Collar – Finished 5th & Jury Member. Another that can go in the "head-scratcher" category, Sierra played a relatively safe game and didn't do anything all that memorable…oh well.
Cirie Fields – Season 12: Panama – Finished 4th & Jury member, Season 16: Micronesia – Finished 3rd & Jury member, Season 20: Heroes vs. Villains – Finished 17th. One of the game's all-time greats, and another Survivor Hall of Famer, Cirie is now getting her fourth chance to take home a win. She was the original example Probst always used to display how people can just "get off the couch" and go play Survivor. Well Cirie is always a threat to win, and one of the most socially-aware players the game has maybe ever seen…when she played the game the last time however, every other returning player around her knew that they couldn't let Cirie slide. Will this group be as unforgiving?
Sarah Lacina – Season 28: Brains vs Brawn vs Beauty – Finished 11th & Jury Member. Sarah may not have been on the top of everyone's list of players they'd like to see play again, but I for one am happy with this pick. Sarah was a tough customer and as a cop herself, was one of the only players that was able to sniff out Tony's lies during her season. She didn't quite have the social game to overcome Tony's though, so we'll have to see if she can up her game this time around.
Oscar "Ozzy" Lusth – Season 13: Cook Islands – Runner-up, Season 16: Micronesia – Finished 9th & Jury Member, Season 23: South Pacific – Finished 4th & Jury Member. Another "iconic" old-schooler, Ozzy is simply one of the most dominant physical threats the game has ever seen…but he's now 35 and has been out of the game for over five years. He's always fell short socially, and I'm not sure you can change stripes so easily, but Ozzy will be given a fourth chance to do just that.
Zeke Smith – Season 33: Millennials vs Gen X – Finished 9th & Jury Member. Zeke was clearly one of the stand-outs last season, and phenomenally, he went from fan-favorite to villain over the span of just a few episodes. Is Zeke likable? Is he someone you're rooting against? He'll have the advantage in that none of these other players – save Michaela – know anything about him (his season aired after this season taped last Summer).
James "JT" Thomas – Season 18: Tocantins – Winner, Season 20: Heroes vs. Villains – Finished 10th. Now here's a solid game-changer…JT won the game, being pulled through some would say by the more strategic Stephen Fishbach back in Tocantins, but JT that season put up the first Survivor "Perfect Game," meaning that he won by unanimous vote, while at the same time having never had received any votes against him throughout the course of the season. His second-time out, he hysterically miscalculated Russell Hantz and slipped him a hidden Immunity Idol during a challenge…only to be voted out post-merge. But even though that move blew up in his face, nobody can ever say he wasn't trying to change up the game.
Tai Trang – Season 32: Brain vs. Brawn vs. Beauty – 2nd Runner-up. Tai was one of the clear all-stars to emerge out of Season 32, who controversially sided with the two bullies that season (Jason and Scot). As frustrating as some of his in-game decisions were, he also brought us Mark the Chicken, and seemed to be the purest, nicest of guys. Has Tai grown in the game?  Will he adopt any island pets? Will he stay true to any of his alliances? Tai is definitely a game-changer, just his mere presence gives the game an air of unpredictability.
Debbie Wanner – Season 32: Brains vs. Brawn vs. Beauty – Finished 9th. Some called her "female Coach," the tribe "crazy lady" who had more stories than she did days in the game.  Debbie though, proved to be a savvy player, who was able to use her eccentricities to go deep in the game. In a game full of huge personalities, Deb will either be right at home this season, or will try to go even bigger and make herself an early target.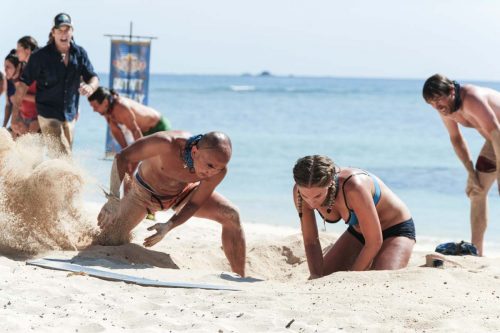 What else do we know about this season? Well, don't think it's called "Game Changers" just because of its players. Jeff Probst also promises several twists and turns that will be sure to keep this attentive cast on their toes. First and foremost, Probst has announced that there is a big change to the way that tie-breakers will be handled at Tribal Council, in that there won't be any. Yes, there will no longer be a re-vote after a tie vote, and if in that moment the tribe can't unanimously decide which person to send home, then those two will be safe and the remaining players will immediately draw rocks. They are also going to changing up how hidden Immunity Idols are introduced into the game, getting away from any "patterns" that the players could pick up on…like looking in reward baskets, or knowing like last season that they would be found in painted coconuts.
If you scrolled down to the end, I'll make this simple: Follow me on Twitter @tomsantilli or by going to TomSantilli.com, and then tune in to CBS this Wednesday, March 8, for the two-hour Premiere Episode of "Survivor: Game Changers." It's going to be epic, and I'll be here all season bringing you episode previews, full recaps and reaction, and exclusive exit interviews every week, including podcasts where you can hear the entire interview.
I'm so excited to be back, and I look forward to what will surely be another awesome season!
And here's a bonus: Enjoy the first seven minutes of the Premiere Episode here!
TELL US – WHO WILL YOU BE ROOTING FOR THIS SEASON?  IS THERE ANYBODY YOU'LL BE ROOTING AGAINST? AND WHAT DO YOU THINK OF THE NEW "NO RE-VOTE" TIE-BREAK RULE?
Photo Credit: CBS/Monty Brinton/Robert Voets