Alpha Males have been dropping like flies in recent weeks on Survivor: Game Changers, with four straight men having their torches snuffed a bit prematurely. But as the testosterone levels dwindle, the unpredictability of this season's twists continues to ramp up. Tonight's episode will include at least three major game twists, sure to keep the 15 remaining players on their toes.
In case you missed last week's episode, you can get caught up here with our Episode 4 Recap, as well as the Exit Interview with last week's voted out contestant.
CLICK THE CONTINUE READING BUTTON FOR MORE!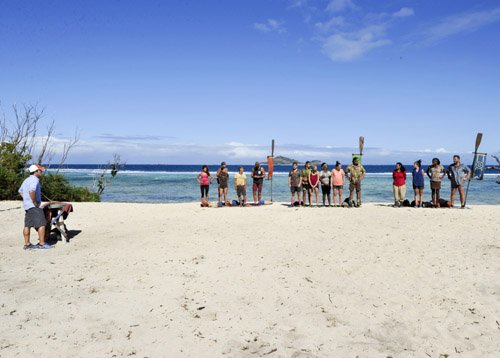 Yes as shown in the video preview for tonight, the game will continue to keep the players and the audience on the edge of their seats. First, the remaining three tribes will once again see a switch-up, the second already this season. Presumably, they will go back to a two tribe system, each with seven newly-jumbled-up players. So what will happen to the 15th person, the player left out? Say hello to Twist #2: The return of Exile Island.
Now, long-time fans of Survivor will remember Exile Island as a game twist that first appeared on Season 12, "Survivor: Panama," and was last seen on Season 29, "Survivor: San Juan del Sur." Although there have been variations over the years, typically it consists of one contestant being separated from the other tribes and sent all alone to a small, remote island, where they must survive on their own for the span of a few days, or until the next Tribal Council (usually spread out three days apart from one another). The brutality of Exile Island has never quite been depicted all that well on television, as we don't really get to understand what it's like to not only be starving and without water, but then to be stripped of all surrounding humans and the few comforts of camp. But it has and will always remain a big deal. Not only does the person spend time without food, water or shelter, but he/she is also taken out of the strategic part of the game…so tonight, while the (presumed) two new tribes are getting to know each other and forming their alliances, one person will have the disadvantage of having to come back after all of this fun stuff has gone on. For some, this could be some good time away from the drama of the game…for others, it could put them instantly on the outside of their new tribe.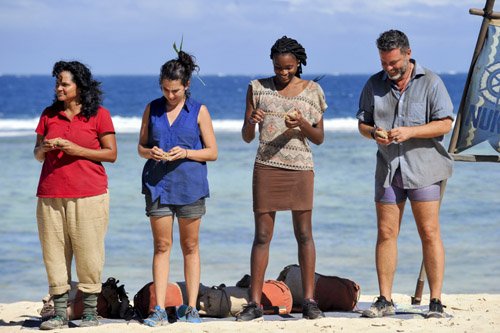 Exile Island is usually used though, as a game blessing as well as a punishment. Often times there will be a clue at Exile Island  that will lead to an Immunity Idol or a game advantage, so if the person sent there can actually find this idol/advantage, the grueling time spent there may end being worth it in the end…and if you factor in the newest (third) twist, we could be looking at the latest "game changer."
So we'll have a tribe shake-up, the return of Exile Island, and then the most mysterious new twist of all: A "returning former player" will be a part of this episode. And as the official synopsis from CBS tells us, this person will have a direct impact on the person sent to Exile:
"Vote Early, Vote Often" – One castaway is left floating on Exile Island after a tribe switch, and the exiled castaway receives a surprise visit, on SURVIVOR, Wednesday, April 5 (8:00-9:00 PM, ET/PT) on the CBS Television Network.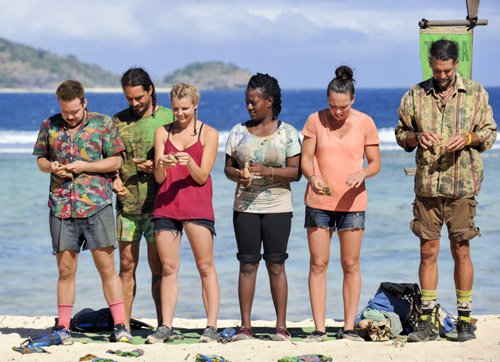 In what way will he/she affect the game? What's the purpose of their arrival? We will soon find out, but let's hope it's well worth the hype.
Be sure to check back in here for my full Recap/Reaction to tonight's episode and you won't want to miss the newest, latest FilmSurvivor Podcast right here at RealityTea on Thursday, where I'll be speaking with the latest person to get voted out of Survivor: Game Changers.  Remember, the best way to get all of my Survivor coverage and movie reviews is to follow me on Twitter – @tomsantilli – or on Facebook.
TELL US – HOW WILL THE TRIBE SWAP AFFECT THE GAME? WHO WILL BE SENT TO EXILE ISLAND? AND WHICH RETURNING PLAYER WILL SHOW UP, AND HOW WILL THIS PERSON AFFECT THE GAME?
Photo Credit: CBS/Monty Brinton/Robert Voets/Timothy Kuratek/Jeffrey Neira