The Queen has now fallen, so who, if anyone, will step up to claim the crown? It's not quite a game of thrones on Survivor, but with another big target like Sandra Diaz-Twine now out of the mix, there is sure to be a bit of blood spilled as the remaining 14 players jostle for position in the game. In addition to blood, it looks like tonight's new episode will also feature some tears being shed, as one tribe faces an emotional meltdown.
In case you missed last week's episode, you can get caught up here with our Episode 5 Recap, as well as the Exit Interview with last week's voted out contestant.
CLICK THE CONTINUE READING BUTTON FOR MORE!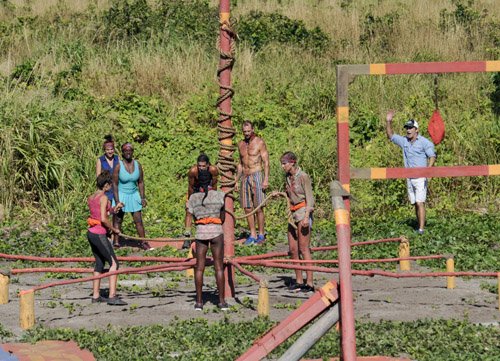 Yes, Sandra, Tony, and JT have all seen there torch snuffed, so no previous Survivor winner even made the merge this season. And while getting rid of the big targets is probably a good strategy, it's a bit disappointing as a viewer. We're nearing the halfway point of the season already (believe it or not) and not only have all the previous winners been eliminated, but we've also seen the exit of fan favorites like Malcolm and Ciera. Now don't get me wrong, there are still some powerhouses left in the game, like Cirie and Ozzy, but the game is shaping up to be a season of opportunity for some of the "questionable" Game Changers, like Sierra, Hali, and Brad Culpepper, to really make a name for themselves and carve out their own Survivor legacy.
Deb returns to the game this week after spending a few days out on "Exile," which was no longer a desolate, barren island in the ocean, but instead was the name of a luxurious yacht where Deb got to eat, drink, and generally be merry. And judging by the title of tonight's episode, she probably has no plans to share her little secret with the others. Here's the synopsis from CBS:
"What Happened on Exile, Stays on Exile" – Emotions run high when the game begins to take a toll on one tribe; castaways try to pull their way to safety at a physical immunity challenge, on SURVIVOR, Wednesday, April 12 (8:00-9:00 PM, ET/PT) on the CBS Television Network.
We know that Deb takes Sandra's spot, which reunites Deb with her former season-mate, Tai. Tai now has not just one, but TWO hidden Immunity Idols at his disposal, and he correctly chose not to use them during the last tumultuous Tribal Council. At that Council though, Tai's paranoia almost consumed his alliance, namely Ozzy, but in the end they were all able to "stick to the plan" to get Sandra out of the game for the first time ever. There is sure to be some fall-out from this, whether it makes Tai more of a target (his wishy-washy-ness was his big flaw his last season as well, and makes others question wanting to work with him since he's somewhat of a loose cannon), or whether the target shifts to Ozzy, who now is the biggest name at his tribe. Varner is still the easy, obvious target, as he was Sandra's only ally in the game and is now completely on the outs. But in the game, sometimes that's the absolute best spot to be in, as the tribe dynamics surely will shift from week to week, day to day.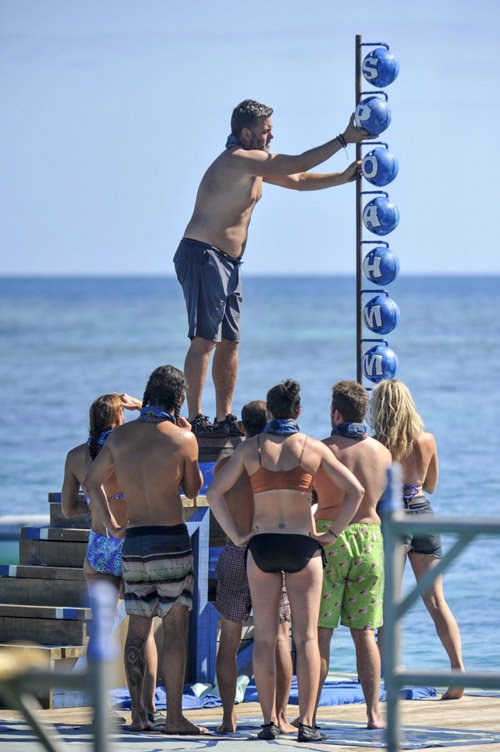 But based on last week's preview, the emotion that the synopsis eludes to will take place over at the Mana Tribe. Last week, we saw shots of both Cirie and Brad Culpepper crying. My guess? That this may be a slow week of "Survivor drama" so we will get a segment where this tribe doesn't talk about the game or strategy, but instead sheds some tears over how grueling this game can be both physically and emotionally.
Be sure to check back in here for my full Recap/Reaction to tonight's episode and you won't want to miss the newest, latest FilmSurvivor Podcast right here at RealityTea on Thursday, where I will be speaking with the latest person to get voted out of Survivor: Game Changers. The best way to get all of my Survivor coverage and movie reviews is to follow me on Twitter – @tomsantilli – or on Facebook.
TELL US – WHO ARE YOU ROOTING FOR? WHO ARE YOU ROOTING AGAINST? IS IT A GOOD STRATEGY FOR DEB TO KEEP THE EXILE EXPERIENCE TO HERSELF?
Photo Credit: CBS/Monty Brinton/Robert Voets/Timothy Kuratek/Jeffrey Neira