Last week's double-episode of Survivor began the formation of the Jury, and left us with just 11 players remaining in the game. There are still enough contestants alive in the game to shake things up and blow-up the current power structure, but it looks like one person is about to blow-up their own game.
Let's get you set and refreshed as we head into tonight's new episode – you can access last week's full interview with Ozzy and Hali, as well as a link to the Podcast here. You can also read last week's recap here.
CLICK THE CONTINUE READING BUTTON FOR MORE!
With the drama of the Varner/Zeke situation in the rear-view, we saw one alliance seemingly take control of things last week. On the winning side of things was the "Team Brad/Sierra" alliance, and I name them because they appear to be the ones calling the shots. They are followed by Troyzan, Tai, and Deb. On the opposite (losing) side of things you have "Team Cirie/Andrea," who still have Michaela and Aubry but who just lost Ozzy. That leaves just Sarah and Zeke in the middle. Yes, Sarah ultimately voted along with Team Brad/Sierra last week, but she seems to be playing her own game and as the preview for tonight's episode shows, she's willing to make whatever moves are necessary to further her own game…you know, the way the game is meant to be played.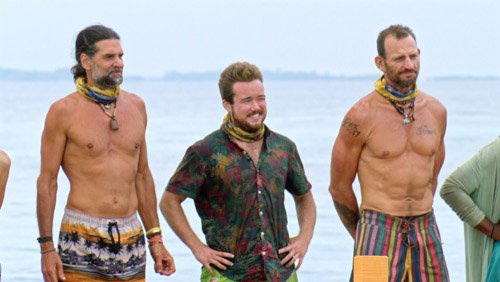 Zeke on the other hand, completely disintegrated his own chances in the game, squandering the sympathy he might have gained following the whole Varner episode. Zeke was outed – not just as being transgender – but last week he was outed as being a manipulative sneak, trying to play both sides of the tribe. Cirie and Sierra caught on to what he was up to and Zeke now finds himself either an easy vote-out by both sides, or most likely, the game's newest free-agent.
Could Zeke be the person who is alluded to in the official episode synopsis from CBS? Here is how they describe tonight's new episode:
"A Line Drawn in Concrete" – Friends become enemies when one castaway is caught trying to sabotage another's game, on SURVIVOR, Wednesday, April 26 (8:00-9:00 PM, ET/PT) on CBS.
Hali and Ozzy became the first two members of the jury, and a quick note on them: If you are not watching the Ponderosa Videos on CBS.com, please explain yourself! "Ponderosa" is the place where the jury members stay and live out their remaining time in the game when they're not sitting in at Tribal Council, and each person voted out gets their own new, online Ponderosa video each week. That means there are two episodes currently available, one for Hali and one for Ozzy. I consider the Ponderosa videos to be required viewing for any real Survivor fan! They provide insight into the game and a view as to how the jury might be shaping their opinion, but often times the videos are just entertaining and fun. Please, by all means, make these videos a normal part of your weekly Survivor experience, if you haven't already!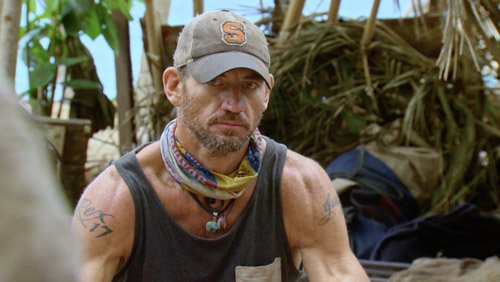 So who will join Hali and Ozzy on jury after tonight? Well, if there is a new "saboteur" introduced tonight, that might make things interesting. But my guess is that Zeke may be a target. Usually someone who blows up their game at this point, others might want to keep them around as a Goat to sit beside them at the very end, but in Zeke's unique case, you better believe that most everybody out there still considers him a player that could win in the end. He will need to be taken out, and sooner rather than later. Zeke's name was written down by the others, so that could polarize his relationship with Cirie/Andrea even further.
Also watch out for Sarah tonight…she has expertly navigated herself thus far but if she starts trying to play both sides too hard, she may find herself being targeted as well.
It should be fun!  I urge you to check back in here for my full recap/reaction to tonight's episode and you won't want to miss the newest edition of the FilmSurvivor Podcast right here at RealityTea on Thursday, where I will be speaking with the contestant (and third member of the jury) voted out of Survivor: Game Changers. The best way to get all of my Survivor coverage and movie reviews is to follow me on Twitter – @tomsantilli – or on Facebook.
TELL US – IS ZEKE IN TROUBLE? WILL SARAH MAKE A MOVE? AND WHO DO YOU THINK IS IN THE BEST POSITION AT THIS POINT IN THE GAME?
Photo Credit: CBS/Monty Brinton/Robert Voets/Timothy Kuratek/Jeffrey Neira