We are now down to just six players left in the game on Survivor: Game Changers, as two more unfortunate souls were added to the ever-growing jury this week. You know you're close to the finale when there are more jurors than there are remaining contestants, and speaking of the finale, it is now just one episode away (it's next week: May 24th…mark your calendars!).
I had the chance to speak with both of the players voted out this week, but before we proceed, you know the drill: Make sure only to read on if you have seen this week's episode, as spoilers are to follow! Turn back now! If you want to get caught up, be sure to check out the Episode 13 recap here.
CLICK THE CONTINUE READING BUTTON FOR MORE, AND THIS IS YOUR LAST *SPOILER* WARNING!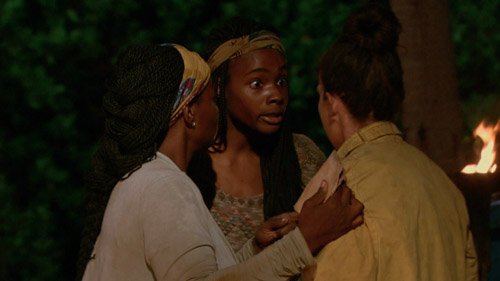 Two strong, feisty women were sent to the jury this week, with Andrea Boehlke and Michaela Bradshaw both getting their torches snuffed during the penultimate episode of this season. They join the jury as the sixth and seventh members and will vote on the winner of Survivor: Game Changers next week.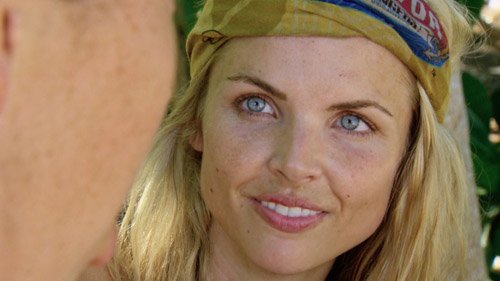 Andrea Boehlke – a three-time player who was seemingly in control headed into this week – was the first #blindside victim of the night, getting betrayed by her close ally Cirie (who she tried to tickle on her way out…), after trying to target Sarah, whom apparently was more important to Cirie's game. She has now joined the illustrious club of Survivor players that have played the game for over 100 days…she is the seventh person to do so (joining Amanda Kimmel, Parvati Shallow, Rupert Boneham, Rob Mariano, Ozzy Lusth, and Cirie Fields)…and she is the only one of these players to have debuted after Season 20, Heroes vs. Villains. As one of the most recognizable faces in the game's history, Andrea is no stranger to the spotlight. After her original appearance on Survivor, she went on to earn several hosting jobs and acting gigs and currently is the host of the People Magazine's online entertainment news-based show "People Now."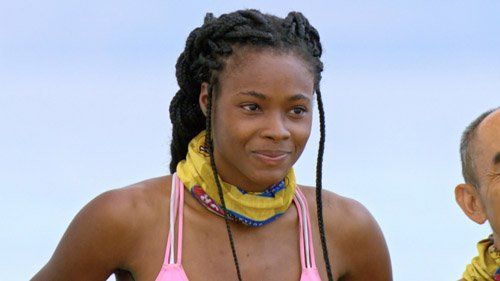 Michaela Bradshaw on the other hand, was not recognizable at all, at least to the other contestants (save Zeke) this season. That's because nobody else out there ever saw her play Survivor. Her previous season, Millennials vs. Gen-X, had not yet aired when she went out for this season, so no one else other than Zeke had a chance to see what she was capable of. She fought an uphill battle the entire game, and was generally dismissed by many of the others, despite once again being a challenge beast this season (she also kicked a record number of said challenges, in frustration). Michaela broke down and cried when Zeke was voted out of the game and had seemed to form a real bond along-side Cirie late in the game. Heading into this week's episode, she seemed safe, mainly because most of the other players saw her as a good candidate to sit next to at the end. But she was the victim of that crazy Tribal, and it might have been her relationship with Cirie that ultimately did her in.
I had a chance to chat with both Andrea and Michaela today, and you can find the full audio of each interview on my Podcast at the bottom of this article. For those that prefer the written word, here are some highlights for you from both interviews:
ANDREA INTERVIEW HIGHLIGHTS:
On why she was aligned with Cirie, and if she had plans to blindside her before Final Three:
Andrea Boehlke: I wasn't planning on sitting in the Final Three with Cirie, because I didn't want to lose a million dollars (laughs). So it was a case of her getting to me first, however, I don't think anyone there was going to go to the end with Cirie, if they had it their way. So, like Sarah doesn't want to go to the end with Cirie, at least I don't think so. I am surprised that Cirie turned on me then, but you can look at it two ways. Was I going to take her out eventually? Yeah, I was hoping to. But I definitely wasn't going to go for her anytime soon.
On her relationship with Aubry and why we're not seeing a lot from Aubry on the show:
Andrea: I'm really surprised that we're not seeing more of Aubry. I really don't have an answer. I got really close to Aubry, especially at the end. I think that's another reason that Cirie and Sarah took me out and didn't tell Aubry, because they figured for sure Aubry was going to tell me. I'm actually curious to know if Aubry would have told me…but either way, me and Aubry were hanging out more than we should have, we were being super-obvious about it. I was obsessed with her. I don't know why she's not getting more credit.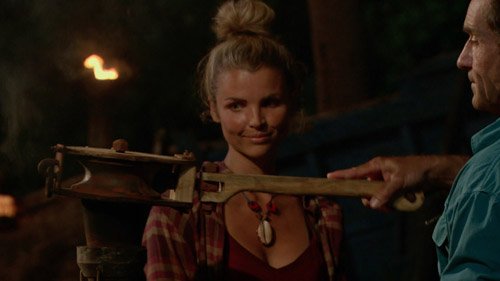 On her legacy in the game, and on becoming just the seventh person in Survivor history to play for over 100 days in the game:
Andrea: I'm very proud of that. Well, Jeff (Probst) says I'm under-rated, and I think I might be a little under-rated. It seems like every time my name comes up, that I don't belong in a "legend" status, and I mean, I don't consider myself a legend. Maybe I under-rate myself. But the fact that I made 100 days, I think that's pretty great. So I didn't get to win the million, but I got to 100 days, and I got to see my mom out there, so at least I can be proud of something.
MICHAELA INTERVIEW HIGHLIGHTS:
On last night's insane, confusing Tribal Council:
Michaela Bradshaw: What the heck just happened? (Laughs) Basically we had a case of someone trying to do too much. That someone was Cirie, she just had it out for Tai and she found the most elaborate scheme to get rid of a person. Instead of just collecting the votes, she wanted to just go over the top and do way too much. And as you saw, that plan completely backfired and so what ended up happening was, I ended up being guilty by association.
On why Sarah voted her out instead of Cirie, who had just appeared to betray Sarah (from Sarah's point-of-view):
Michaela: Sarah probably wanted to vote for Cirie at that point, because she felt like Cirie was trying to send her home, which was not what Cirie was trying to do. But what would you think if someone took your advantage and tried to use it steal your vote? Clearly, Cirie didn't think this through.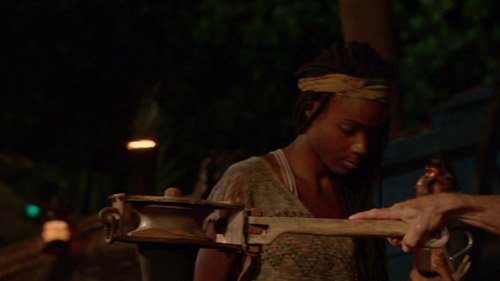 On playing back-to-back seasons and how that may or may not have affected her game:
Michaela: I just didn't understand why there was so much animosity towards me. But I think had they seen my past season, I might have had a shot of being embraced by more people, or they may have just looked at me as more of a threat. I don't know. At the end of the day, I think that it was a better thing that no one saw my season, because I think that someone would have found a way to spin that into a negative. I'm not mad that my season wasn't aired, but I do wonder if I would have had more head-room socially in this game, had everyone known that I'm not a malicious person.
There is MUCH more to both of these interviews in the FilmSurvivor Podcast, at this link and also below. Also available for download and following on Podbean and on iTunes.
Be sure to follow me on Twitter – @tomsantilli – and on Facebook, for all of the latest Survivor coverage, interviews, and movie reviews.
TELL US: WHAT DO YOU THINK ABOUT ANDREA'S ELIMINATION? ABOUT MICHAELA'S ELIMINATION?
Photo Credit: Jeffrey Neira/CBS Entertainment