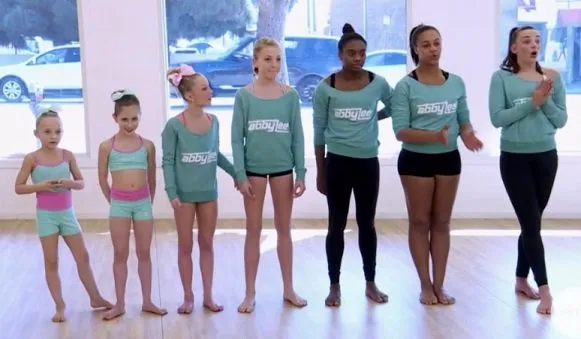 Last night's Dance Moms was a veritable mess which comes as no surprise to those of us who have been watching this train wreck since its inception. However, normally I cringe at the ladies' behavior, but that isn't what I was doing with the latest episode. No, instead, I was in awe of Abby Lee Miller's boy toy, Jordy. He is a rapper. He is a vegan. Ladies and gentlemen, we received the greatest gift courtesy of Abby Lee…the earth's first (and dare I say, only) vegan rapper. The world is a beautiful place (well, except for diary farms and meat packing). I'd been avoiding that new Netflix documentary because I love stuffing my face with junk far too much, but Jordy may have converted me.
As the show begins, we learn Abby is a week away from sentencing, and she's spending that time touring Europe for some appearances and not at their upcoming competition. She calls the team together a day early for rehearsals so she can have some time with them before she leaves. Could this be Abby's last pyramid? Fingers crossed! Abby breezes through the once drawn out tradition. Some girl Camryn, Nia, Kendall, and Brynn make up the bottom row, followed by Lilliana, Elliana, and an absent Kalani. Some girl Maesi is at the top of her pyramid, and hats off to her mother for rocking that amazing hairstyle. Or perhaps, should I say, hats on? In one of Abby's beloved twists, she yanks the promised solos to the Ianas and gives them to Kalani, Brynn, and Kendall. The veteran moms are convinced this is a calculated move to make their girls' last routine under Abby's teaching a flop. They believe it will give Abby the opportunity to give up on the older dancers and focus on the minis…in the event she doesn't go to jail.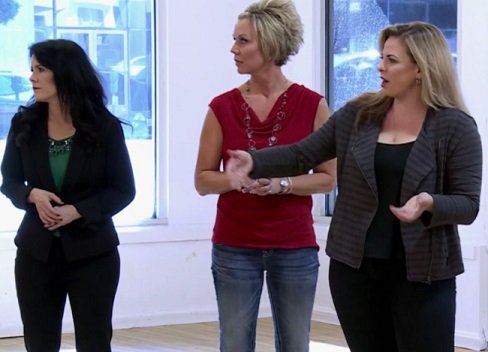 Jordy comes in to gift the studio with some delightful vegan cookies, and Abby shares the girls are going to be dancing to Jordy's new song. The mothers are curious about Jordy's musical talents, and he renders them speechless when he spits out his dope lyrics about not eating any animal products and heart disease. The ladies clap politely–they are clearly in shock (I know I am!)–before Jordy starts deriding the women about being able to love animals and also eat animals. He's tired of the hypocrisy. Holly interjects the country was founded on hypocrisy, and she bristles when he compares speciesism to racism. He preaches the vegan gospel, but he isn't that great at reading his audience. Jordy storms out, and the moms can't believe this is the dance Abby wants as her last hurrah.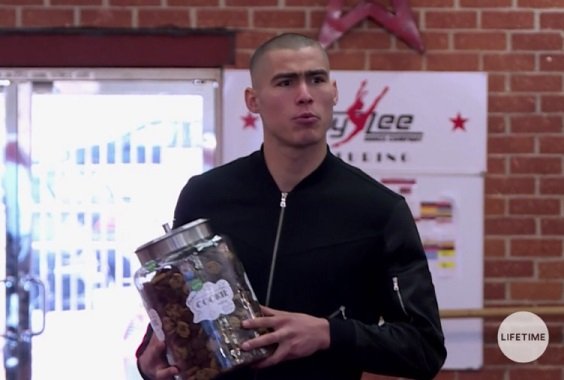 Kalani returns from walking in New York Fashion Week, and she's surprised to learn she has a solo. As Abby and Gia work on the group number, the mothers complain about the lack of rehearsal time for the solos. Jill is frustrated that Kendall will be doing a repeat number, but Ashlee points out it could be a good thing. At least Kendall knows her dance! Ashlee is concerned about Brynn's acting ability in her solo, and she hopes nerves won't get the best of her daughter in their home town. As the girls practice, the moms do what they do best–peruse Instagram. They are all shocked to learn that Christi and Chloe are back in Los Angeles, and the ladies don't put it past Christi to get Chloe in a rival studio. The women cross their fingers that Abby won't see the post, but alas, she's always on her phone. In a matter of minutes, Abby has halted rehearsals and locked herself in her office. She's done.
The producers urge the mothers to try to coax Abby out of her office, but Jill quickly learns to leave her be when she comes across a buck naked Abby. That's one way to stay off camera! Jill turns her back to the sight, but she presses Abby as to whether she likes the group number or is just doing a favor for her boy toy. Kalani wonders if she'll ever see Abby again, much less learn her solo, but Abby returns to assist Kalani with a half-assed routine. As they wrap up the day, the mothers and girls wonder if they will ever see Abby again. Ashlee wishes her luck if that happens, and a teary Abby seems genuinely distraught saying her good-byes to the girls. Jill makes sure to get a picture of Abby with the OGs, shooing off the Ianas.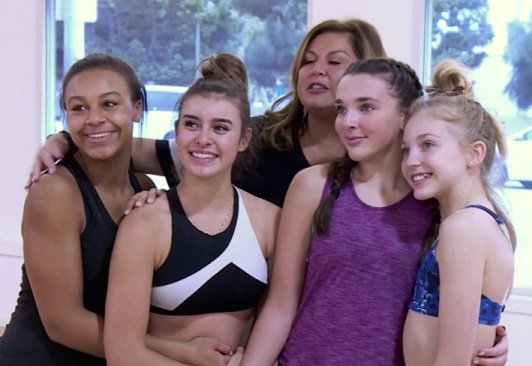 In Phoenix, the mothers flip flop between bitching about Abby abandoning the team, and Jill and Ashlee whining whose daughter is at bigger disadvantage with their solo. Ashlee keeps harping about Kendall having more experience with her number, and Jill counters that Abby simply didn't want to spend any time working with Kendall. Neither should worry. Kendall does a phenomenal job revamping "DOA", and Brynn performs "The Chase" beautifully despite not having done it full out before the competition. Kalani is nervous given her lack of prep time, but she is flawless as usual. Kira notes that it's anybody's game. She had hoped to see different choreography for her daughter's solo. But that's not really why we're still watching is it? No. We want to hear Jordy's vegan rap again. It's just everything (minus byproduct).
As the girls get into their animal characters (complete with a nod to corporate America in those button down shirts), the mothers all agree this may be Abby's worst idea yet. However, Jill is hopeful that the group routine will be perfect–Abby must have spent a lot of time on it given how little attention she gave the solos, right? RIGHT? The dance is actually rally good, although I would have had no clue what it was about without the back story. The moms are grateful to hear two tweens from another team reference the vegan dance.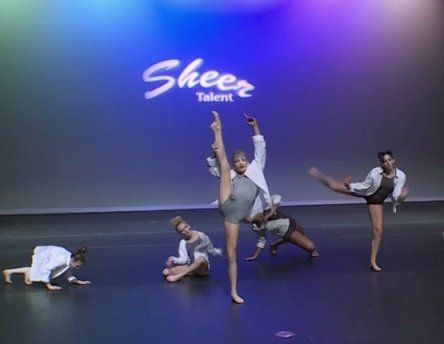 During the awards ceremony, the ALDC sweeps the solo category with Kendall taking third, Brynn placing second, and Kalani taking the top spot. The "Food for Thought" dance wins overall, much to Holly's surprise. She jokes she's eating crow…which clearly isn't vegan. Good one, Holly! Backstage, the mothers take a quick second to revel in the victories before taking a poll to see if they should bring in another dance instructor next week while Abby is away. It's unanimous, and Gia fights back her tears as she realizes she's not going to be taking over this shiz show.
TELL US – WHAT DID YOU THINK OF LAST NIGHT'S EPISODE? HOW AMAZINGLY BAD WAS JORDY'S RAP? 
[Photo Credit: Lifetime]