Things change so often on Survivor that as a player, it's always good to keep your options open. During Episode 5, one contestant was forced to choose a side moving forward, between a Day One ally and someone whom this person shared a special bond with. But ultimately was the right decision made?
Please remember that this recap assumes that you have already seen this week's Episode 5 of Survivor: HHH, so if you have not and don't want to be spoiled, please come back later! It's important to add too that while we WILL hit on all of the important developments of the episode, this is not a linear "blow-by-blow" recap, and is more of a discussion and reaction of what we just witnessed together.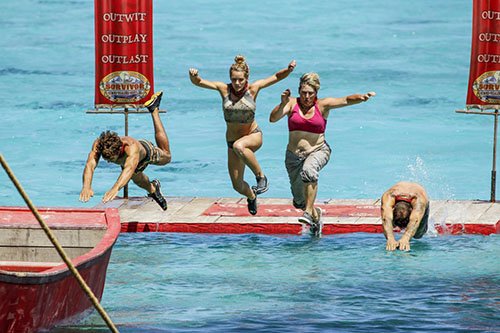 Of course, this "middle man" of whom I speak is in reference to Ryan, who found himself sitting pretty as the swing vote during this week's somewhat ho-hum Tribal Council.
Ryan has played a good social game to this point (let's not talk about his physicality though, as he flopped around like a trout-out-of-water during the episode's Reward Challenge). It came as somewhat of a surprise that he not only decided to stay loyal to Chrissy, but the manner in which he threw his original ride-or-die alliance-mate Ali under the bus was also a bit of a shock. You may remember that Ryan chose to give his "Super Idol" to Chrissy during the first episode, and the two then bonded over this once they were united after the tribe swap. Both Chrissy and Ali seemed to be in great social positions in the game – with Ryan aligned with them both – heading into the ep, but as it was revealed, Ryan was really in-between a rock and a hard place due to the fact that Ali and Chrissy don't want to work together. This put Ryan in the awkward position of having to pick a side, but why not just break it to Ali what you plan to do, to keep her loyalty intact? Instead, as we saw with next week's preview, it looks like Ryan and Ali's relationship is completely shattered and ruined.
The result of this major clash was that Roark was sent home. The edit so far this season might have tipped its hand that Roark was in trouble, since we've hardly seen or heard from Roark through four episodes leading into this week, and they've painted Chrissy as being a key player. I don't quite think it would have mattered had Roark decided to work with Chrissy after Chrissy approached her. I'm pretty sure Chrissy had her sights set on Roark to go home next regardless. I did like Roark's attitude, and even during her closing remarks, she owned her game and basically said that it was no excuse to have been the lone Healer at camp.
But once again this week – as I have been saying all season – the players that have had the least amount of air-time have been the ones systematically voted out thus far…and this is not always the case on Survivor. For those thinking that this isn't the "best" season or aren't impressed thus far, I urge you to stick with it, because once all of these good players start having to go head-to-head, I feel like this season is going to have a great chance at redeeming itself.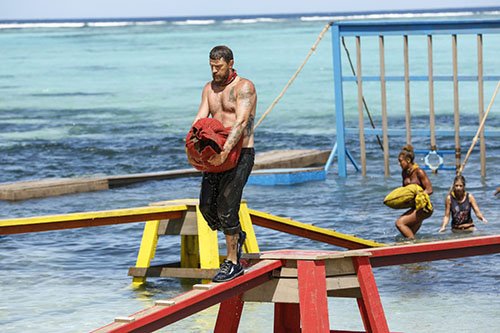 Elsewhere, we got a really personal scene with Ben, the Marine who, like many of our soldiers, lives with PTSD. A crackling bamboo log in the fire triggered Ben to react by isolating himself in the water away from his camp and tribe. The more we see of Ben, the more we like him and the more we want to root for him. You could see the struggle in his eyes, and he's right…there is no way any of us can possibly understand. But we do appreciate the light that Ben is shining on this serious topic.
The other big development was that Dr. Mike found an Idol! Jessica knew where Cole and Joe had dug up the Idol at their old camp, so Jessica and Dr. Mike literally took a stab at looking in the same place at their new camp and – voila! – they found it. We know that Dr. Mike is going to play a big role this season, mainly due to Jeff Probst gushing over him during the pre-season cast assessments, and it's lining up that way all right. He is currently shackled to Cole though, who continued to annoy people. Their "Cole Problem" might end up taking care of itself though, because next week's preview showed Cole collapsing at camp. Now of course, we hope he is medically good to go and wasn't injured in any way, but if he did happen to be medically-evacuated from the game, that might be the best thing that could happen to Jessica and Dr. Mike's game in the long run.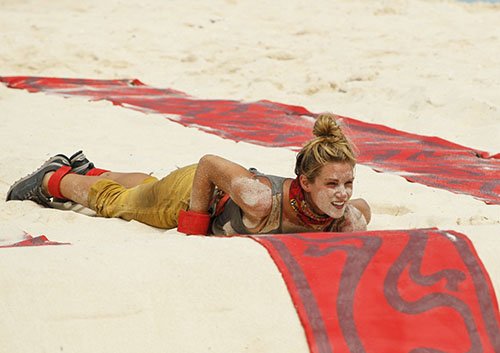 We didn't get too much with the Blue tribe, other than a bit of the aftermath following last week's Tribal Council, where Joe played his Idol. Ashley is now the lone hero at her camp, but is coming to the realization that Joe is not only an aggressive player, but a smart one as well. Either way, Joe will continue to have a major target on his back. And we figured as much, but Devon and Ashley plan to stick together, even if they have to force a tie vote at the next Tribal…although they dropped what might be a bit of foreshadowing by saying that they think that Desi might just be willing to turn on her ally Joe. We'll have to wait and see.
Episode Take-Away: This wasn't the most exciting or ground-breaking episode of all-time, let's face it. Through five episodes, only one or two have stood out. I will continue to preach that an average episode – an average season – of Survivor, is still better than 95% of everything else that's on TV (especially in the realm of Reality TV), and I have to continuously remind myself that – 35 seasons in – not every episode is going to be the greatest ever. Still, I urge you once again not to give up on this season. I just have a feeling that this season is going to become great post-merge…there are just too many good-to-great players left in the game and we've yet to see them all go head-to-head. Give it time people.
Beyond that, what a difference a week can make. Chrissy has been one of the most impressive players so far this season, but this week we saw her struggle at a challenge and then almost get voted out of the game. If you would have asked me to pick two front-runners to win it all last week, I would have said Chrissy, followed by Ali…but Ali has now gone from the penthouse to the doghouse. Ryan – for all he talks about being a great social player – could have handled this way better. Why burn the bridge with Ali? Maybe we'll get more insight going into next week, but it looks like he just decided to abandon having any relationship with Ali in the game whatsoever. Ali is now in serious trouble and all she can hope for is for that merge to come as quickly as possible.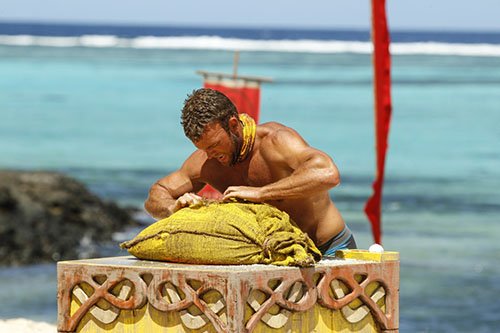 Strategic Move of the Week: Sorry, I'm not giving this award out this week, as I just don't believe there were any great strategic moves. Did I miss any? Leave your comments below!
Voted out this week: Roark
Won Immunity: Red Tribe, Blue Tribe
Vote: No Idols or advantages played. 3 – Roark (Ryan, JP, Chrissy), 2 – Chrissy (Ali, Roark)
Next Week's Episode: We get to see the full aftermath of Ryan's Tribal Council decision, as Ali is obviously not very happy about how he chose to go about it. And then a scary moment occurs, when Cole seems to just lose consciousness and falls down at camp…let's hope he's OK!
Quick Note! Remember to return right here to Reality Tea for my FilmSurvivor Podcast Thursday, where you can listen to my full exit interview with Roark. Last but not least, I encourage you to check out my weekly movie reviews. And as always, the easiest way to get all of my Survivor coverage and movie reviews is to follow me on Twitter – @tomsantilli – or on Facebook.
TELL US – DO YOU THINK RYAN MADE THE RIGHT DECISION? WHAT DO YOU THINK WAS THE BEST STRATEGIC MOVE OF THE EPISODE? AND WILL ALI BE ABLE TO REBOUND FROM RYAN'S BETRAYAL?
Photo Credit: CBS/Monty Brinton/Robert Voets/Timothy Kuratek/Jeffrey Neira