When it rains, it pours…literally, when speaking of the Premiere Episode of Survivor: David vs. Goliath. While going through casting, auditioning and all of the logistical considerations that one must go through in order to finally arrive on the show, it is often a dream come true for many, to FINALLY make it on Survivor. But too often, the show reminds players and viewers that while this is all for entertainment, it is definitely real. One contestant found this out the hard way in one of the most shocking exits the game has ever witnessed.
If you missed any of the action, you can catch up with our Premiere Episode Recap, as well as checking out the Podcast below.
CLICK THE CONTINUE READING BUTTON FOR MORE!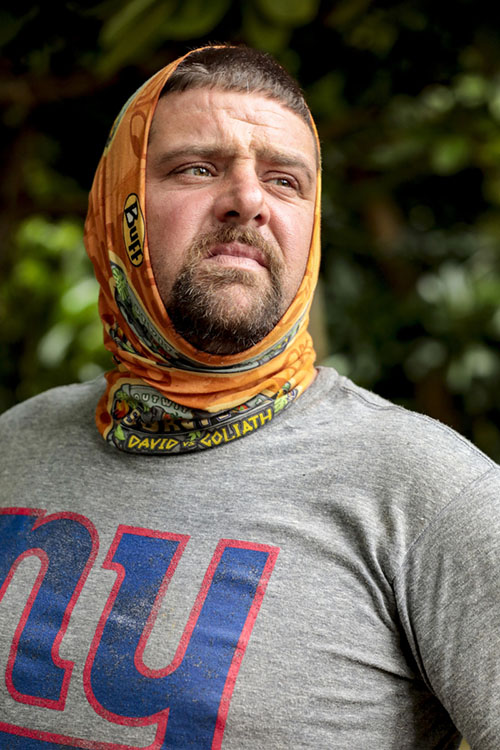 Yes, it didn't end well for Pat Cusack, even though he was just getting started. Just based on appearances alone, Pat looked to be one of the stand-out characters on his David Tribe…he was larger, meaner-looking and more physically-threatening than any of the other nine "nerds" on his team. This 40-year-old maintenance manager from Watervilet, New York was used for contrast by Jeff Probst, when in the first minutes of the game, Jeff compared Pat's story and upbringing with that of Alison's, on the Goliath Tribe. We quickly understood why Pat was labeled a David, as this man was no stranger to adversity.
And boy, adversity would come to Pat quickly. Even though he was instrumental in building his camp's shelter, his loud demeanor rubbed a lot of people the wrong way. But when the torrential downpours began, man was his tribe grateful that they had Pat. His brute strength wasn't enough to get them their first Immunity Challenge win, but leaving the challenge, Pat was seemingly one of two options for the first boot, the other being the crafty lawyer, Nick.
But Pat would never make it back to camp. The terrible weather brought with it rough waters, and Pat suffered a horrific accident while being transported back to the island where the David Tribe had set up their shelter. A large "crack" was heard when the boat slammed against an unusually large wave, and Pat was instantly in tremendous pain, so much so that the boat turned around and headed back to the challenge area. This was so unprecedented an incident, that there were not even cameras present during this normal travel period, where the contestants are on a total "lock-down," unable to talk or communicate with one another.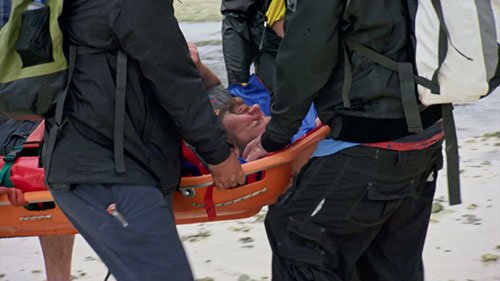 The sight of Pat being carried onto shore on a gurney, surrounded by Doctor Joe and the Survivor medical staff, was also jarring to the audience, who was expecting to see the season's very first Tribal Council after a fairly normal commercial break. I for one had to rewind my DVD thinking I had missed something or had accidentally skipped ahead. To everyone's horror, especially his fellow cast mates who were waiting nearby, watching, Pat was in a real emergency situation. It wasn't soon after that Jeff Probst showed up (never a good sign for one's game) and after chatting with the doctors, announced that Pat had no choice: His back injury sustained on the boat was serious enough that he needed to be pulled from the game.
Pat's exit from the game was the quickest every by medical evacuation (tied with Kourtney Moon, who also exited on Day 3), and it was the first time an injury of this nature occurred. The final graphic on the episode told us that Pat was able to make a full recovery, but you can be sure that he has much more to say on the subject.
I had the chance to speak to Pat today on the FilmSurvivor Podcast (the full audio of which you can find and download at the bottom of this article). But here are some highlights from the interview:
PAT CUSACK INTERVIEW
On how he remembers the incident:
Pat Cusack: We were in the middle of cyclones and the seas were just rearing their ugly head, we were in 15-20-foot waves in a 20-foot boat, with 13 people on it…they're light boats and we went air-born, and that's pretty much all that I remembered until I woke up on a helicopter…I had a spinal compression…it ruptured the bursa sack between my second and third vertebrae.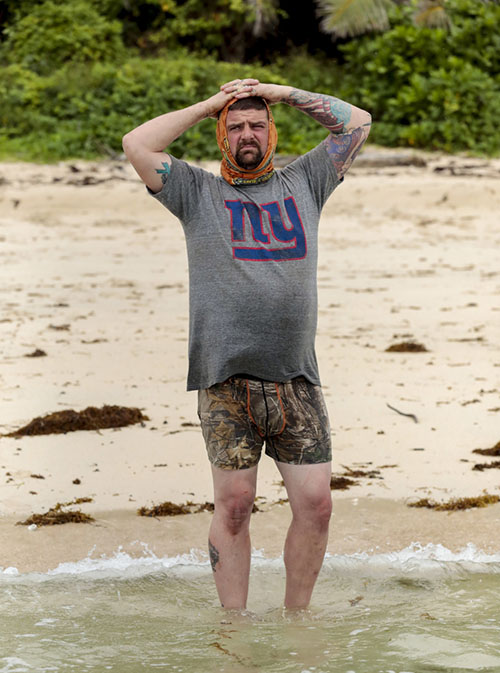 On whether or not the producers and doctors made the right call by removing him from the game:
Pat: I believe they did, as much as it hurts to say that. But at that time, my long-term health and well-being is more important than the game…if I was able to convey what I was feeling, then it probably would have been different, but they have nothing but the highest of medical professionals there, they know what they're doing, and being that I couldn't express what I was feeling, they had to assume the worst. I'm grateful that they took the time and the care to assess the situation, but yeah I probably would have wanted it to be a different outcome.
On the toll that the evacuation had on him mentally once out of the game:
Pat: Initially when I was first brought in off the helicopter and into the hospital, yeah, it was a pretty dark place. I was definitely in a dark place. It's not how I wanted it, or how I perceived it was going to happen. I would have been accepting had it of been a vote-out, but being out of the control of my hands and being a freak accident, there were a lot of questions. Why me? If something like this was going to happen, why did God even allow me to go and participate in this? But on the second or third day, Jeff called me in the hospital…and he was very concerned. And it kind of took me out of that dark place, to know that they do care about me, I'm not just somebody who got hurt…for Jeff to take time out of his busy schedule to call me and talk to me, it meant a lot to me.
For much more from Pat Cusack, including my full interview, please listen to the latest episode of the FilmSurvivor Podcast below or by clicking here.

Remember! The next episode of Survivor: David vs. Goliath is next Wednesday, and be sure to check back here for my recap and reaction, as well as for my weekly podcast exit interview!
Be sure to follow me on Twitter – @tomsantilli – and on Facebook, for all of the latest Survivor coverage, interviews, and movie reviews.
TELL US: WHAT DO YOU THINK ABOUT PAT'S EXIT?
Photo Credit: CBS/Monty Brinton/Robert Voets/Timothy Kuratek/Jeffrey Neira/Michele Crowe/David M. Russell