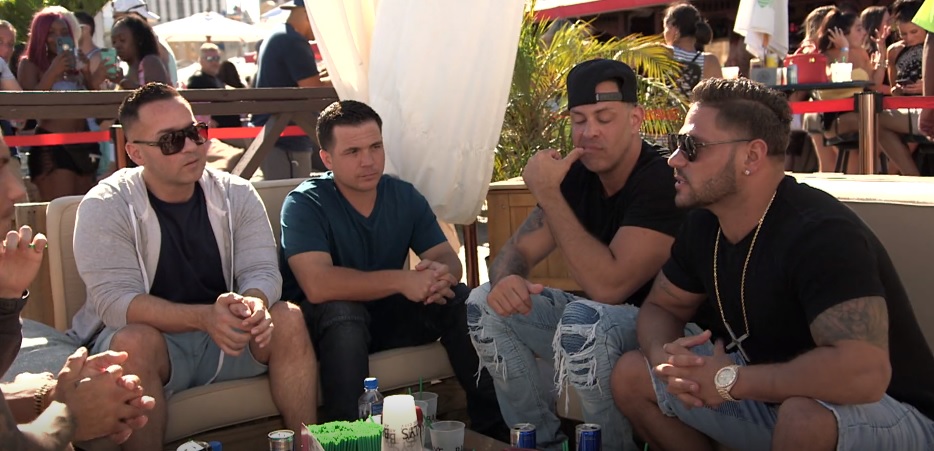 On this week's Jersey Shore: Family Vacation, the squad is still in Atlantic City, New Jersey celebrating DJ Pauly D and Mike "The Situation" Sorrentino's birthdays. As a reminder, Ronnie Ortiz Magro invited Jen Harley to join everyone, putting everyone in stress mode wondering if there will be fireworks between the toxic couple.
So far so good, because the men and women have split up in a quest to get more familiar with everyone and Jen isn't there yet. The girls want to talk to Angelina Pivarnick more about Chris Larangeira. Jenni 'JWoww' Farley asks Angelina if she's afraid to be alone and has daddy issues. Angelina confesses that the relationship with her dad wasn't a good one, leaving Jenni feeling bad about how she's treated Angelina. The ladies also ask Lauren Pesce about Mike's possibility to serve jail time.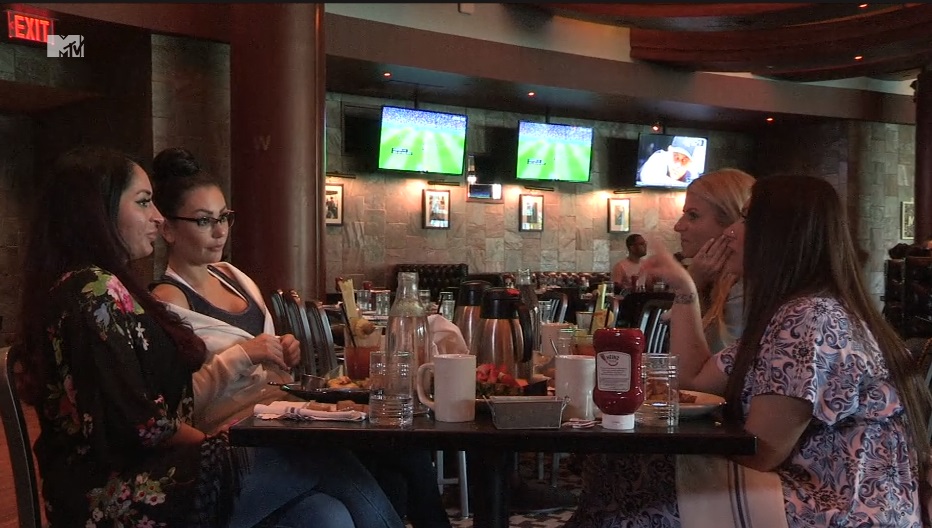 The guys grill Chris on why, oh why, is he with Angelina. He explains how much he cares for her and even though they bicker how much they get along. Of course, both conversations turn back to Jen and what the night might have in store for everyone.
At dinner, Jen and Ronnie show up, but the tension is palpable. Nobody really wants to initiate conversation with her until JWoww shockingly blurts out to Jen, "nice mug shot." Eventually, everyone laughs and Mike explains to the couple that the clan wants them happy, but it's like Jen having probation officers who are all watching what Jen does and protecting Ronnie. Jen apologizes and again, so far so good.
And then Jen starts to drink at Pauly D's event. Which leads to a fight between Jen and Ronnie, because it seems that Jen wants more alcohol and Ronnie wants her to stop drinking. Jen bails on Ronnie telling him, "You're on your own bitch."
And Angelina starts to drink. Which leads to her being all handsy with Vinny Guadagnino– um, right in front of her fiance?! She even kisses Vinnie on the cheek. Hello Chris? Even Vinny seems to think that Chris likes watching this, but it leaves Chris extremely uncomfortable.
After the party, back at Pauly D's room, Vinny and Ronnie talk about his relationship with Jen. Ronnie doesn't want to talk, but Vinny tells him that if this is the way she is, he needs to consider if it's all worth it. We all know the answer to that.
TELL US: SHOULD RONNIE BREAK UP WITH JEN? IS ANGELINA CROSSING THE LINE WITH VINNY? 
Photo Credit: MTV