Last night on Married to Medicine LA, Dr. Imani Walker doubled down on her drug dealer home comments on Jazmin Johnson's home. Apparently, she knows exactly how they look because she has been in one. Insert side eye, here! Her explanation is that the house was large and opulent and doesn't have much furniture. I guess by that logic, half of the people on Bravo reality stars are drug dealers.
Shanique Drummond explains that Jazmin Johnson's husband owns a very successful medical practice. Imani is not trying to hear that excuse because she owns a practice and isn't living like that. Ummm…. If it walks like a hater and sounds like a hater… IT'S A HATER! Last time I checked several people have the same title and have totally different incomes and levels of success. Imani, instead of hating, maybe you should figure out what he is doing differently than you. This episode is definitely packed with catfights and drama!
Asha Kamali-Blankinship visits Dr. Noelle Reid and is still upset that SHE decided to come to Shanique's husband's birthday party with full knowledge her husband's ex would be there. Please, someone, make it make sense! Asha expects Shanique to be regretful and apologize for Robert Drummond, inviting his friend of many years. I could understand if this was someone that they barely knew, but this woman goes on vacation and events all the time with their family. It wasn't like it was Shanique's party. It was her HUSBAND'S BIRTHDAY. Would it not be natural for him to invite HIS actual friends, before considering the feelings of his wife's friend?
Shanique and Robert give their daughter advice about school bullies. Shanique's advice is to involve the teachers and parents. Robert takes a different approach. He was always the smallest guy in class, so he had to "slam" some bullies. I can't see him being able to pick up anyone and slam them on the ground. Let's be real, the most he probably did was slam a door.
Noelle takes her daughter uniform shopping for her new private middle school. This will be a transition for her because she will be new and it's less diverse than her last school. I think she will be just fine, she seems outgoing and no nonsense.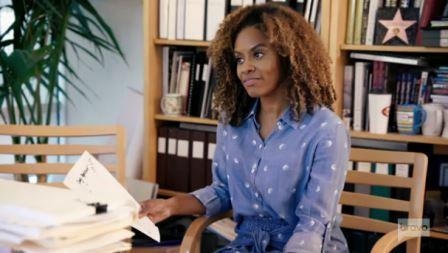 Struggling actress Asha meets with one of the executive producers from Days of Our Lives in hopes of landing a new role. She claims to have had a great career (never heard of her, before this show) but wants longevity. I guess you can definitely have that on a soap opera, if you want to play the same role for 40 years. During the read, she is offended when she is asked to be a little sassier with her character. I don't know if it was just me, but she may want to find another career. She better hope this show doesn't get canceled because I don't see her winning an Academy Award ever anytime soon.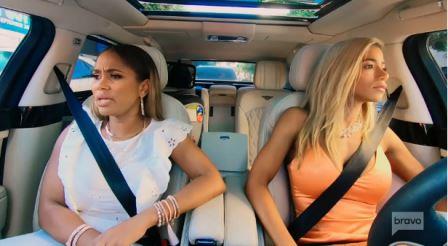 Imani is hosting a "group therapy" session for the girls. Psychiatrist or not, I am not sure one of the messiest people should be taking the lead. Meanwhile, Jazmin and Shanique are in the car driving to the event. Shanique is worried about seeing Asha after all of the drama from the birthday party. She drops the bomb about Imani calling Jazmin's house a "drug dealer" house. Jazmin is pissed and explains there is a big difference between Beverly Hills and Studio City where Imani lives.  Well, this gathering just got a lot more interesting.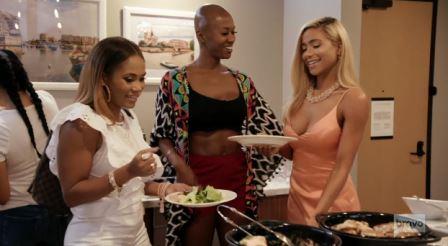 Upon Shanique and Jazmin arriving, Imani tries to hug them. Jazmin is not down with being fake and shadily dodges her attempt at a hug. Once everyone is seated, Imani asks everyone to get everything off their chest so they can move forward. Jazmin interrupts and asks why she was just talking about her two days ago. For some reason, Imani thinks Shanique is in the wrong for telling her best friend the insulting comments she made about her. The conversation then takes a turn, when Asha and Shanique go back and forth about the ex.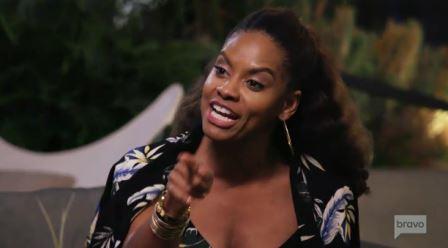 Asha finally admits she knew that the ex would be at the party. However, she claims she didn't know that Shanique would bring her over and try to have an intervention. The girls correct her and let her know it was actually Heavenly Kimes who was the instigator. Noelle then jumps to Asha's defense yelling that Shanique's cop out was she did not want to disrespect her husband. She then says that she made another woman more important than her.  What the hell is she talking about? Ughh… I can't stand a person who blindly cosigns something that is wrong in the name of friendship. SMH…  Is anyone going to tell Asha, she simply handled the situation the wrong way? If it was that big of a deal, she should have stayed home.  Shanique calls Noelle a scarecrow without a brain and says Asha is her puppet master. As much as I hate to admit it, she may be right. The whole argument is ridiculous. Shanique's husband can invite whoever he wants to HIS party.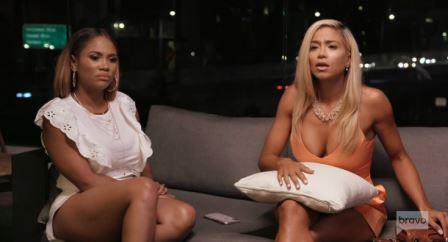 Well as if things aren't dramatic enough, Shanique casually reveals to everyone that Asha's husband may have cheated on her four years ago. You can literally hear a pin drop as the women take in the information. Asha wants someone to check Shanique for her insinuation. It may actually be true, but that is nobody's business and it's a low blow. Obviously, a nerve was struck and Asha flees the party in anger. They say where there is smoke, there is fire. There is something definitely going on in Asha's marriage from the supposed cheating to delaying the baby due to "finances." Chile, please. Asha may want to check her man before checking the ex or Shanique. If she was a good actress, she would have played it cool and not let everyone see how insecure she is in her marriage.  I guess we are going to have to wait to next week to see the unfolding of drug dealer gate.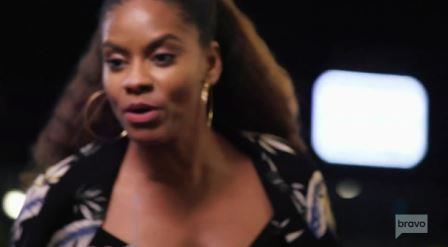 TELL US- DO YOU THINK IMANI IS JEALOUS OF JAZMIN'S LIFE? DO YOU THINK ASHA'S HUSBAND CHEATED? SHOULD ASHA BLAME SHANIQUE OR HEAVENLY FOR THE CONFRONTATION AT THE BIRTHDAY PARTY? DO YOU THINK ASHA MAY HAVE SOME DEEPER ISSUES IN HER MARRIAGE THAN SHE WANTS PEOPLE TO KNOW? DOES NOELLE BLINDLY FOLLOW ASHA?
[Photo Credit: Bravo]