This week on Married to Medicine LA, the ladies are still meeting with the false prophet, aka the "intuitive" at Noelle Reid's birthday party. The next victim is Imani Walker who wants to know if she is going to be okay. Is she actually taking this woman seriously after watching her interact with the other women? I guess what they say is true, a fool is born every minute. I wouldn't trust her to predict when my pizza would be delivered, let alone anything about trials in my life.
Imani cries when Sahara tells her she has always been okay. Just when you think things are semi- normal, Sahara reveals she has done exorcisms and begins banging foreign tools in her face to clear her energy. Ummmm….okay. Lastly, Shanique Drummond asks for guidance on how to let someone know she isn't trying to be malicious.  She is clearly talking about her fight with Asha Kamali-Blankinship regarding her comments about her husband possibly cheating. Asha believes that she was indeed trying to be malicious and the psychic agrees Shanique isn't being genuine. I am struggling to figure out, what was the point of bringing this crazy psychic on the show. Noelle seems to be one of the most level headed of the group, but I am starting to question that given her trust in her psychic/yoga teacher.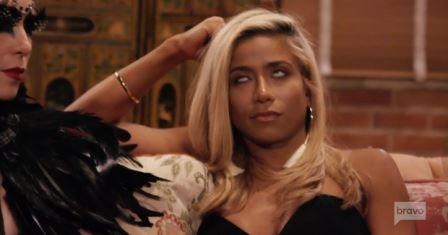 Imani finally talks to her sister, Jasmine after 13 years of no contact through video chat. As happy as Imani is to talk to her, she can't help but feel some jealousy because she doesn't have the relationship her sister has with their father. I find it odd that her sister says she always knew about Imani because her father told stories about her growing up, but doesn't seem to want to meet with her. Hopefully, it's because he doesn't want to be a storyline on the show and not because he doesn't want to be in her life.
Shanique and Britten Cole meet for dinner and discuss Noelle's birthday party. Shanique brings up her apology to Asha, but Britten doesn't think her delivery was the best. She reminds her that her comment really affected Asha because it pertained to her marriage. Shanique should have just sat with Asha one on one and apologized without any excuses about commenting on her marriage. Regardless if her husband is or was cheating, that is not any of the other ladies business. Shanique better hope her husband, little Robert Drummond isn't cheating on her.
Shanique shares her guilt over working and not spending as much time as she would like with her children. Little Daddy Kane Robert wants his wife to make sacrifices in her job in order to have more time. Shanique feels like when it comes to the household, she is the one who has to make all of the sacrifices. I think most working mothers can understand her dilemma, but something tells me Robert has a Napoleon complex and will eventually have his way.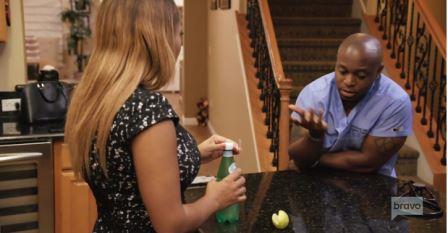 Britten talks to her good friend, Contessa Metcalfe (Married to Medicine Atlanta) about her having 2 weeks until her deadline is up for finding a house and a job in LA.  Britten feels like she has friends and career opportunities that she doesn't have in Orlando and doesn't want to go back. I think her husband, Mack Major's response should be interesting,  she has been in LA for a while and still isn't any closer to moving her family there.
Britten has invited all of the girls to her house for a poolside gathering to bring everyone together. The hot topic is the supposed intuitive that Noelle had read the ladies at her birthday party. Jazmin Johnson believes she was prepped to ask certain questions, which Noelle vehemently denies. I don't know if she was prepped or was just crazy either way, I think it wasn't a good idea. Britten quickly tries to bring everyone back to the same page, when she compares their fighting to her time in Iraq. Umm… I think that's a bit of a stretch, girl.  But I understand her point is after being at war, despite what took place they were still a unit. She gives each of the girls each a dog tag with a name she feels that represents them. This was a really sweet gesture, she clearly wanted to bring everyone together. She even sprays them with rose water to lighten the mood, I guess Britten can also be an intuitive. Imani, take note on how to actually bring peace in a group, because her attempt was an absolute disaster.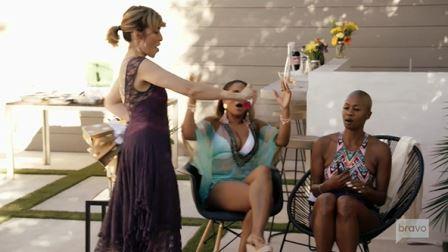 Shanique and Robert get into a dispute about how their household should be run. Robert feels like he should be able to see his kids when he arrives home, regardless of what time. He clearly doesn't understand what it takes to get to kids into bed at night and ready in the morning for school. I don't think a mother in this world is going to let their children stay up all night and deal with the hell that will be sure to follow the next day. I know Robert is as small as a child, but he is an adult, and therefore should know what he is saying makes no sense. He even tells Shanique her job is an option and she should quit her job, so that she isn't stressed by balancing her career and family. Shanique isn't trying to hear what her husband is saying and doesn't plan on quitting her job. I don't blame her, I wouldn't want to just sit at home and wait for little Robert to arrive either.
TELL US- DO YOU THINK IMANI AND HER SISTER WILL MOVE FORWARD WITH THEIR RELATIONSHIP? DO YOU THINK SHANIQUE SHOULD QUIT HER JOB? SHOULD ROBERT EXPECT SHANIQUE TO LET HIS KIDS STAY UP ALL NIGHT, SO THAT HE CAN HAVE TIME TO SEE THEM WHEN HE RETURNS HOME FROM WORK?
[Photo Credit: Bravo]