G'day yachties! Welcome to the newest addition to the Below Deck franchise: Below Deck Down Under! This season, we're trading the Caribbean and the Mediterranean for the beautiful land of Australia. We've got a hot new captain. A fancy new 50-meter super yacht. A familiar face within a brand new crew. And it's all happening on Peacock!
There's a new stud of the sea in town, yachties, and his name is Captain Jason Chambers. And the first person he welcomes on board Thalassa is none other than Aesha Scott, who's been promoted to chief stew for this new franchise. Personally, I'm not all that enthused to have to endure another season of Aesha's incessant potty humor and over-the-top enthusiasm. But someone at the network must think of her as a fan favorite because here she is, elevated to role of Down Under's resident Kate Chastain, Hannah Ferrier or Daisy Kelliher.
Other than Aesha, the crew of Thalassa is filled with entirely new faces and lots of different accents. We've got first-time bosun Jamie Sayed, who's giving Captain Jason a run for the money in the heartthrob department. Chef Ryan McKeown, who reeks of blue-collar smarm and promises Aesha he's exactly as "cheffy" as she hoped he wasn't. South African Tumi Mhlongo and Polish model Magda Ziomek fill out Aesha's interior department. And Jamie has his hands full with a deck team made up of muscled-up American Culver Bradbury, inexperienced Brittini Burton (which rhymes with "martini," by the way) and sure-to-be-trouble Benny Crawley.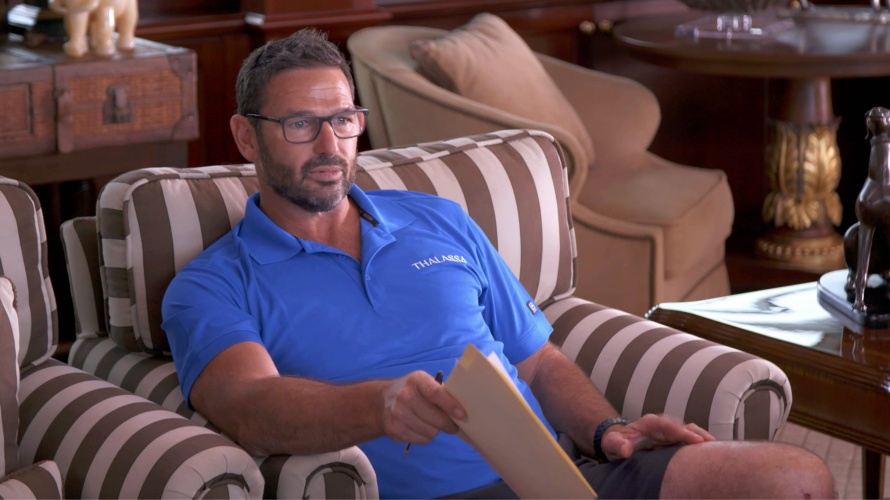 After making all the necessary introductions, Captain Jason calls the first crew meeting of the season to set some ground rules. First thing's first: his management style is going to be more like fun yet responsible big brother rather than drill sergeant boss. Which is more than fine with several of the female crew members, who can't help but bat their eyelashes at the handsome captain. He wants the crew to have a good time while they work. And that means that, on Captain Jason's boat, getting in the water is a requirement when guests aren't on board. It's also one thing that will set Below Deck Down Under apart from its predecessors: lots of scuba diving and underwater exploration of the Great Barrier Reef!
Following the meeting, the crew breaks out into smaller groups to coordinate and get familiarized with the boat. A brief meeting between Aesha and Chef Ryan promises rough waters ahead. The cocky chef already seems to be speaking a completely different language than the chief stew when it comes to service and it's definitely not going to go well despite Aesha's relentless optimism. She has better luck with her stews. While the deck team all bonds above deck about their shared obsession with meditation, Aesha makes Tumi her second stew with Magda happily filling the role of third stew. Most of all, she wants the interior team to all be besties, OK? Because she's always been BFFs with her chief stews in the past. So it's friendship first with Aesha in charge.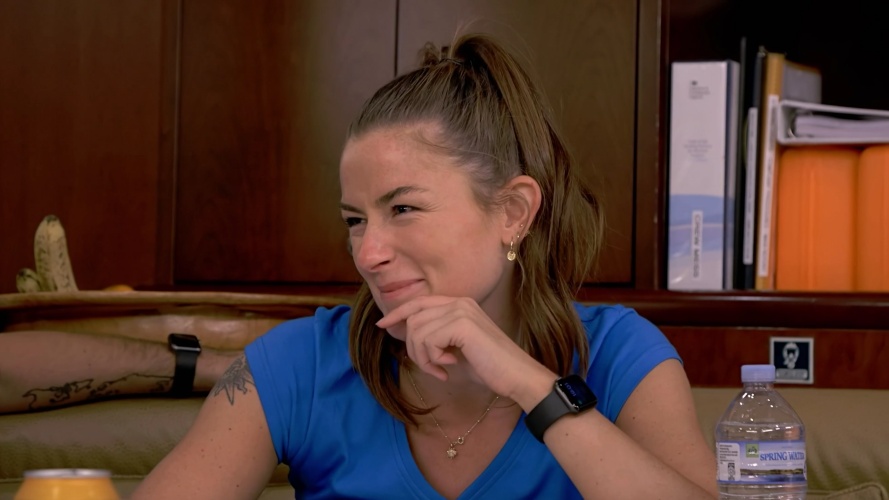 That night, Captain Jason gathers Aesha, Chef Ryan and Jamie for their first preference sheet meeting. Here we go! The first primary of the season is an American ex-pat living in Australia named Charlie Gambino. He's bringing a crew of young professional millennials aboard who all claim to be "foodies." And, honestly, their requests aren't all that elaborate. They want a toga party-themed dinner on the first night. And lots of water sports. Should be easy enough, right?
Other parts of the season will be a little more complicated. Even just docking in the marina. Captain Jason pulls Jamie aside after the preference sheet meeting to go over the tide charts. Apparently, the marinas in Australia weren't really constructed to accommodate massive super yachts like Thalassa. So with the coming and going of the tides, they'll have to stay hyper-vigilant of leaving the dock at the right time. Otherwise the ship will be run aground and the season will be over before it starts. Keep this in mind, because it's going to come up again soon…
The next morning is officially the start of the charter season. And before we know it, Charlie and his entourage are making their way down the dock off Airlie Beach to greet the crew. After being welcomed aboard by Captain Jason, Aesha gives the guests — and viewers — the requisite tour of the yacht. And Chef Ryan busts out a "barbaric" lunch of Alaskan king crab, tiger prawns, mussels and oysters escovitch, all in service of the millennials' Instagram photos. Honestly, everything seems to be going great…until it's time to leave the dock. As the deck team prepares to ship out for the first time, disaster strikes. The bow thrusters start smoking and the usually offscreen engineering team informs Captain Jason that the boat has lost its hydraulics.
This is bad. The yacht is essentially paralyzed on the dock. And with low tide coming in, the situation is a ticking time bomb. Captain Jason was bound and determined to get things underway by 2 p.m. to leave plenty of ocean under the boat. And now the crew only has a certain amount of time before there's dangerously little water under the keel to get out to sea. The season could be over before it's even begun.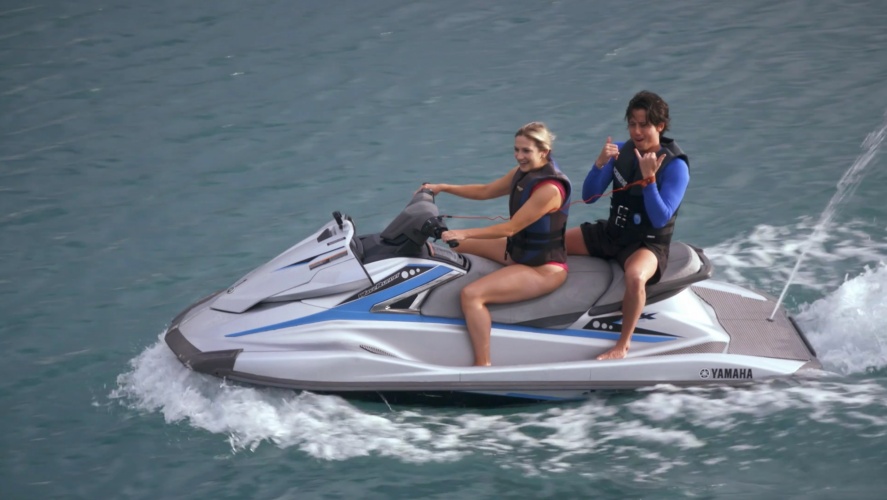 Plus, there's the added pressure of having expectant and paying guests on board. Thalassa may be stuck in the marina while the engineers work furiously to fix the problem, but Aesha reminds the millennials that they're still on board a super yacht with a staff waiting on them hand and foot. It's time to distract them. And what better way to do so than with water sports? The deck team launches jet skis straight from the marina to keep the guests happy and entertained. Though Benny takes it one step further by joining one of the female guests for a joy ride, leaving his radio and ear piece behind. Not a particularly great first impression for the brand-new deckhand, who admits via confessional that he just wants to have a good time this season. Both Captain Jason and Jamie take note.
As the evening wears on, the boat still hasn't moved. So the guests' toga party-style dinner will officially be happening on the dock. However, the crew makes the best of it with costumes, decorations, and mountains of food. Chef Ryan, in particular, pulls out all the stops for a sushi tasting complete with bright blue caviar, his take on beef and broccoli in the form of tomahawk ribeye steaks, scalloped potatoes, and homemade mac and cheese.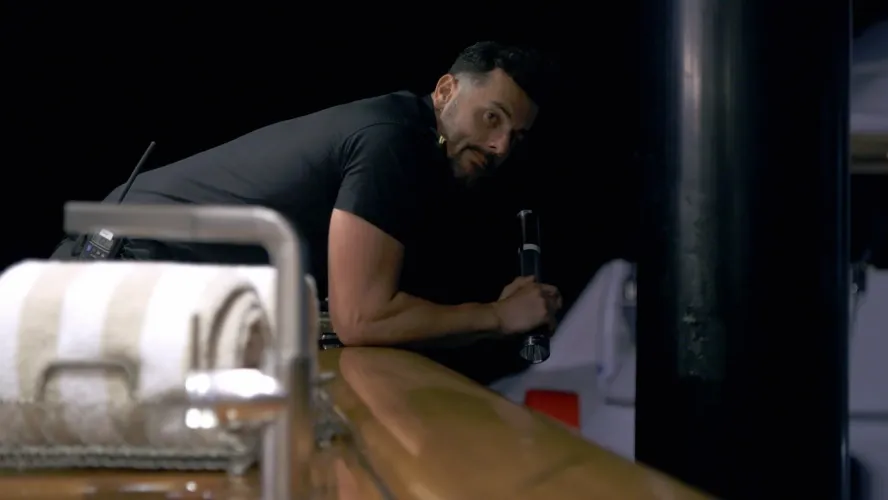 When the clock strikes 7 p.m., the situation has officially turned into a crisis. The crew only has thirty minutes to get off the dock before low tide destroys the entire season. But Jamie's busy having a stern chat with Benny about his responsibilities on board. (Weirdly, the bosun doesn't even bring up the jet ski incident.) With 20 minutes to spare, Captain Jason runs a propulsion check and the engineers announce that the boat is fixed. It may be pitch black outside, but it's time to get off the dock. There's less than a meter of water under the boat's keel. But Captain Jason rallies the deck crew to pull off a daring nighttime takeoff. However, we'll have to wait until Episode 2 to find out how that goes…
TELL US – WHAT'S YOUR FIRST IMPRESSION OF THE CREW? ARE YOU HAPPY AESHA IS BACK AS CHIEF STEW? SHOULD BENNY HAVE BEEN REPRIMANDED FOR GOING OUT ON THE JET SKI? CAN CAPTAIN JASON PULL OFF SUCH A DANGEROUS NIGHTTIME TAKEOFF?
[Photo Credit: Peacock]