Last week, major upheaval rocked Below Deck Down Under. Captain Jason Chambers finally fired Magda Ziomek and Chef Ryan McKeown, who were replaced, respectively, by new third stew Taylor Dennison and Chef Nate Post. Both newbies came aboard Thalassa with impressive resumes and better credentials than their fired counterparts. But it's safe to say that, as of the first dinner service, things are not going well. There's been miscommunication after miscommunication between Aesha Scott and the new chef. Food's been sent out cold. They're not on the same page. And to make matters worse, the captain is eating dinner with the guests. So he has a front row seat to just how incompetent his crew looks right now.
Clearly, there's nowhere to go but up. And they have a chance to redeem themselves right away because there's still a 30th birthday to throw for the primary. While Chef Nate furiously throws together a birthday cake, Benny Crawley gets the party going on deck by reawakening his alter ego DJ Lazy Susan for another turn behind the turntables. Thankfully, the night is somewhat salvaged, even if Captain Jason had to get out of his seat twice to motivate the crew. And Culver Bradbury — usually the self-appointed chief entertainment officer — goes to bed early and ducks out on dancing with the guests.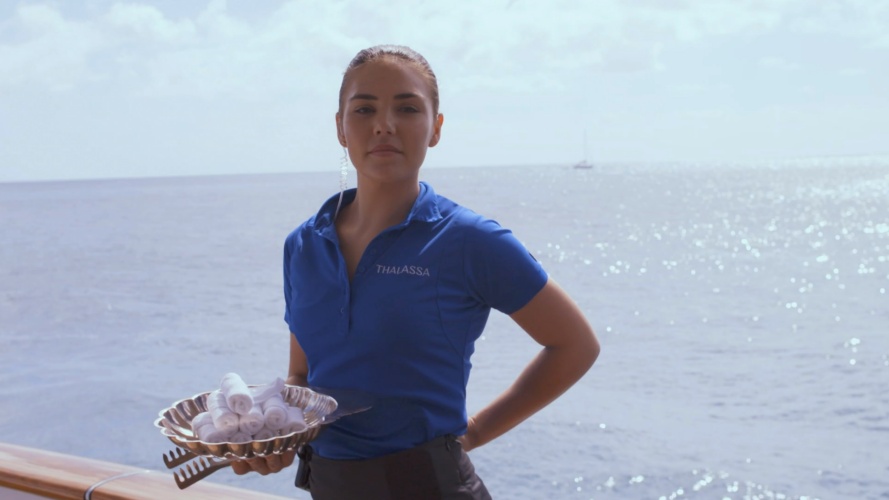 During the night shift, Brittini Burton grills Taylor on all things girl talk. And is relieved when the new stew admits the one guy on board who's most her type is Jamie Sayed. However, she also confesses that her feelings towards Culver have gotten….complicated, let's say, as the season wears on. And considering they're supposed to be taking a van road trip together after the last charter, that's bound to come to a head at some point. Taylor also claims she pulled a Malia White on one of her previous boats, kissing more than one of her fellow crew members in the same season. And even got reprimanded by the captain for it. So look out for that one, she may be something of a firecracker…
The next morning, Chef Nate isn't exactly calm and refreshed. If anything, the day before has him on edge. He's prone to anxiety in high-stress situations and determined to do better on his second day than he did on his first. But his very worst day has to still be a thousand times better than Chef Ryan, right? Controversy also permeates the deck team though, when Culver takes his break before Benny despite the latter starting work earlier. Something's off with the chief entertainment officer but no one knows exactly what. Breakfast for the guests, on the other hand, goes well. So Nate's turning things around.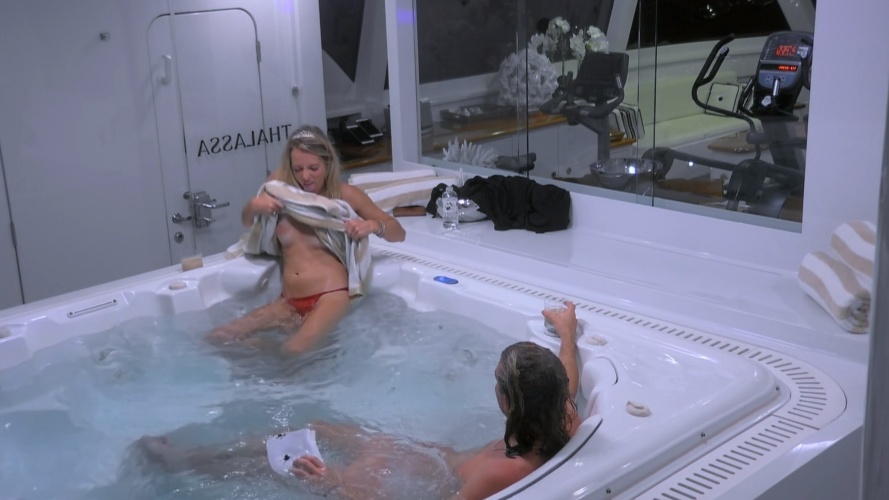 For their daily excursion, Captain Jason takes the guests snorkeling in Manta Ray Bay off Hook Island. Which gives Jamie the perfect opportunity to throw the hammer down on Culver. He reprimands the deckhand for taking his ill-timed break. And even goes as far as to warn him Captain Jason has a "target" on him. Inferring that Culver could be following Magda and Ryan as the next one to walk the plank. It all seems a bit overblown, especially considering what a great job Culver has done all season. And he's the first to admit that getting the talking to from Jamie doesn't exactly motivate him to do better. I can't say I blame him, frankly.
Hours later, Chef Nate heads into his second dinner service with a little pep talk from Captain Jason. Apparently, the two are from the same city of Wagga Wagga in New South Wales, so they find immediate common ground in that. He's also operating under the context of "the more communication, the better" with Aesha. And thankfully, his surf and turf is a much bigger hit all around than what he served the night before. Once everyone else goes to bed, Brittini and Taylor are then left to watch over the primary. Who is topless. With her brother. In the hot tub. Oh, and they also FaceTime their dad, just to make the moment a little more bizarre.
Departure day finally arrives. And during breakfast, Captain Jason gets an alert that another motor yacht in the area has lost its tender. Ummm, how does that happen? Then, just as the deck team pulls up the anchors, the captain sees the missing tender floating adrift on the high seas. He's determined to help a fellow captain out, and launches the deck team into a full-blown rescue mission. Lifejackets included! Naturally, Jamie rams home the point of just how dangerous picking up this extra tender is. But also insists on being the one to leap on board and get credit for saving the day. The tender is saved! And the bosun gets the glory!
The guests depart. But not before the primary has exchanged Instagram handles with Culver and asked what the crew is doing with their night off. At the tip meeting, Taylor and Chef Nate both get shoutouts for hitting the ground running. And the tip comes to a total of $16,149. I'm sorry, how is a thirty-year-old yoga instructor coming up with that kind of a tip? Maybe I'm in the wrong line of business…But the crew is pleased to pocket $1,345 apiece. Well, before blowing some of that on their night out, of course. And Culver gets awarded the disco helmet of shame.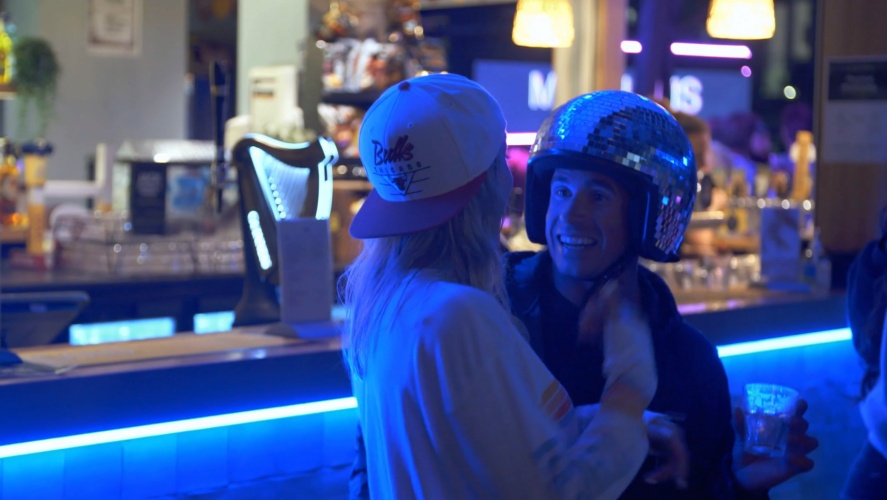 Later, Captain Jason calls Aesha, Jamie and Chef Nate together for the final preference sheet meeting of the season. The last primary is celebrating her recent marriage, her birthday, and Pride all in one! (Was this season filmed a full year ago??) The group wants scuba diving, jet skiing, the dreaded slide for the very first time all season, and a Spanish picnic. And a beachside vow renewal. Followed by a Mardi Gras party. Oh, and they're all vegan and gluten-free. So the last charter is basically going to be a lot of work. For everyone.
But that's all a giant problem for another day. Because it's time for the crew to hit the town. Brittini starts the night by confiding in Tumi Mhlongo that she's ready to tell Culver she's catching feelings for him. But surprise, surprise! Culver invited the primary and the rest of the just-departed guests to meet at the club. And next thing you know, he's bumping and grinding and, uh, making out, with the primary. This was not part of Brittini's plan.
TELL US – WHAT DO YOU THINK OF CHEF NATE AND TAYLOR? DID CULVER DESERVE SUCH A STERN WARNING FROM JAMIE? ARE YOU SURPRISED CULVER MADE OUT WITH THE PRIMARY? WILL BRITTINI TELL HIM HOW SHE REALLY FEELS?
[Photo Credit: Peacock]