Among Bravo fans, the spot for public enemy number one is highly contested, but Lenny Hochstein is certainly in the running. His hot mic moment from Real Housewives of Miami Season 5 had him reeling in need of good press.
Even non-fans of RHOM could see that Lenny had been terrible to Lisa Hochstein, long before the hot mic moment. But his exposition just gave him the excuse to stop hiding all his terribleness.
Since then, he found a new girlfriend, got engaged to her (despite not being divorced from Lisa), and has been dodging/starting lawsuits left and right. Now, on top of all his other bad press, Lisa potentially just hurled some hefty allegations in Lenny's direction.
Is it about Lenny?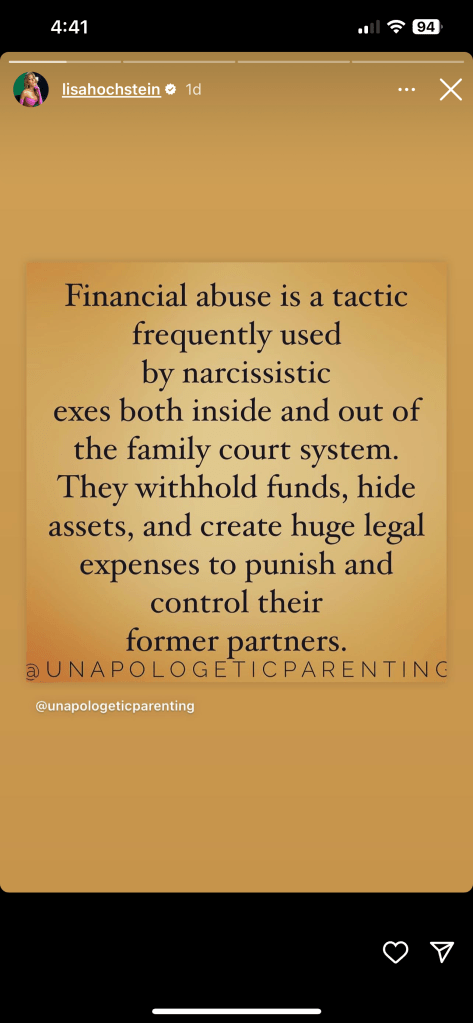 On Lisa's Instagram story, she made a repost from Carl Knickerbocker, @unapologeticparenting on Instagram. The post read, "Financial abuse is a tactic frequently used by narcissistic exes both inside and out of the family court system. They withhold funds, hide assets, and create huge legal expenses to punish and control their former partners."
The obvious interpretation of this post would be that Lisa was calling Lenny a financially abusive ex. However, Lisa gave herself plenty of plausible deniability by making her post as indirect as possible, assuming it was talking about Lenny in the first place.
Of course, it wouldn't be too hard to paint the boob god as financially abusive. Lenny has made it clear time and time again that he has no principles, especially when it comes to money. The spiral he's gone on since last season's RHOM showed he was willing to do just about anything for some extra cash, particularly some frivolous lawsuits.
Real Housewives of Miami is expected to return to Bravo in late 2023, or early 2024.
TELL US – DO YOU THINK LENNY COULD BE FINANCIALLY ABUSIVE? IF SO, HOW?