House of Villains has had an epic season so far. The show, featuring some of reality TV's most notorious villains, has found its sweet spot and has given watchers many unforgettable moments. Even though we've lost an icon like Tiffany "New York" Pollard and Bravo's No. 1 guy in the group, Jax Taylor, the show's remaining villains, including Johnny Bananas, Corinne Olympios, and Bobby Lytes, have given us just enough mess to keep us entertained. And this week's episode proves just that. Here's everything that went down in House of Villains Episode 6. 
The supervillain of the week is… 
Omarosa remained the supervillain of the week in House of Villains Episode 6. 
If you've been following the show's format over the last few episodes, you know there was still a chance Omarosa would remain the house's supervillain of the week. After nominating Johnny Bananas' closest allies and potential lover (Corinne, Tanisha Thomas, and Shake Chatterjee) for elimination, the Big O caused quite a stir. She hoped to knock out one of her primary targets by naming Corinne as a pawn, but will she get her way?
Who won this week's redemption challenge?
Shake won the redemption challenge in House of Villains Episode 6. 
After blowing up on half of the house during last week's challenge and nomination ceremony, most of the cast were thrilled about the opportunity to get Shake out of the house. But when The Hills alum Spencer Pratt entered the game to host this week's competition involving snakes, rats, and scorpions, the competition took the sharp left turn it's known for. 
Given her fears over the challenge, Tanisha threatened to quit but was persuaded by the production staff to give the challenge a shot. However, the courage she received quickly faded when the competition became too real — leading Shake to an easy victory. 
Which villain was voted out in House of Villains Episode 6? 
Corinne Olympios was voted off in House of Villains Episode 6. 
Omarosa and Corinne initially bumped heads during the first episode of the season, so seeing her on the chopping block under Lady O's reign isn't surprising. However, they seemed to have forged quite a bond over the last few weeks. Omarosa proposed the idea of an all-female alliance that would eliminate the three strongest men (Bananas, Shake, and Jonny Fairplay) and allow them to steamroll their way to the end. 
But in a staggering turn of events, everybody's favorite Bachelor Nation villain was sent out of the house by a unanimous vote, causing the house's dynamics to shift entirely. 
The cast's preferred vote would've gone to the Love Is Blind alum, Shake. But, since he won his second redemption challenge, the group decided to save Tanisha, believing she's the weaker competitor all-around. 
Could they be right? Six episodes in, and Tanisha has given us nothing but an unjustified feud with Omarosa, so it's understandable why the former White House staffer called her a floater before putting her on notice. Will this be the match that lights her flame? 
Which villains remain in the HOV?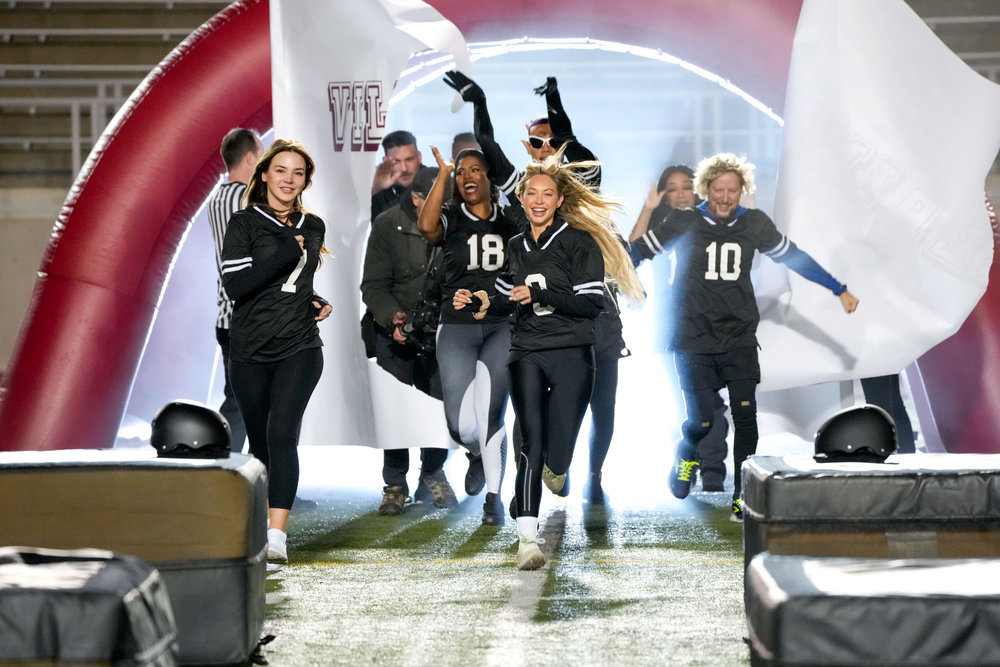 Tanisha Thomas
Omarosa
Johnny Bananas
Jonny Fairplay
Bobby Lytes
Anfisa Arkhipchenko
Shake Chatterjee
House of Villains continues Thursdays on E! at 10 p.m. ET. 
TELL US — WHAT DID YOU THINK OF HOUSE OF VILLAINS EPISODE 6? WHO DID YOU WANT TO SEE GO HOME? WHO ARE YOU HOPING WINS?