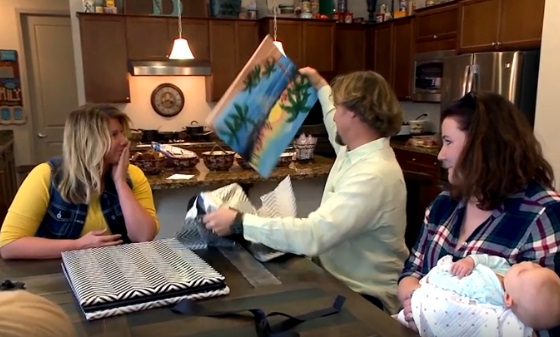 It's a Sister Wives miracle! Last night's episode was only an hour long! Yeah, yeah, there was an hour long special afterwards, but the producers weren't trying to drag out thirty minutes worth of the Browns' story lines into two hours of show. Ariella May is now four-weeks-old, and the family has enjoyed passing her around. Christine is addicted to holding the baby, and Robyn believes her broken collarbone is healing nicely. The wives coo over how precious the baby is and Kody delights in doing impressions of his newborn daughter. However, he questions Robyn if she feels comfortable taking a new baby to Hawaii. If Robyn stays home with Aria, Kody reminds his wife that Solomon will have to stay behind as well. 
It's back to the therapist's office for Meri and Janelle, and Nancy wants to know if the pair was successful with their dual decorating project at Thanksgiving. Janelle hedges around the fact that Meri spear-headed the project with little input from her, and she tries to get her point across delicately and without blame. Of course, Meri is glaring down Janelle like she's responsible for the catfishing. Meri interjects to add she'd hoped that Janelle would have participated more and had more of a voice. The women nervously laugh at their inability to communicate. Janelle suggests that the two try again on their upcoming trip to Hawaii. Meri isn't feeling it. Christine and Robyn are hopeful that their sister wives will build a friendship. 
CLICK THE CONTINUE READING BUTTON FOR MORE!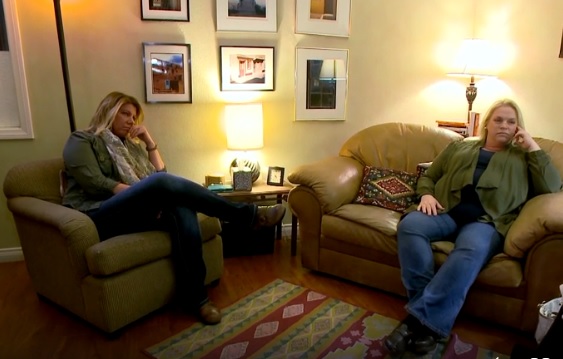 Fast forward a few weeks (months?), and the family is prepping for the family trip to Hawaii. Kody is at Meri's house and their relationship is still a tad strained. Just like Christine and Robyn want to see Meri and Janelle overcome their issues, Janelle, Robyn, and Christine hope Meri and Kody are able to repair the trust in their relationship. As the older children and their significant others trickle in from out of state, Kody wonders if he should start packing. He is overwhelmed at the thought of taking so many people to Hawaii. Robyn has decided that she's going to take Aria on the trip. She's such a good baby, and the kids love taking naps while holding their newest sibling. Mykelti especially enjoys quality time with her baby sister since she doesn't get back home much to visit. She's found a new boyfriend in St. George and has no plans to come back to Vegas…or college. 
That night, Meri is cooking a taco dinner for the family so that her sister wives can focus on helping their kids pack for spring break. She also plans to gift Kody and her sister wives with the tree paintings to prove to them that she wants to remain a part of the family. Additionally, Meri feels that Mariah needs to see her making an effort. Obviously, the wives and Kody are wary when Meri summons them from vacation preparation to make an announcement. Her recent revelations haven't been very positive, so everyone is hesitant to hear what she has to say.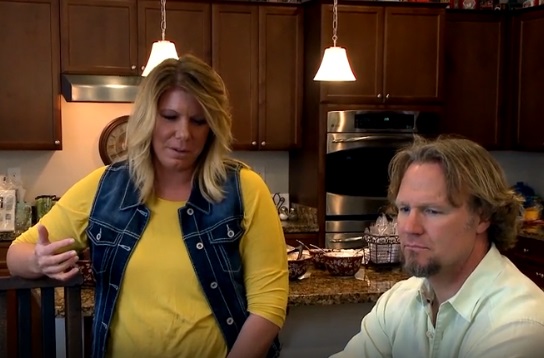 Meri is a ball of nerves as she gifts Kody with his series of artwork. Each wife is beyond excited to see how she has captured their individual personalities, and they are touched by her present and her talent. Christine can't stop hugging Meri and Robyn is tearful. Kody is going to take a few days to process his appreciation. What does that even mean? Meri is a bit disappointed by his reaction, and Mariah isn't showing any emotion. 
Bright and early the next morning, two rented buses arrive to take the Browns to the airport. I'm not even going on this trip, and I have anxiety about this entire family making it to Hawaii without having a Kevin McAlister moment. The family is staying in a giant house with four suites for each of the wives and their younger children. Upon arriving, everyone is lei'ed and receives a welcome kiss on the cheek which the Brown tween girls find to be awkward, but their teenage brothers aren't complaining. Dinner for the giant crew is being catered by a local restaurant. It's utter chaos, so Madison and Logan decide this would be a perfect night for a double date with their significant others.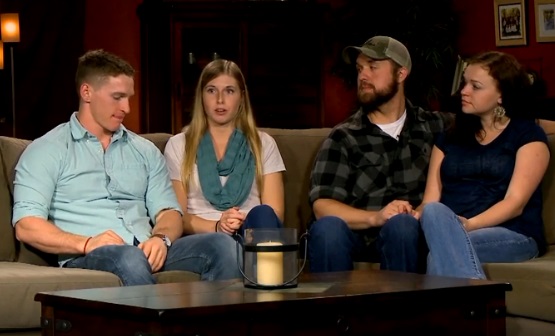 It's Logan and Michelle's one year anniversary, and the pair is planning to move together to wherever Logan goes to graduate school. However, Michelle would ideally like to be engaged before making such a big commitment. Maddie gets very emotional discussing her brother's relationship with Michelle. She believes they are meant for one another. Michelle was never concerned that Logan would want multiple wives because he's been vocal against not wanting to live that lifestyle. Caleb jokes that he is constantly questioned when people learn he's marrying into a polygamist family. He and Maddie reveal that the groom and groomsmen will be wearing camo socks. The couple plans on asking Kody to perform the ceremony. Logan knows their dad will bawl like a baby! I love the older Brown children. 
Following last night's episode, TLC aired an hour long special focusing on the wives spilling the beans on Kody. While it was entertaining and interesting (I actually enjoyed seeing the women's dynamic as they joked about Kody's hair), I'm going to spare you a recap. You don't need me rehashing the footage from the last six years as the wives dissect the situations and discuss how Kody processes his feelings. Plus, it made me really like Christine even more, and I'm still trying to process that! 
TELL US – DO YOU THINK MERI IS REALLY AROUND FOR THE LONG HAUL? SHOULD LOGAN PROPOSE? THOUGHTS ON THE SPECIAL? 
[Photo Credit: TLC]