Carole Radziwill hung out in the studio with Bethenny Frankel for her XM show "B Real With Bethenny" this week. The two covered a wide range of topics that included casting new housewives for next season of Real Housewives of New York, Luann de Lesseps' wedding, the upcoming final episodes of the show, the reunion taping and so much more – including the JFK Jr. plane crash.
The radio show was aired the day before the RHONY reunion taping. Bethenny is sick, but joked that she can't imagine what would happen if she called in sick to the reunion. Bethenny sniped "I mean Jules can call in sick because it's not even like she's going to be there, but I don't think I can call in sick tomorrow." They speculated that they'll be seated next to each other, but we all know now that wasn't the case. (seating chart below)
Carole said that she usually prepares for the reunion by re-reading her blogs and re-watching the episodes but this year she's just winging it. And she this year she's going to be "the interrupter."  And Bethenny is going to talk less.
Carole shared that she bought an Alexander McQueen dress in a dusty rose color for the reunion. She made sure it's warm because every year her and Ramona fight over the air conditioning – Ramona loves it super cold and Carole freezes her butt off.  Bethenny says this year she's wearing a dress she already had. They laugh that Ramona is the star of the reunion – off-camera – with her antics, like demanding chicken and falling asleep.
RELATED: POSITIVE NEWS IN BETHENNY'S DIVORCE
In case you are wondering, Bethenny explained that the cast members were sent the last five episodes of the show to binge watch at once so that they'd be caught up and could discuss everything at the reunion since it's taping before those episodes air. 
They gush over their upcoming Miami trip and how amazing it is to see.  Bethenny says "there's a person not on the show that provided a piece of information that literally changed the season and I believe that that person should be rewarded in some way because they gave us three more episodes." Bethenny said that the producers were trying to get this person to sign a release for some particular photos and the person was scared to sign it. Bethenny says that she encouraged the producers to gift him with a spa day or a $1000 gift certificate to Barneys. Bethenny said that their Miami trip probably would've only been 1 episode but now it's nearly 3.
This must be the bit that Andy was referring to a while back when he said there was something amazing that was coming up that the cast agreed to keep 100% secret so that it didn't get out there ahead of the show airing like everything else seems to. 
They agreed that Ramona makes them laugh in these last episodes and Bethenny revealed that her and Carole get into a small tiff because Carole is always late and Bethenny is on time for everything.
Carole says that her and Adam Kenworthy are doing good. They had a little bump after his plane crash with his father. It was difficult for her and brought a lot of emotions out relating back to when JFK Jr. and Carolyn Bessette's plane crashed.  Carole gives an account of what happened back then (she's the one who was waiting for them to arrive and had to make the phone calls to their families to alert them that something was wrong), for those that didn't know.  If you have SiriusXM, it's worth a listen to hear her tell the story. I remember being glued to the news coverage, so it's interesting to hear the behind-the-scenes account of what was going on at that time. The anniversary of the crash is tomorrow.
Back to Adam… Carole says it was hard to get another phone call like that in the middle of the night. And in the weeks following, Adam wanted to talk about it a lot, and it was hard for Carole because it triggered things for her, so it was a bump for them but they're all good now. And he's readying to move into a new place now.  They're at a stand still with their book – she admits that was hard to work together on it, mixing business and romance and they argued over it a lot.  They are coming up on their two year anniversary, which is the usual expiration for Carole on her relationships. She said of course she thinks about the "where is the relationship headed" type questions.
Carole shared that she's half-way through her third book but has it shelved for the moment. She did get out of her contract and parted ways on good terms with her editor.
On her current relationship with Luann, "I haven't spoken to Luann since we stopped filming. We don't really talk when we're not filming." Bethenny only speaks to Ramona and Carole when they're not filming. Carole reiterated, "my friendships off camera are what you see on camera."  Bethenny commented that Ramona has been a great surprise in her life.  Carole continued about Lu, "I feel like we're just colleagues."
They talk about how hard it is to cast for the Real Housewives shows because Bravo wants a genuine connection to the other cast members. Bethenny comments that Bravo loves that the Jersey Housewives cast are related because they sort of "have to" be at each others events because they're family and the drama is real.
Bethenny reveals that she thinks she knows who the next housewife on their show is going to be because she brought the person in. "It's somebody that I met on a vacation."  She's married, wealthy and has several kids and she's the front runner.
On Lu's wedding, Bethenny guarantees she will not be sent an invite to Luann's wedding. Neither Carole or Bethenny were sent the Save The Date cards.  They don't want to go anyway and we'll apparently understand why once we see the rest of the season.
TELL US – DO YOU THINK THEY'LL CAVE BY NEW YEAR'S EVE AND ATTEND THE WEDDING? WHO DO YOU THINK WILL GET AXED NEXT SEASON?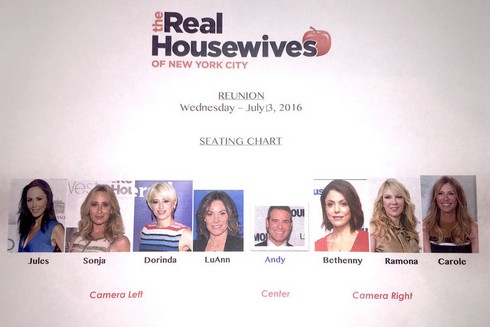 Photo Credit: Instagram
Save
Save
Save
Save
Save
Save
Save
Save
Save
Save
Save
Save
Save
Save
Save
Save
Save
Save