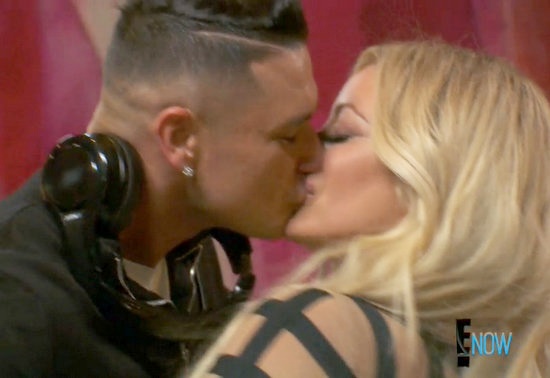 When I watch Famously Single, I find myself rooting for Pauly D and Aubrey O'Day to make it as a couple. Pauly seems like the nicest guy and I would love to see him settle down and get into a serious relationship.
If you follow either of these two on social media, you know that they are all about the PDA and the social media documentation of their relationship. You also might know that Aubrey just recently flew out to the UK to film Celebrity Big Brother – which means that she is probably sequestered and might not be able to communicate with Pauly. So if these rumors are true and Pauly really did break up with Aubrey, is it possible that she doesn't even know about it?
CLICK "CONTINUE READING" FOR MORE!
I have no idea if this is accurate or just another way to get publicity, so take this whole thing with a grain of salt (if you care that much). According to TMZ, the nine month long relationship is over – which Pauly decided over the weekend. Again, while Aubrey is away shooting another reality show.
TMZ got this info from some supposed "inside sources" so who knows if it's actually true. But, then again, Pauly did get rid of all the Aubrey photos from his social media profiles, which is the exact opposite of Aubrey's Pauly-focused pages.
In all honesty, I wouldn't be surprised if we heard about Pauly and Aubrey "getting back together" ASAP, but I guess we just have to wait and see.
TELL US – DO YOU THINK THAT PAULY REALLY ENDED HIS RELATIONSHIP WITH AUBREY WHILE SHE WAS AWAY SHOOTING BIG BROTHER? 
Photo Credit: E!