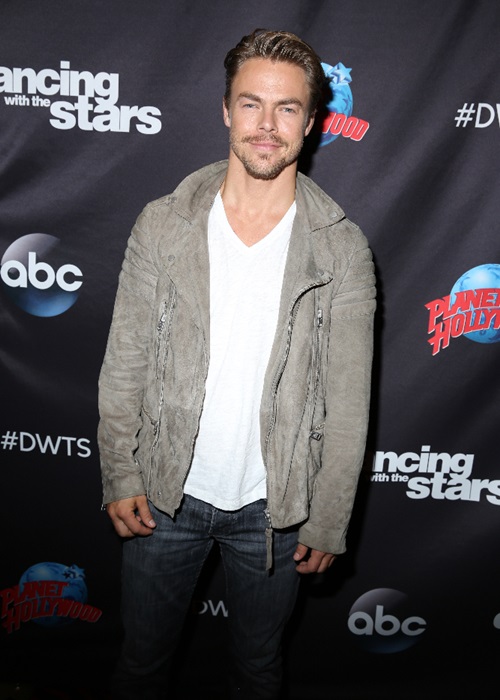 Derek Hough, who was slated to star in Singin' In The Rain on Broadway this Fall, wasn't expected to be a part of the upcoming season of Dancing with the Stars. However, last week, Derek shared on Instagram that the show has been delayed.
"This fall, I was planning on being immersed in rehearsals for Singin' in the Rain on Broadway, but due to successes of the shows currently running, that project has been delayed because there simply isn't a theater available," said Derek. "With my fall schedule freeing up I'm excited to say that I'll be back on Dancing with the Stars for Season 23. It is always great to be back with my DWTS family, coaching, creating, and making lasting memories."
CLICK CONTINUE READING FOR MORE – PLUS PHOTOS!
Speaking to E! News, Derek said that Dancing with the Stars is "home" to him, adding, "It's my family." Derek has been partnered with Marilu Henner.
While Derek is in, his bestie, Mark Ballas, is out – for a very good, and exciting, reason. Mark has landed the role of Frankie Valli in Jersey Boys on Broadway. I have to share, I saw Jersey Boys in May, and it's a fantastic show. As a longtime fan of Dancing with the Stars, I'm a little bit bummed that I saw it ahead of Mark's run in the show, but ya know, maybe I will just go see it again.
Mark makes his Broadway debut on October 18. He will be there until January 15, when, sadly, Jersey Boys will close after 11 years and over 4,000 shows.
Back to DWTS news, Season 23 includes Rick Perry, Ryan Lochte, Calvin Johnson, Amber Rose, Vanilla Ice, Little Women: LA star Terra Jole, James Hinchcliffe, Kenny "Baby Face" Edmonds, Jana Kramer, Laurie Hernandez, Jake Austin, Marilu Henner, and Maureen McCormick.
Look below for the obligatory always cheesy partners pics, as well as photos of the Season 23 cast at Planet Hollywood. Do you plan to watch this season?
Main Photo Credit: ABC/Heidi Gutman