Sheesh! Drama much? What a silly question. After all, we're talking about Abby Lee Miller and Dance Moms! Last night was certainly no picnic in the park (ahem) amid the studio owner's mounting legal issues. Abby's bankruptcy is once again in the news, and she's favoring the minis, so you can imagine how well that goes over with Jill and her cackling hens. But hey, we're spared the monotony of a pyramid, so that's a silver lining, right?
Last night's episode begins with the mothers speculating about Abby's bankruptcy woes and what it could mean for their daughters' careers. On cue, Abby comes dramatically sweeping into the studio. Refusing to acknowledge anyone, she quickly locks herself in her office. She doesn't have time for such frivolous activities as teaching her students. Can you blame her? And, as I just said, there is no pyramid to endure. There is also no sign of Jessalyn and JoJo Siwa. Jill reveals she's tried calling several times with no response.
CLICK THE CONTINUE READING BUTTON FOR MORE! 
In Abby's absence, Gia steps in to assign the group routines. The elite team will be doing a lighter number entitled Picnic in the Park after last week's intense suicide hotline performance. Their mini counterparts will be learning a dance called Gossip Girls, with Gia hinting that it is inspired by all the crazy rumors flying around the ALDC. Brynn gets her first solo of the season, and she's both excited and terribly nervous. As the elite team begins working on the picnic routine, the veteran moms begin their stale dialog about how this dance isn't going to garner high scores at competition. Plus, without JoJo, the remaining girls are struggling to handle the giant blanket they are tasked to dance with through out the number. At least there's no chair though…
Meanwhile, speaking of rumors, mini-mom Stacey (dammit, I had NOT planned on learning any of their names!) has heard that her daughter, one of the "Ianas" will be getting a solo. She's beside herself at this news, but she's disappointed she can't confirm it given that Abby is still locked in her office. Smelling a weak zebra that would be a tasty snack for a nasty lion, the mini moms do their best to convince Stacey that she must approach Abby. There is nothing wrong with her going to her daughter's dance instructor to discuss her daughter's dancing. Seems reasonable, but we all know these other ladies would never do such a thing!
Heeding the ill advice of her mini mom army, Stacey makes the bold move to speak to Abby, who does not like being interrupted, to put it nicely. Metaphorically ripping Liliana's solo from her tiny hands, Abby admonishes Stacey and calls her an idiot. Rich. Stacey refuses to be treated in such a manner and tells the other moms she is done with the ALDC. Let's see how long she can cling to this conviction, shall we? The following day, Abby decides to actually do her job and emerges from the office. She lays down the law though: There will be no more discussion of her legal issues. Zero. Zip. Zilch. Not shockingly, Stacey is back as well. How cohesive is a mini team with only a couple "Ianas" on it? Not very. Abby rewards the return with some level of sanity, granting little Liliana a solo called Step by Step.
While rehearsing with the elite team, Abby receives a call from The Debbie Allen who wants to discuss future plans for the ALDC studio in the event Abby gets a part on Orange is the New Black. After their conversation, Abby needs to blow off the steam, so she and Gia take the elite team and their mothers for an actual picnic in the park. Inspiration, perhaps? Despite what seems like a nice gesture, the mothers seethe about how this hokey picnic is depriving their daughters of much needed rehearsal time. They make a valid point. Ashlee cuts to the chase with Abby. Is she going to turn the studio over to Debbie Allen? Pressing her index finger above her lip and channeling her inner Dr. Evil, Abby admits she would certainly sell the studio to Debbie for $1.5 million. Okay, so maybe my description is quite accurate, but how much better would my version have been? Instead, Abby breaks down about she's having her life's work taken away in a blink of an eye, and she hasn't yet gotten to enjoy her success. Jill notes that Abby recognizes she's built an empire and it's about be gone very soon. Deep, Jill. Deep.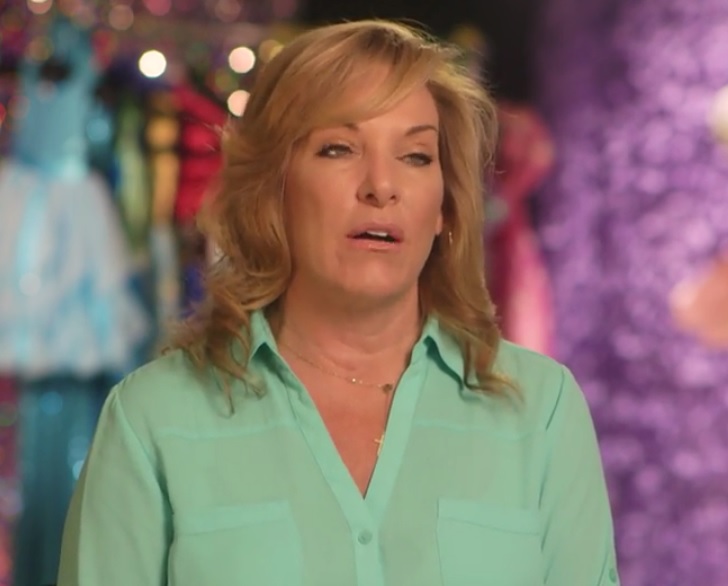 At the competition, the veteran mothers are not holding their breath for a stellar picnic performance, given the minimal amount of rehearsal time their girls were given. Liliana's solo is up first, and it's a cute dance befitting a mini, but don't they all kind of look the same? They remind me of Toddlers & Tiaras talent competitions. Brynn's solo is on point, proving she has the talent to shine brighter than the giant shadow Maddie left behind in Abby's mind. The pressure is on for the minis to have a strong group number, and Abby promises to consider making them a real part of her team if they can just pull it together. And they do, dancing their little mini bums off in Gossip Girls. Despite all of the worry among the veteran moms, the elite team manages to keep the giant picnic blanket under control while performing a strong, fun routine with everyone in sync. It's certainly not The Last Text, but they can't all be.
When it's time for the awards ceremony, the minis sweep with a group number win and solo first place for Liliana. Likewise, Brynn takes the top spot for the overall solos, pleasing Ashlee to no end. The mothers are less than surprised that Picnic in the Park places second, or first loser, in its division. The girls barely had a second to learn it, and it wasn't technically strong for a competition piece. However, they are surprised backstage when Abby announces that the minis will be getting the coveted ALDC jackets after their group number outscored the elite team's dance. Taking the news like mature adults, the veteran mothers storm out, with Jill alleging this was Abby's plan all along. Curses, minis!
TELL US – WHAT DID YOU THINK OF LAST NIGHT'S EPISODE? IS THIS THE END OF THE ALDC WITH ABBY AT THE HELM? 
[Photo Credit: Lifetime]