If she didn't send for you, you better stay the hell off her property! Kenya Moore took to Instagram this weekend to share her experience with trespassers at Moore Manor – and she is furious.
The Real Housewives of Atlanta star shared some photos of the culprits taken from her security cameras and shared what transpired – including her chasing them off with a gun. "$1000 REWARD if you can identify any of these 3 individuals of criminally trespassed on my property yesterday. These are the first screenshots but my security is pulling the footage from other cameras. They climbed over a wall in order to circumvent my security gates and wall being bricked."
CLICK THE CONTINUE READING BUTTON FOR MORE

She continued, "Please email: mooremanor2016@gmail.com.  They were driving a white car. The female was recording on her phone the entire time. They told someone! Turn them in anonymously and if it leads to their arrest you will get $1000 each. It is never ok to violate anyone this way. It is not funny. Men showing up at your door is an immediate threat. Things could have ended badly and all 3 will be criminally prosecuted."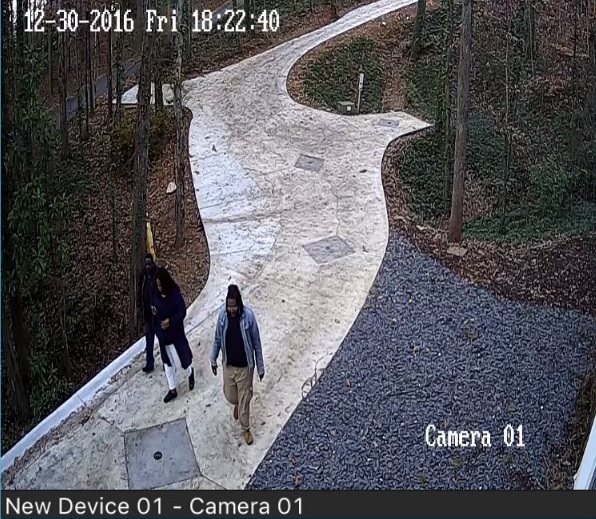 Kenya continued venting and sharing photos and videos about the incident.
"I have a right to feel safe in my home and to protect myself. I don't care if I'm on TV. What if 3 strangers banged on your front door …2 of them being grown men wearing dark clothing knowing they could only get to you by jumping fences or trespassing onto other properties and mine?  There are home invasions, robberies, rapist…What if your children or loved ones were threatened this way? Anyone who is bold enough to commit a crime, endanger themselves and others needs to be punished. Please help me identify these people."  Adding, "I'm pissed! 3 people knocked on my door a woman and 2 big grown men. They climbed the fence when they couldn't get through my security gates. They got what they came for I stay sitting on ready. if any crazy motherf****rs want to F with me u deserve what's behind these doors."
Seems some fans may be taking their Moore Manor obsession a little too far!
I'm a little curious why you'd email her instead of contacting the authorities with the information. Did she call the police? She doesn't say in her videos, but I certainly hope so.
TELL US – DO YOU THINK THEY WERE OBSESSED FANS OF KENYA'S? OR THUGS HOPING TO BREAK IN IF THE HOUSE WAS EMPTY?
A video posted by Kenya Moore (@thekenyamoore) on
Photo Credits: Instagram/TheKenyaMoore
Save
Save
Save
Save
Save
Save
Save