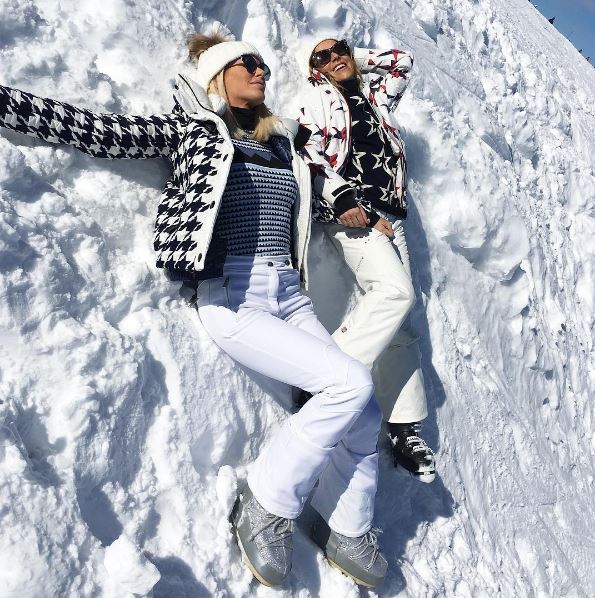 Season 3 of Ladies Of London may be behind them, but Caroline Stanbury and Juliet Angus are still going strong as true blue BFFs. The ladies have been snapping pics of their joint family vacation in the French Alps, showing that time and distance are of no matter when it comes to lasting friendship. But it's not all rosy among the entire cast – in fact, Juliet insinuates there are some women she frankly never wants to see again! Caroline, however, is working on mending her relationships with her close friends, Sophie Stanbury and Adela King, both of whom she recently reunited with in London.
Caroline also admits she didn't come across well this season and expresses regret for some of her behavior. "It's hard for me. Watching it back, I wasn't my normal light, breezy self because I felt attacked. It seemed like I thought I was better than the other girls simply because I didn't want to say something I regretted. I tried to take myself out of it as much as I could and away from them and stay away from them."
CLICK CONTINUE READING FOR MORE!
Caroline tells Bravo's Daily Dish that former sister in law, Sophie, also regrets her behavior this year. "I think watching the show back for Sophie was a giant wake-up call. I think when you're wrapped up in some of that stuff you don't realize. I think she was in a bad place, and she didn't really realize exactly what she was doing or how it would be."
Sophie, who grew close to Julie Montagu early in the season by talking sh*t about Caroline behind her back, eventually apologized for her faux pas and changed her ways. Caroline reflects that "It's easy to get swept away with a new friend. It's like a honeymoon period. It's easy to forget about the old ones. I think everyone was just going through their own issues. With space and time and looking back at it, I think we'd probably do things differently."
Though it will take time to rebuild what they once had, Caroline says she and Sophie will always be family, and their relationship will survive this minor reality TV detour. Similarly, Caroline points out that her 20-year friendship with Adela will also weather the storm. "We'll always be fine. We've been in each other's lives for 20-something years. Those relationships you don't really give up on," she says.
When it comes to relationships with her castmates, Juliet feels similarly. She still remains friends with Caroline, Sophie, and Caroline Fleming, telling Bravo's Daily Dish, "Those three girls are the real deal. The others, I wouldn't trust them as far as I can throw them."
RELATED: Caroline And Juliet Think Julie Is Trying Too Hard To Be Queen Bee
Juliet prided herself on remaining loyal to bestie Caroline, even when Caroline's oldest friends abandoned her last season. "You can call me lots of names, you can say I'm terrible things, you can say I'm annoying, that I make you sick, all these things," defends Juliet. "But you can't say I'm a bad person. You can't say that I'm a terrible friend."
Juliet claims that the Caroline we see on camera doesn't represent who she really is, and Caroline's long time friends' disloyalty brought out the worst in her at a difficult time (Caroline spent this past year preparing to move to Dubai). "Everyone in this group of women likes to call Caroline Stanbury out for all of the terrible things she is this season, they're forgetting all the great things about her," says Juliet, who felt pushed to the brink during the group's farewell dinner together.
"I think it just got a little dark and everyone got a little selfish and righteous in this group of women and forgot about caring for a second and how hard something like a move must have been for Caroline Stanbury," explains Juliet. "And yes, Caroline Stanbury can be a pain in the butt, but she's also – and Adela and Sophie would not be able to deny – she's one of the greatest friends a girl could have."
Whether Ladies Of London will return for future seasons – with or without the same cast – still remains a giant question mark. With Marissa Hermer's move to California and Caroline's to Dubai, viewers are wondering if Bravo will try to make it work by filming during the summers in London? Both ladies have hinted at this happening. In any case, it sounds like some relationships are on the mend since cameras have stopped rolling, which can only be a good thing for all involved. Look below for more pics from Juliet and Caroline's trip.
TELL US: DO YOU THINK CAROLINE TRULY REGRETS HER BEHAVIOR? WOULD YOU LIKE TO SEE A FOURTH SEASON OF LADIES OF LONDON?
Photo Credit: Instagram