Watching last season of Southern Charm made it clear that the honeymoon period was over for Craig Conover and Naomie Olindo. From the tension over Craig taking the bar exam to the normal fights that couples have when they live together, these two shared a lot of their relationship with the viewers. As a result, there have been many watchful eyes on the two of them and a lot of curiosity about their relationship status.
Sadly, Naomie has confirmed that she and Craig are no longer together.
Naomie posted a photo with a man on Instagram and of course everyone blew up her comments for having a photo with a male who wasn't Craig– as if she can't be friends with a guy.  Nevertheless, a bunch of people questioned Naomie about whether or not she and Craig are still together and surprisingly enough she actually replied to the comments.
Naomie admitted, "Unfortunately we are not. But we are still great friends." As expected she got a variety of replies to that confirmation. One guy said "so you're saying that I have a chance!" Another fan admitted, "I love you guys together" accompanied by a frowning emoji. One Instagram user asked a vital (yet insensitive question): "Are you still going to be on Southern Charm!?" Truthfully I was wondering the same thing, but it's probably not the most sensitive timing to ask that question. And of course, there's the inevitable comments about how she is "too good" for Craig. Someone told Naomie, "Good move! You strike me as someone too focused and purposeful for a guy like Craig."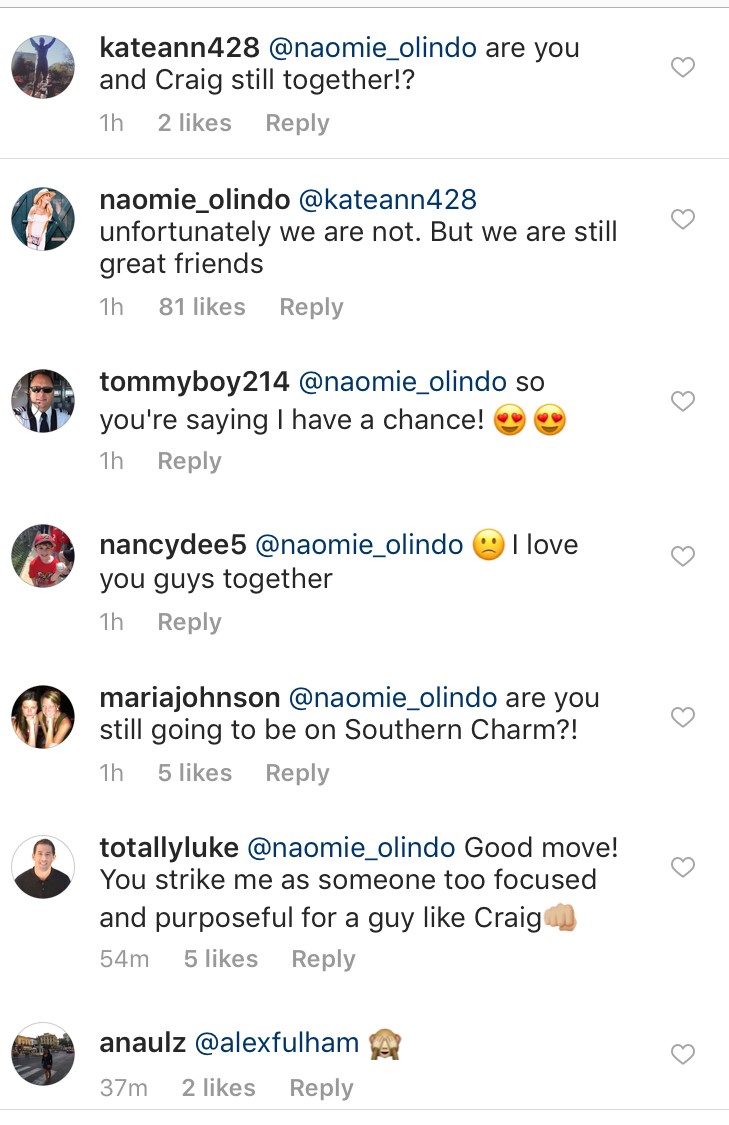 The caption just said "Hey" followed by his Instagram handle, but it was enough to intrigue the Southern Charm fandom. And one click on that user name brings you to a photo with and Naomie captioned with "Catch your favorite roommates on this season of 'Our Lives Are In Shambles' xoxo." This confirms that the former couple is no longer living together, which is expected, but you never know these days.
It's unclear when they broke up or why, but it seems like Naomie is thriving- as per usual.
RELATED: Craig Conover & Naomie Olindo Don't Regret Sharing Their Relationship Issues On Southern Charm; Unsure If Cameran Eubanks Will Return After Baby Is Born
TELL US- ARE YOU SURPRISED THAT CRAIG AND NAOMIE BROKE UP? DO YOU WANT TO SEE NAOMIE ON SOUTHERN CHARM IF SHE'S NOT DATING CRAIG?
[Photo Credit: Bravo]