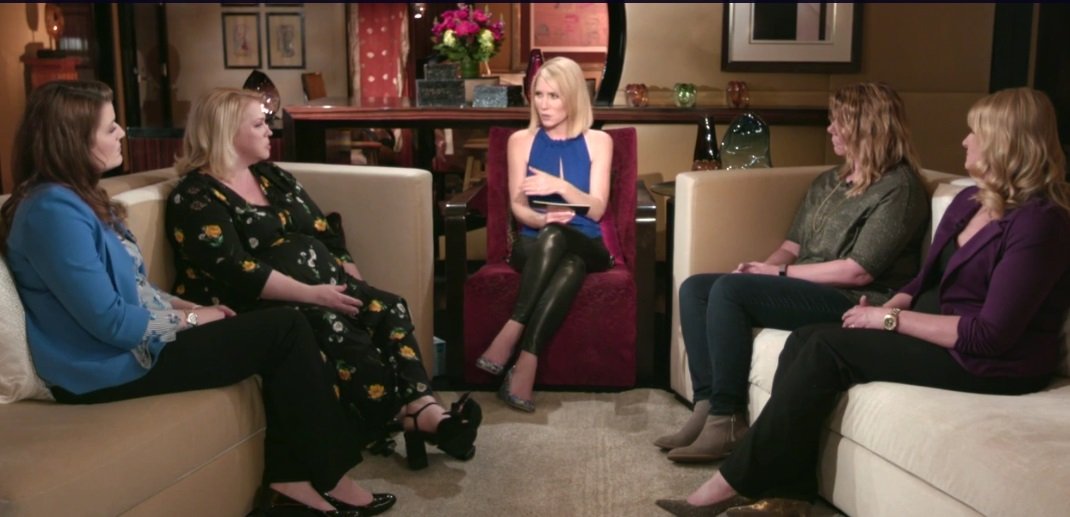 Could y'all believe Kody Brown's shocking announcement during last night's Sister Wives? Ten more seasons with eighteen two hour episodes in each! Woohoo! April Fool's! 🙂 In the hard-hitting final installment of what has been reported to be the final season, Andrea Canning tackles all the tough questions. First up…is Tony an official Brown? If talking down to his wife Mykelti and wanting a 4,000 taco party for any occasion makes one a Brown, Tony's about to knock Kody right off his throne! Christine is adamant that Tony is a Brown. Andrea probes deeper, asking, "But what actually does he bring to your family?" Her questions reflect what the people really want to know! Christine exclaims he brings the excitement and pizzazz. Kody seconds that Tony has that million dollar personality. The tell-all spends all of a minute to recap half the season with Mykelti and Tony's wedding. Andrea wonders if there was a concern about Mykleti's maturity level in getting married. Of course! Christine pipes in to assure the masses that the kids adhered to the Brown's projected budget…although that isn't how it appeared to play out during the first eighteen hours of this season. The couple stuck to the money plans. Why else would Mykleti have made all of those fabric flowers. Saving money, folks!
Kody then avoids the hot seat by discussing how he balances his separate personal lives with each wife. When a fifth wife is proposed, Christine isn't feeling it. Janelle is fine with it because we all know she's already got one foot out the door. Robyn wants to say no, but she recognizes that love multiplies, it doesn't divide. Meri doesn't see it happening, but why are they asking her in the first place? Are they pretending she gets a vote?
Moving on to Meri's trip to a gay bar with Mariah and Audrey, Meri jokes that it was both fun and awkward. Meri had never been to a bar before, unless you count an Applebee's that serves alcohol. Janelle has also never been to a bar, but she would have welcomed that experience. Not only would Christine have joined Mariah and Audrey, she would have stolen the mic for some fierce karaoke. Christine has been vying for my favorite sister wife all season, but she just sprinted into first across the finish line. Robyn would have felt uncomfortable with the booze (not the homosexuality), but she would put her judgment aside to do something to bond with Mariah. Kody never goes to bars. He is fearful of the attention he'd get given he's constantly hit on by women out in public. Again, he said this on a show that aired on April 1. Joke's on me TLC!!! You got me with that one!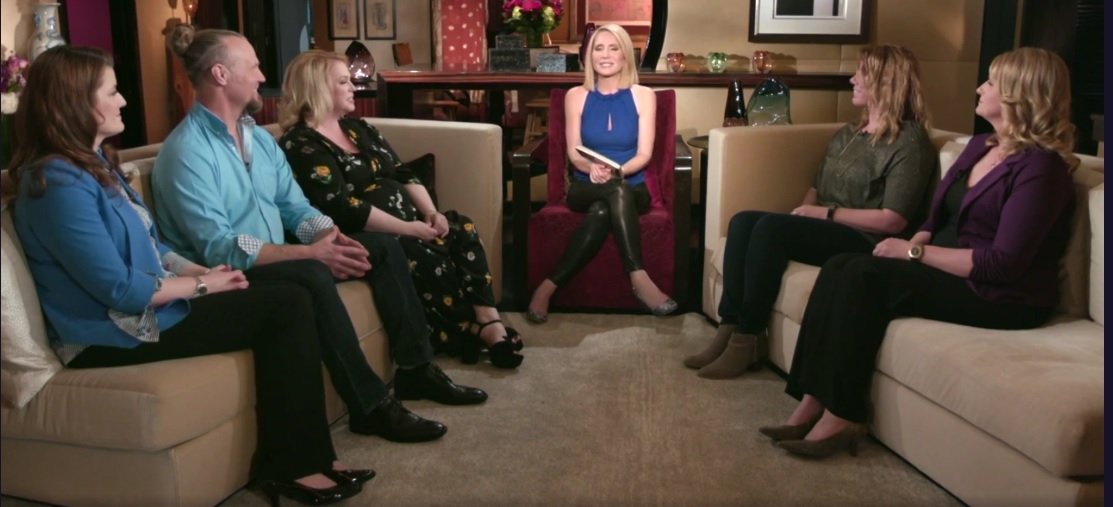 The older Brown children replace Kody and his wives on the sofas. I spy some hair plugs, Caleb! Audrey joins Mariah, and the couple is giddy. Mariah admits that she enjoyed having their relationship play out with her family in such a positive manner before their courtship is highlighted. When asked why Mariah included Janelle in the March on Washington invitation with Meri, Mariah responds that Janelle was the first feminist figure she'd been exposed to as a young woman. She recalls Janelle working and raising a family, stating that Janelle was very inspiring to her. I complain about this show all the time, but I have to say I appreciate the role the wives play in the lives of their sister wives' kids. Meri should take note. Logan thinks it was cool Mariah invited his mom to go to Washington, but it was weird to Paedon…not because of the march, but because he is very aware of the tension between Janelle and Meri. Logan wishes all of the Browns could have marched together before Mariah skirts over her father's issues with the movement.
Moving from one march to the next, the focus shifts to Paedon for refusing to join his parents in the march on Utah regarding the rights of polygamists. He very intelligently and maturely states his case as to why he didn't want to go, and his siblings are incredibly supportive. Caleb's hair speaks next, excited to make an appearance for the first time this season. He preaches love and acceptance even when he doesn't necessarily believe in polygamy. Mariah defends her father touting homosexuality as a choice, asserting that he is open to her life but isn't great at using his words. Fair enough.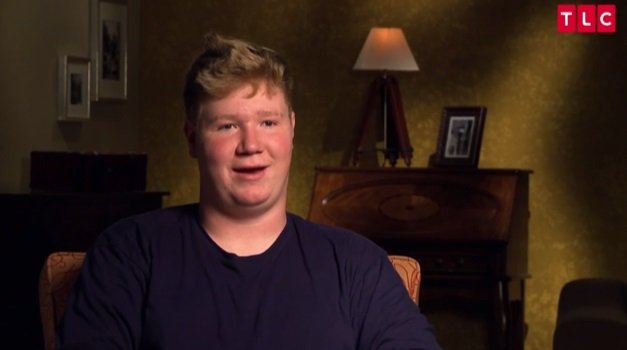 Tony is bursting at the seams when Andrea turns to him. Finally the air-time he's been craving! What's it like having four mother-in-laws. How much time do you have, Andrea? And where's my spin-off with Mykelti where we plan outdoor weddings for teen couples in single digit climates?? When asked to describe his relationship with the sister wives, I'm very taken aback by the stray mullet hair that seems to have flown off Tony's hairbrush and gotten caught in the toothpaste remnants that dribbled down his chin. WTH is that thing? It's not a beard, it's not a goatee, it's going to give me nightmares, it's a complete conundrum. I digress. He explains his relationship with Robyn is like playful puppies (I just threw up in my mouth a bit), and he and Christine are siblings who constantly argue. Janelle is his partner, and he barely knows Meri. Marriage has been challenging, but he and Mykelti are happy. Logan, who managed to stay under the radar this season, is engaged, as is Aspyn. Her fiance comes from polygamy, but the couple has agreed not to practice. Andrea notes that these kids are pretty young to get married, but Logan counters that they are on the older curve for their culture. Audrey teases that she and Mariah may be heading down the aisle at some point soon, and I think I spot Kody stroking his barely there goatee and mouthing "televised specials" from off screen.
The birth of Axel is recapped, encompassing Madison's very long labor and Kody's insensitive coaching tips. As the Brown teens watch the footage, both Mykelti and Tony look equally terrified while the mature Brown kids, including Maddie and Caleb, are tearful with emotion. Mykelti and Tony aren't trying to get pregnant any time soon, and Madison jokes about her father's birthing advice. The pair gush over Axel while acknowledging they're not going to get everything right. Her siblings heap on the praise while Paedon admits to uncle-ing from afar. He's not going to change diapers any time soon. Caleb touches on his blood clot scare before Ysabel delves into her battle with scoliosis. She chokes up when trying to talk about bullies making fun of her brace and is comforted by Aspyn. Andrea reminds Ysabel that she is spreading awareness and empowering other girls in her situation.
Kody and his wives return to the sofa to share their take on Ysabel's struggles, and Christine bursts with pride over her daughter. She also is excited to start planning Aspyn's wedding knowing that it going to be far different from Mykelti's day. All of the wives are giddy at the thought of Mariah and Audrey nuptials. Kody and his man bun opine over the intricacies in plural marriage that aren't found in monogamist relationships. It is a very tough balance with multiple wives. The group recalls the different wedding day dynamics. Kody was obviously much more affectionate on his wedding day with Meri because he didn't have to worry about other wives being jealous. Kody shares responsibility for the rift in his situation with Meri. Both Meri and Kody want to make it work, but Kody bluntly responds that he doesn't know how to move forward. Basically, he's checked out but doesn't want to be the bad guy by admitting it. Can I say that's a bit cowardly. He poo-poos a weekend getaway, citing it feels unsafe, and thankfully Andrea won't let the issue rest. She probes and Meri politely calls BS on Kody's comments.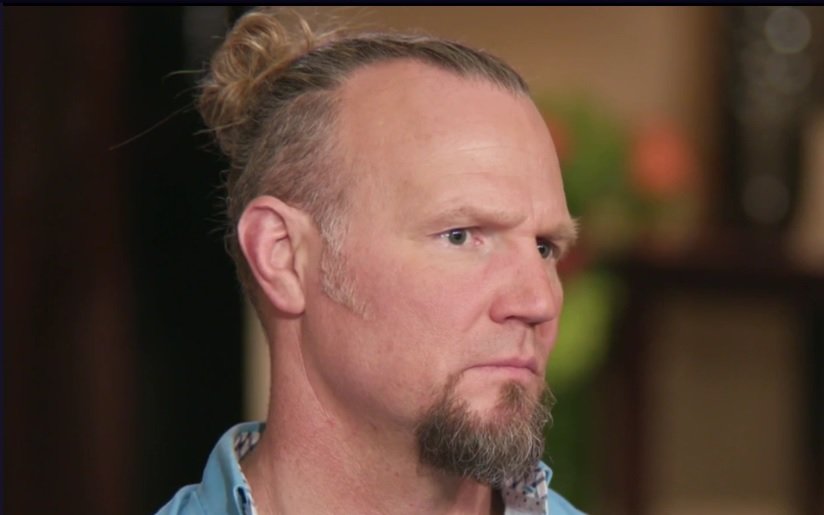 As he hems and haws about the future of his relationship with Meri, Kody sounds like a dime store politician. Meri isn't willing to walk away, which is clearly what Kody wants. Kody asserts that it is awkward to have these open discussions on television and refuses to pinpoint what flipped the switch–he won't talk about that in the group. He dodges the question of whether he love Meri by adamantly repeating they have a good platonic relationship. Meri honestly shares that she doesn't feel like he's being completely honest. Clearly. The other wives wish Kody and Meri could work out their differences because they all believe Meri belongs in their family. Janelle, Christine, and Robyn claim to have hope, but Kody interrupts to say that hope isn't necessary. It's just important that no one takes sides. As Andrea commends Meri for not taking the easy way out by leaving, Kody shoots dagger eyes at the host. She's ruining his end game!
WHAT DID YOU THINK OF THE FINAL INSTALLMENT OF THE TELL-ALL? WERE YOUR QUESTIONS ANSWERED? WAS KODY EXTREMELY EVASIVE? 
[Photo Credit: TLC]