If you're like me, you will find yourself occasionally shouting things incoherently at your TV screen. It tends to happen from time to time, because hey, it's the American way. This week's episode of Survivor was one of those times, where it was so easy for me to see the right move to make sitting in the comfort of my own home, pajamas on, eating cookies. "Just do it! Make the big move!" I would say, expletives deleted. Sure, I might have been over-compensating by being unnecessarily aggressive towards my TV and the people on it, since just a few moments earlier I was sniffling and crying during the episode's "loved ones" Reward Challenge. It could have been my allergies, actually. Yes, it was my allergies. That's my story.
But before we dive in, as I do at the beginning of every Recap, please heed the following: Remember that this recap assumes that you have already seen this week's Episode 12 of Survivor: Ghost Island, so if you have not and don't want to be spoiled, please come back later! It's important to add too that while we WILL hit on all of the important developments of the episode, this is not a linear "blow-by-blow" recap, and is more of a discussion and reaction of what we just witnessed together.
CLICK THE CONTINUE READING BUTTON FOR MORE, AND THIS IS YOUR LAST *SPOILER* WARNING!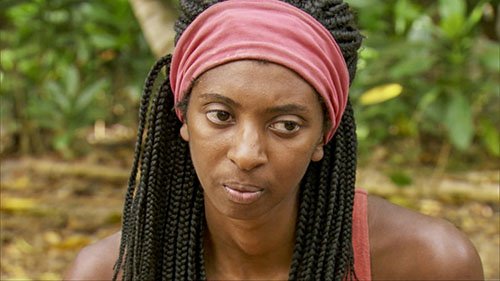 My intensity was directed at Laurel and Donathan, but mostly Laurel. I called it a few weeks earlier that Laurel was in the absolute best position in this game, and she and Donathan have expertly walked the top of the fence like a tightrope over these past few weeks. On one side they have a tight alliance with Dom and Wendell – the season's true power couple – while still being involved in conversations across camp due to their Malolo roots. Donathan misplayed a hidden Idol last week, but he's shown to be more than willing to take big swings and make big moves. This week, they had a real shot at dismantling the power-duo of Dom and Wendell (Dwendell? Womenick?), but Laurel was unmovable despite Donathan's instincts to rock the boat.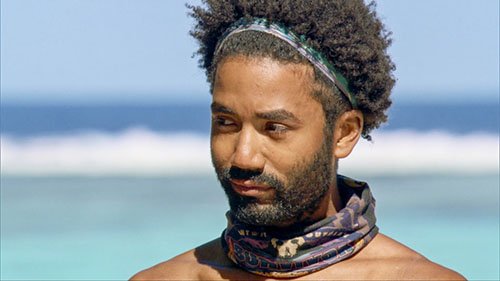 I, as a fan, was cheering for them to shake the game up, and not for anything unkind towards Wendell. I actually love me some Wendell and some Domenick, which is crazy because I tend to always be on the side of the underdogs no matter what. I guess I still am, but instead of feeling spite for those in power, like most seasons, this time around I actually like Dom and Wendell a lot, and would be extremely happy to see either of them win the game. They are well on their way of course, now down to seven, and having two Idols between them, they are clearly the ones to beat.
So the question becomes: What was the best move for Laurel and Donathan to make for their own games? It will be easy to look back at the season when it's all over with, and supply criticism to what some of the players coulda-woulda-and-shoulda done along the way. If Laurel and Donathan go to the end and one of them wins, it was surely a great move for one of them. But could this have been the week that ended one or both of their games?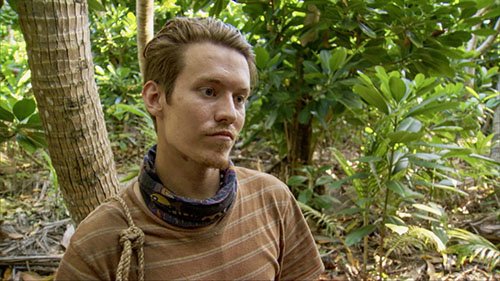 You can't help but understand why Laurel wanted to stay loyal this week…Dom and Wendell had her back as recent as the very last Tribal Council when Kellyn had cast two votes towards Laurel in an attempt to shake up the game. You can also see why Donathan was itching to try to take out Wendell, because he is in desperate need of what they call "resumé-building," where at the end of the game Donathan will need to point to something that he did in order to win votes. Right now, he is risking being seen as a cling-on to Laurel, which isn't good for his personal game. Lost in this argument is the fact that Laurel knew all about Wendell's Idol, so voting for him wouldn't have necessarily resulted in him going home had he played it…and in that scenario, Laurel's game would have been completely shaken-up. So it was absolutely the safest route to go along with the Chelsea vote, and in Laurel's mind, she will still have an opportunity to turn on Dom and Wendell next week – pulling in Angela and Kellyn who are all alone at this point – although it's arguable that the guys will see a coup coming much more clearly next week than they would have this time around.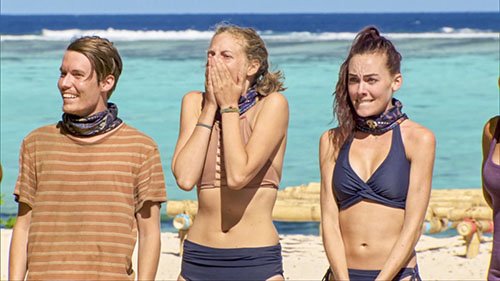 But alas, Chelsea was the victim, and not just this week but the victim of this entire season. According to my pals as Survivor Wiki, Chelsea not only was barely seen this season and received what they refer to as a "purple edit" (referring to the rarely seen "Purple Kelly" of Survivor: Nicaragua), but she is tied for THE WORST edit of all-time, with Hope Driskill from Survivor: Caramoan. Who is Hope, you ask? Exactly. According to Survivor Wiki, both Hope and Chelsea averaged only .33 on-camera interviews per episode, which means that we averaged hearing a confessional from Chelsea once every three episodes. That's brutal. According to Probst, it had nothing to do with Chelsea as a player or a person, but more to do with others driving the story more than her. He offers the golden advice to future Survivor players, in telling them: Make yourself impossible for us not to notice. Chelsea was just a victim of being not "loud" enough in a season full of yellers.
And to put a cap on her somewhat fitting, "invisible" purple edit, Chelsea was also not made available for the usual round of exit interviews following the show. What that means is that there is no audio interview with Chelsea this week on the Podcast, however, I was able to submit five questions to her via email, and will post the questions and her responses by Friday of this week once I get her responses back.
Episode Take-Away: We're down to just one regular episode leading into the two-hour Survivor: Ghost Island Finale on May 23rd! There are only seven players left in the game, which means it is getting late if anyone is going to act against Dom and Wendell. You would think Kellyn is the big target at this point, because why vote-out Angela at this point? And where does Sebastian fit into all of this? Does he even know he's on Survivor?
Ultimately this was a very solid episode, and I haven't even mentioned Aunt Patty yet! By far, she instantly became one of my favorite Survivor sub-characters, and I'm still waiting for someone to create for me a GIF of good ole' Aunt Patty. Not only was she endearing on the show in her brief minutes, but wait until you hear her backstory from Donathan himself…go follow him and look him up on Twitter to see what he posted about her…it is heart-warming. Boy look at that, there go my allergies again…
Voted out this week: Chelsea Townsend
Won Immunity: Dom (2nd individual win)
Vote: No Idols Played, no advantages played. 5 – Chelsea (Dom, Wendell, Sebastian, Laurel, Donathan), 3 – Wendell (Kellyn, Angela, Chelsea)
Next Week's Episode: Again, it's the final regular episode before the two-hour Finale on May 23rd, or what we call the "penultimate" episode in the biz. And from the looks of it, Donathan goes rogue. But is it too little too late?
Quick Note! Remember, no exit interview on the FilmSurvivor Podcast this week since Chelsea was unavailable, but check back on Reality Tea by Friday for a written interview via email with her. That being said, there IS a new Podcast episode that is live NOW, with my audio Recap of the episode as well as a special interview I had with the New Zealand comedians, Tim Batt and Guy Montgomery, hosts of "The Worst Idea of All-Time Podcast." What's "the worst idea of all-time?" Well, contrary to popular belief, it's not trying to run a movie and Survivor-themed podcast! Tune in to the Podcast to find out!
I also encourage you to check out my weekly movie reviews (like "Life of the Party" and "Breaking In" this week) as I am also the national film critic for AXS.com and am a movie critic/TV personality in the Detroit area. As always, the easiest way to get all of my Survivor coverage and movie reviews is to follow me on Twitter – @tomsantilli – or on Facebook.
TELL US – WHAT DID YOU THINK OF TONIGHT'S EPISODE? IS LAUREL MAKING THE RIGHT MOVE IN STAYING LOYAL? 
Photo Credit: CBS/Monty Brinton/Robert Voets/Timothy Kuratek/Jeffrey Neira/Michele Crowe