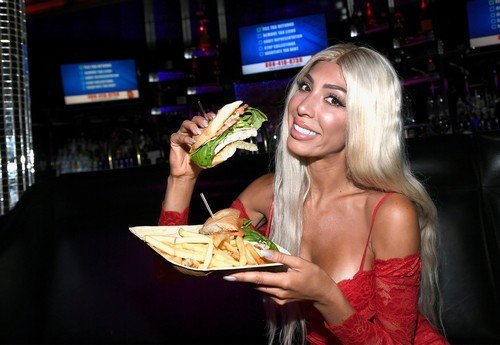 Happy Monday! We're kicking off this short holiday week with a new roundup of reality star sightings! First up, former Teen Mom OG star Farrah Abraham sampled new menu offerings during expansion construction at Crazy Horse 3 in Las Vegas. Farrah Abraham has landed another MTV reality show with "Ex on the Beach", for which she is reportedly earning $300,000!
The Real Housewives of New York star Bethenny Frankel attended the opening of FAO Schwarz's flagship store at 30 Rockfeller Plaza in NYC.
Kandi Burruss stopped by the Sirius XM studios this week as she promoted The Real Housewives of Atlanta.
Former RHONY star Carole Radizwill attended a special screening of Green Book in NYC.
Stevie J, Tami Roman and more were on the red carpet for the 2018 Soul Train Awards, presented by BET, held in Vegas this weekend.
Check out these and more photos below, including Kelly Bensimon, Kim and Kourtney Kardashian and other reality stars.
TELL US – WHAT DO YOU THINK ABOUT FARRAH ABRAHAM LANDING ANOTHER REALITY SHOW WITH MTV? WHAT DO YOU THINK OF THE BLONDE LOOK SHE'S GOT GOING ON HERE?

Reality Star Sightings 11/18/18
Kandi Burruss

NEW YORK, NY - NOVEMBER 15: Kandi Burruss visits the SiriusXM Studios on November 15, 2018 in New York City. (Photo by Taylor Hill/Getty Images)

Farrah Abraham

LAS VEGAS, NV - NOVEMBER 15: Farrah Abraham inspects expansion construction at Crazy Horse 3 on November 15, 2018 in Las Vegas, Nevada. (Photo by Bryan Steffy/Getty Images for Crazy Horse 3)

Farrah Abraham

LAS VEGAS, NV - NOVEMBER 15: Farrah Abraham arrives during expansion construction at Crazy Horse 3 on November 15, 2018 in Las Vegas, Nevada. (Photo by Bryan Steffy/Getty Images for Crazy Horse 3)

Billie Lee

LOS ANGELES, CALIFORNIA - NOVEMBER 15:Billie Lee attends Out Magazine's OUT100 Awards Celebration Presented By Lexus at Quixote Studios on November 15, 2018 in Los Angeles, California. (Photo by JB Lacroix/WireImage)

Kourtney Kardashian

WEST HOLLYWOOD, CALIFORNIA - NOVEMBER 16: (L-R) Amanda Lee, Brittny Gastineau, Kourtney Kardashian, and Larsa Pippen pose for portrait at the VIP Exhibit Preview for "Street Dreams" on November 16, 2018 in West Hollywood, California. (Photo by Rodin Eckenroth/Getty Images)

Malika Haqq

LOS ANGELES, CALIFORNIA - NOVEMBER 15: Malika Haqq attends the MARCELL VON BERLIN LA Store Launch at MARCELL VON BERLIN Flagship Store on November 15, 2018 in Los Angeles, California. (Photo by John Sciulli/Getty Images for Marcell Von Berlin)

Bethenny Frankel

NEW YORK, NY - NOVEMBER 15: Bethenny Frankel attends as FAO Schwarz opens its flagship store at 30 Rockfeller Plaza on November 15, 2018 in New York City. (Photo by Cindy Ord/Getty Images for FAO Schwarz)

Nicole Richie

BEVERLY HILLS, CA - NOVEMBER 15: Nicole Richie attends NowWith presented by Yahoo Lifestyle in partnership with Working Sundays Series with Nicole Richie's Honey Minx Collection reveal at Spring Place on November 15, 2018 in Beverly Hills, California. (Photo by Phillip Faraone/FilmMagic)

Farrah Abraham

LAS VEGAS, NV - NOVEMBER 15: Farrah Abraham samples new menu offerings during expansion construction at Crazy Horse 3 on November 15, 2018 in Las Vegas, Nevada. (Photo by Bryan Steffy/Getty Images for Crazy Horse 3)

Mariah Carey

NEW YORK, NY - NOVEMBER 15: Singer Mariah Carey is seen walking in soho on November 15, 2018 in New York City. (Photo by Raymond Hall/GC Images)

Kelly Bensimon

NEW YORK, NY - NOVEMBER 12: Kelly Bensimon attends HBO With The Cinema Society Host A Special Screening Of "My Brilliant Friend" at The Oyster Bar At The Roxy Hotel, NYC on November 12, 2018 in New York City. (Photo by Paul Bruinooge/Patrick McMullan via Getty Images)

Mariah Carey

NEW YORK, NY - NOVEMBER 16: Mariah Carey visits Music Choice at Music Choice on November 16, 2018 in New York City. (Photo by Jamie McCarthy/Getty Images)

Stevie J.

LAS VEGAS, NV - NOVEMBER 17: Stevie J attends the 2018 Soul Train Awards, presented by BET, at the Orleans Arena on November 17, 2018 in Las Vegas, Nevada. (Photo by Leon Bennett/Getty Images for BET)

Carole Radziwill

NEW YORK, NEW YORK - NOVEMBER 14: Carole Radziwill attends the "Green Book" New York Special Screening hosted by the Cinema Society at The Roxy Hotel Cinema on November 14, 2018 in New York City. (Photo by Roy Rochlin/Getty Images)

JoJo

LOS ANGELES, CA - NOVEMBER 16: (EXCLUSIVE COVERAGE) (L-R) Beverly Pink, JoJo Siwa, Gloria Pink at Pink's Hot Dogs as JoJo takes over the Young Hollywood Tour on November 16th, 2018 in Los Angeles, California. (Photo by Mary Clavering/Young Hollywood/Getty Images)

Rachel Zoe

SANTA MONICA, CA - NOVEMBER 18: Rachel Zoe attends UCLA Mattel Children's Hospital's 19th Annual "Party On The Pier" at Pacific Park on the Santa Monica Pier on November 18, 2018 in Santa Monica, California (Photo by Frederick M. Brown/Getty Images)

Faith Evans & Stevie J

LAS VEGAS, NV - NOVEMBER 17: Stevie J (L) and Faith Evans attend the 2018 Soul Train Awards, presented by BET, at the Orleans Arena on November 17, 2018 in Las Vegas, Nevada. (Photo by Paras Griffin/Getty Images for BET)

JoJo Siwa

LOS ANGELES, CA - NOVEMBER 16: (EXCLUSIVE COVERAGE) JoJo Siwa takes over the Young Hollywood Tour on November 16th, 2018 in Los Angeles, California. (Photo by Mary Clavering/Young Hollywood/Getty Images)

Bethenny

NEW YORK, NY - NOVEMBER 15: Bethenny Frankel attends as FAO Schwarz opens its flagship store at 30 Rockfeller Plaza on November 15, 2018 in New York City. (Photo by Cindy Ord/Getty Images for FAO Schwarz)

Scott Disick

WEST HOLLYWOOD, CALIFORNIA - NOVEMBER 16: Scott Disick (L) and Sofia Richie at the VIP Exhibit Preview for "Street Dreams" on November 16, 2018 in West Hollywood, California. (Photo by Rodin Eckenroth/Getty Images)

Kim Kardashian

WEST HOLLYWOOD, CALIFORNIA - NOVEMBER 16: Kim Kardashian (L) and Larsa Pippen at the VIP Exhibit Preview for "Street Dreams" on November 16, 2018 in West Hollywood, California. (Photo by Rodin Eckenroth/Getty Images)

Tami Roman

LAS VEGAS, NV - NOVEMBER 17: Tami Roman attends the 2018 Soul Train Awards, presented by BET, at the Orleans Arena on November 17, 2018 in Las Vegas, Nevada. (Photo by Paras Griffin/Getty Images for BET)

Kourtney Kardashian

WEST HOLLYWOOD, CALIFORNIA - NOVEMBER 16: Kourtney Kardashian (L) and Larsa Pippen at the VIP Exhibit Preview for "Street Dreams" on November 16, 2018 in West Hollywood, California. (Photo by Rodin Eckenroth/Getty Images)