The fifth episode of Tiger King serves as a lesson that nothing good comes from too much crazy in one place. Not only did some of this behavior seem normalized, but it was also was encouraged. Joe Exotic dives into politics, while suffering personal tragedy. The dynamics of the park also begin to change.
Jeff Lowe has managed to bamboozle Joe into giving him ownership of his zoo. With new management, major changes begin to take place. Jeff immediately fires half of the staff and insults them on their way out of the door. One of the most significant changes is the entrance of his associate, Allen Glover, who was hired as a handy man for the zoo. This won't seem significant this episode, but just keep Allen's name in the back of your mind.
While attempting to secure additional funds for the zoo, Joe introduces another shady character to the mix, James Garretson. James is a strip club owner and big cat enthusiast who invested $14,000 to open a pizza restaurant on the property. Joe advertised it as the best pizza. Unknown to guests, he was using the expired meat from the Walmart program meant for the tigers. Gross! I can't imagine that pizza tasting like anything more than slop.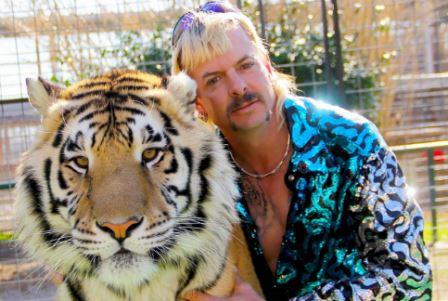 Joe throws his hat in the ring as a presidential candidate in the 2016 election. That Tiger King title definitely has gone to his head. Clips of the eccentric personality and bat shit crazy ads go viral. Joe's narcissism reaches new heights. After failing to become president, he sets his sights on the race for Governor of Oklahoma in 2018. Complete with the local Walmart gun section employee, Joshua Dial, as his campaign manager.  Now that he has set himself up for success, how could he lose? Instead of kissing babies and shaking hands, Joe passes out condoms with his face on them. Meanwhile, Carole Baskin was lobbying Congress to stop people from owning and breeding big cats.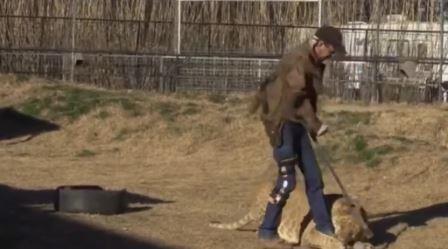 Tensions begin to flair between Joe and Allen at the zoo. One day while Joe is filming, one of the animals begins to sniff his shoes and then drags him into his lair. Joe starts to believe there is a plot on his life when none of the witnesses even attempts to help him. I'm sorry, but if there is an entire crew filming me and they see me dragged by an animal and they just keep filming, I would be paranoid as well. The lawsuits with Carole and all of the stress begin to take their toll on Joe mentally.
When you have an unlimited supply of guns, meth, and alcohol bad things are bound to happen.  While Joe was trying to tighten his grasp on his husbands, Travis Maldonado and John Finlay, things begin to completely unravel. John leaves Joe for the receptionist after impregnating her. Meanwhile, Travis is dealing with his own personal demons and drug addiction.
In shocking twist of events, Travis accidentally kills himself in the zoo office while toying with a gun in front of Joe's campaign manager, Joshua. The footage of Travis before his last days is disturbing. Frankly, I was appalled by not only Joe's singing but the lewd comments he made in front of Travis' family at the funeral. It's obvious both Joe AND his husbands were using one another. Apparently, these two men may have been gay for pay drugs.
Wrecked with grief, Joe's life begins to tailspin. Jeff decides to leave Joe to run the park and move to Las Vegas in order to ease tensions between the two.  Jeff is living the life and putting people and animals in dangerous situations in a party bus. Who the hell thought that was a good idea? Wild animals and drunk people in a small space sounded like a solid plan to this guy. Smh…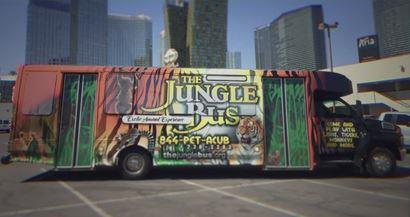 Intent on moving on with his life, Joe goes on his first date since Travis' death.  Joe marries his fourth husband, Dillon Passage, only 2 months after the funeral.  He even invited Travis' mom to the wedding, but she believes it was only for public relations and a photoshoot for social media. Meanwhile, Joe is still pursuing his political aspirations during this time. Although he made some traction, Joe ultimately loses the election. Now without ownership of the zoo and the campaign to keep his focus, Joe grows even more paranoid. There are rumors of an FBI investigation beginning to take place. Guess who is currently talking to the FBI… Jeff.
TELL US – DO YOU THINK THERE WAS A SETUP BREWING OR JOE WAS JUST PARANOID? WHY DO YOU THINK JOHN AND TRAVIS MARRIED JOE?
[Photo Credit: Netflix]