Last night's episode of 90 Day Fiance Before The 90 Days  is the conclusion of the two-part finale special. Although it's not as action packed as Part 1, there are still many surprising updates that are uncovered.  Host Shaun Robinson dives back in to discuss more of the biggest moments with the couples and updates on where their relationships stand now.
David sheds more light on his relationship with Lana. Usman Umar and Lisa Hamme  talk about their plans for the future. Tom Brooks reveals his intentions with Avery Warner. Let's get straight into the 90 Day Fiance Before the 90 Days recap!
Darcey, 45(Connecticut) & Tom, 39 (England)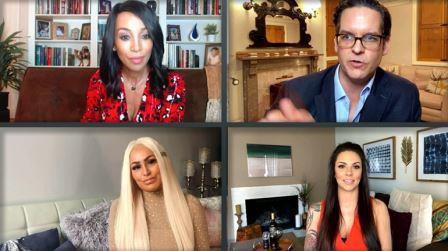 When we last left Tom he was threatening to leave if Avery was allowed to continue talking. According to Avery, Tom propositioned her for a date when she and Ash Naeck broke up. When he was rejected, he sent screenshots to Ash in an attempt to make her look bad. Ugh… can't we just pretend like Tom was never on this show and get rid of him? Once he realized his tantrum wasn't going to work, he reappeared on the screen smoking a cigarette.
Avery is forced to apologize when Ash confesses to lying about receiving a screenshot because he was hurt.  Although Tom didn't send any messages, he did call Ash to confirm that he was no longer in a relationship with Avery. Tom denies asking her on a date and sums up their conversation as harmless flirting. Huh? Anytime you begin a conversation with your relationship status and suggest going out together that is a date.
Shockingly, Darcey Silva maintains her composure and says she isn't surprised at all. Baby girl Lisa jumps to his defense revealing Tom also asked her to meet as well when they both were in New York. She then suggests Avery read more into his invitation. Lisa, there was a huge difference in those invitations for a variety of obvious reasons.
Lisa, 52 (York, Pa.) & Usman "SojaBoy," 30 (Nigeria)
Once the conversation shifts to Usman and Lisa, things get heated almost immediately. Despite getting married in Nigeria, they have already blocked each other on social media several times. Usman cites Lisa's anger issues as the reason they have so many issues. He then asks the women on the cast if Lisa's behavior is representative of all American women. When Ed Brown and Avery jump to Usman's defense, Lisa unleashes her inner beast. A screaming match between Ed and Lisa ensues where he accuses her of treating Usman like a goat.
Umm… I don't know how you treat a person like a goat, but Lisa definitely displayed a controlling and angry demeanor the entire season. Lisa accuses Usman of cheating emotionally. She found inappropriate conversations with other women in his phone on more than one occasion. One of these women is a porn star who has 2.3M followers on social media. Usman claims he only entertained the conversations because of his music career.
Things get interesting when Usman is asked whether he intends to take another wife. In Nigeria, a man is allowed to have up to four wives. He replies that he will take another wife, only if Lisa can't have a child. Weirdly this doesn't seem to surprise or bother Lisa. She downplays the role of a second wife in comparison to herself. Huh? This woman goes crazy if his fans talk to him on Instagram. Suddenly she is okay with him having sex, a baby, and a household with another woman? Is this the twilight zone? Obviously, she has accepted this as the reality because, at 53, Lisa is not having a baby.
Usman reveals he doesn't plan to move to the United States. So what was the point of marrying Lisa? If he decides to take a second wife, she has to come from his hometown. So will Lisa just watch him start a new life from afar? If his motive wasn't a green card, it had to be exposure for his music career.  There is no way he dealt with Lisa this long without getting something out of it. When she is asked whether she intends to move to Nigeria, she says "that is a private matter between Usman and myself." Girl, please! Lisa, just take this L and move on.
David, 60 (Nevada) & Lana, 27 (Ukraine)

Initially, no one believed that David's Ukrainian love, Lana existed. Viewers were shocked to find out that not only was she real, but they finally met. After speaking for 7 years with numerous failed attempts to meet, it seemed that it would never happen. Today, Lana is still on the paid dating website, despite being supposedly engaged.  When David is asked why he would be okay with this, he becomes agitated and claims she uses it to speak to her friends. David then states that Lana doesn't use the iPhone he bought her because of her nails.
When Ed calls bullshit and laughs, David demands that he is removed from the screen or he will leave. At this point, I am okay if he leaves. David decides to stay when Ed apologizes. This man has admitted to thumbing through mail order bride catalogs and spending $300,000 to talk to foreign women since the 90's. There is no amount of talking that is going to change David's mind.
90 Day Fiance alum, Caesar joins the conversation to share his perspective on paid dating websites. If anyone saw his season, he and David are basically had the same storyline. Caesar reveals that he actually met his long-distance love, Maria after the show ended, but nothing changed in their relationship. Once he returned home, Maria just wanted money. In a crazy twist, we learn David actually chatted with Maria for a short time as well.
David is clearly in denial and I don't see that changing anytime soon.  I'm still confused after listening to him defend his relationship with Lana. At one point he says he doesn't consider them together, but then says they are engaged. What the hell??? David, just admit that you got played. You may have gotten a kiss or two, but Lana has no intention on marrying you unless it's as a last resort.
TELL US- WHAT DID YOU THINK OF PART 2 OF THE 90 DAY FIANCE BEFORE THE 90 DAYS RECAP?
[Photo Credit: TLC]